To Prelude Peace is a collection of four works based on middle eastern melodies. Originally written in 1991, the versions you will hear tonight are the revised 1994 version, published by Cimarron Music Press that same year. The collection is based on the idea that learning about one other and focusing on our similarities are the first steps to getting along peacefully in the world. "Morning Call to Prayer" for solo trombone is based on the Muslim call to prayer. "Sudan Lovers Holding Hands" for oboe and bassoon is based on an East Sudan love song. "Celebration Dance" for violin, viola and cello is based on the Jewish dance called "the Hashual", which means the fox. "The Harmony of Peace (The Unheard Brotherhood)" combines all three melodies and all the instruments from the previous works. This piece shows, with a little imagination, how well these different melodies can work together in harmony.
The Overture to Machiavelli's Belfagór sets the stage for the comic arch devil, who is compelled to return amongst the living to discover why women, and wives in particular, are the downfall of so many men. Hell has become overcrowded, and it up to Belfagór to discover why. Belfagór indeed falls in love on Earth, and his ruin and disillusionment at the hands of his wife and her family tells a remarkably modern tale of shopping, borrowing, and self destruction.
Lisa Scola Prosek's new opera will premiere in May 2007, at the Thick House Theater, in San Francisco,with the "soft set" videography of film artist Jakub Kalousek. The Overture is written in the form of a concerto, featuring Rachel Condry, Bass Clarinet, with a cadenza written with and expressly for Rachel Condry.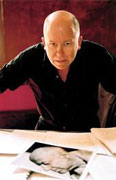 Dr. Mark Alburger is the Music Director, Conductor and founder of the San Francisco Composers Chamber Orchestra. Mark is an eclectic American composer of postminimal, postpopular, and postcomedic sensibilities. He is the Music Director of Goat Hall Productions / San Francisco Cabaret Opera, Editor-Publisher of 21st-Century Music Journal, an award-winning ASCAP composer of concert music published by New Music, Instructor in Music Theory and Literature at Diablo Valley College, Music Critic for Commuter Times, author, musicologist, oboist, pianist, and recording artist.
Dr. Alburger studied oboe with Dorothy Freeman, and played in student orchestras in association with George Crumb and Richard Wernick. He studied composition and musicology with Gerald Levinson, Joan Panetti, and James Freeman at Swarthmore College (B.A.), Karl Kohn at Pomona College, Jules Langert at Dominican College (M.A.), Tom Flaherty and Roland Jackson at Claremont Graduate School (Ph.D.), and Terry Riley.
Since 1987 he has lived in the San Francisco Bay Area, initially producing a great deal of vocal music with assembled texts, including the opera Mice and Men (1992), the crisis-madrigal collection L.A. Stories (1993), the rap sheet For My Brother For My Brother (1997), and the hieratic Passion According to Saint Matthew (1997).
Since 1997, Dr. Alburger has gridded and troped compositions upon pre-existent compositions ranging from world music and medieval sources to contemporaries such as George Crumb and Philip Glass. To date, he has written 16 concerti, 7 masses and oratorios, 12 preludes and fugues, 20 operas, 6 song cycles, 9 symphonies -- a total of 130 opus numbers and more than 800 individual pieces. He is presently at work on Waiting for Godot and Diabolic Variations.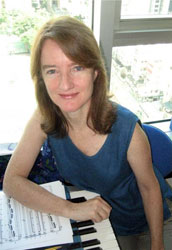 Alexis Alrich is presently living in Hong Kong but visits the Bay Area frequently. Her Marimba Concerto, which was presented by the SFCCO, will be played by the Plymouth Symphony in Plymouth, Michigan in 2009 with conductor Nan Washburn. Her piece Island of the Blue Dolphins was performed by the Santa Barbara Symphony on January 19, 2007. She attended an artists' colony in 2007, I-Park in Connecticut, where she wrote Fragile Forests II: Cambodia, next in the series after Fragile Forests I: California Oaks, which was premiered in December 2006 by the San Francisco Composers Orchestra. As one of the winners of a Continental Harmony grant from the American Composers Forum she has written a piece for chorus, orchestra and soloists for the state of Maine. Avenues, her first orchestra piece, was premiered by the Women's Philharmonic and has been played around the country. Her chamber compositions have been performed by members of the San Francisco ballet, opera and symphony orchestras and ensembles including Bay Brass, City Winds, the Ahlert and Schwab guitar and mandolin duo in Germany, the Ariel Ensemble, New Release Alliance and Earplay in San Francisco. Ms. Alrich is the director of the John Adams Young Composers program in Berkeley, California. This is an intensive training program for composers ages 9-18 in honor of and under the aegis of John Adams.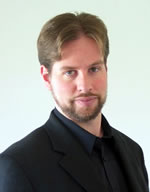 John Kendall Bailey is an Associate Conductor with the San Francisco Composers Chamber Orchestra and is Principal Conductor and Chorus Master of the Trinity Lyric Opera, Music Director and Conductor of Voices of Musica Sacra, and Artistic Director of the San Francisco Song Festival. In 1994, Mr. Bailey founded the Berkeley Lyric Opera and served as its Music Director and Conductor until 2001. Since then he has been a guest conductor with the Oakland East Bay Symphony, Oakland Youth Orchestra, and Oakland Ballet, and music director and conductor for productions with North Bay Opera, Mission City Opera, Goat Hall Productions, Solo Opera, the Crowden School and Dominican University. From 2002-2006 he was the Chorus Master of the Festival Opera of Walnut Creek. Mr. Bailey is also a composer, and his works have been performed and commissioned in the Bay Area and abroad.
Mr. Bailey also maintains a busy performance schedule as a bass-baritone, oboist, and pianist, and has performed with the San Francisco, Santa Rosa, Oakland East Bay, Berkeley, Redding, Napa, Sacramento, and Prometheus symphonies, American Bach Soloists, Philharmonia Baroque Orchestra, the Midsummer Mozart and West Marin music festivals, San Francisco Bach Choir, Coro Hispano de San Francisco, Pacific Mozart Ensemble, California Vocal Academy, San Francisco Concerto Orchestra, Masterworks Chorale of San Mateo, Baroque Arts Ensemble, San Francisco Korean Master Chorale, the Master Sinfonia, the Mark Morris and Merce Cunningham dance companies, Goat Hall Productions, Opera Piccola, the Berkeley, Golden Gate, and Oakland Lyric Opera companies, and many other groups. He has recorded for the Harmonia Mundi, Koch International, Pro Musica, Wildboar, Centaur, and Angelus Music labels.
Mr. Bailey has been a pre-performance lecturer for the Oakland East Bay Symphony and the San Francisco Opera, a critic for the San Francisco Classical Voice, a writer of real-time commentary for the Concert Companion, and has taught conducting at the University of California at Davis.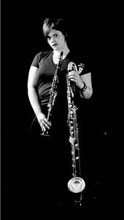 Rachel Condry is the Booking Manager of the San Francisco Composers Chamber Orchestra. She has spent her career commissioning, premiering and performing new works for solo clarinet, clarinet with tape and clarinet and orchestra. In the spring of 2005 she made her Carnegie Hall debut with The Matt Small Chamber Ensemble, a group that seamlessly blends jazz, improvised music and classical genres. As a performing member of the San Francisco Composer's Chamber Orchestra, Rachel premiered the Cello Concerto of Thomas Goss on Bass clarinet in 2003 and in 2005 she premiered Erling Wold's work "Brightness" for solo clarinet and orchestra. She has independently produced several concerts comprised of recent and newly commissioned work for clarinet and bass clarinet by Bay Area composers such as Earl Zindars, Erling Wold, Andrew Shapiro, Lisa Prosek, Janis Mercer, Jono Kornfeld, Melissa Hui, Alexis Alrich and others. Rachel received a Bachelor of Music degree from Oberlin Conservatory where she was a finalist of the Oberlin Concerto Competition and was a soloist with the Oberlin Contemporary Music Ensemble.