SAN FRANCISCO COMPOSERS CHAMBER ORCHESTRA
Presents "Animal, Vegetable, Mineral" at Old First Concerts
Saturday, September 25, 2010 at 8 pm
Old First Presbyterian Church
1751 Sacramento Street/Van Ness, San Francisco, CA 94109


PROGRAM
Lisa Scola Prosek is a graduate of Princeton University in Music Composition. Her teachers include Edward Cone, Milton Babbitt, Lukas Foss, and Gaetano Giani Luporini. Scola Prosek is the recipient of numerous grants, commissions and awards, including The NY Center for Contemporary Opera "Atelier" Award for The Lariat. Scola Prosek has composed and produced eight operas with librettos in Italian and English. In 2012, Daughter of the Red Tzar, written for acclaimed tenor John Duykers, premiered in San Francisco to capacity audiences, and is currently on the outreach season with Long Beach Opera. Lisa serves as General Manager and Director of the San Francisco Composers Chamber Orchestra, since 2001. Other awards have been from Theatre Bay Area, the LEF Foundation, The Argosy Contemporary Music Fund, Meet the Composer, the Hewlett Foundation, the American Composers Forum, The San Francisco Arts Commission, The Center for Cultural Innovation, The California Arts Council, the NEA and the Zellerbach Foundation.

Lisa Scola Prosek
Piano Sonata

Born in Buenos Aires, Argentina in 1957, Jorge studied at the Rubin School of Music in Jerusalem and earned a doctorate in composition from the University of Chicago in 1988. He joined the faculty of the University of California, Berkeley in 1989. His opera "Antigona Furiosa" (1991), commissioned by Hans Werner Henze, won the 1992 Munich Biennale International Prize in Composition. He has also received awards from the Guggenheim, Harper, Gaudeamus and Fromm Foundations, as well as from ISCM, the American Academy of Arts and Letters, and the University of California President's Fellowship program. He died February 3, 2008 in an apparent suicide, struck by an incoming Richmond-bound train at the El Cerrito Plaza BART station in El Cerrito. Liderman's music can be found on CRI , ERM, Cadenza, Bridge, and Albany Records.

Jorge Liderman

Flautando

Bruce Salvisberg, flute

The multi-instrumentalist Michael Cooke is a composer of jazz and classical music. This two-time Emmy, ASCAPLUS Award and Louis Armstrong Jazz Award winner plays a variety of instruments: you can hear him on soprano, alto, and tenor saxophones, flute, soprano and bass clarinets, bassoon and percussion. A cum laude graduate with a music degree from the University of North Texas, he had many different areas of study; jazz, ethnomusicology, music history, theory and of course composition. In 1991 Michael began his professional orchestral career performing in many north Texas area symphonies. Michael has played in Europe, Mexico, and all over the United States. Cimarron Music Press began published many of Michael's compositions in 1994. After relocating to the San Francisco Bay Area, he has been exploring new paths in improvised and composed music, mixing a variety of styles and techniques that draw upon the creative energy of a multicultural experience, both in and out of America. In 1999, Michael started a jazz label called Black Hat Records (blackhatrecords.com) and is currently on the Board of Directors of the San Francisco Composers Chamber Orchestra. The San Francisco Beacon describes Michael's music as "flowing out color and tone with a feeling I haven't heard in quite a while. Michael plays with such dimension and flavor that it sets (his) sound apart from the rest." Uncompromising, fiery, complex, passionate, and cathartic is how the All Music Guide labeled Michael's playing on Searching by Cooke Quartet, Statements by Michael Cooke and The Is by CKW Trio. His latest release, An Indefinite Suspension of The Possible, is an unusual mixture of woodwinds, trombone, cello, koto and percussion, creating a distinct synergy in improvised music that has previously been untapped.

Michael Cooke

From the Love Letters Collection

Bruce Salvisberg, flute
Michael Cooke, soprano sax

G.A.C. Low / High

Dr. Mark Alburger (b. 1957, Upper Darby, PA) is a multiple-award-winning ASCAP composer of postminimal, postpopular, and postcomedic sensibilities. His compositions are generally assembled or gridded over pieces ranging from ancient and world music, to postmodern art and vernacular sources -- 174 opus numbers (markalburgerworks.blogspot.com), including 16 concertos, 20 operas, 9 symphonies, and the four-hours-and-counting opera-oratorio work-in-progress, The Bible. He is Music Director of San Francisco Composers Chamber Orchestra (sfcco.org) and San Francisco Cabaret Opera / Goat Hall Productions (goathall.org), Editor-Publisher of 21st-Century Music Journal (21st-centurymusic.blogspot.com and 21st-centurymusic.com), Instructor in Music Literature and Theory at Diablo Valley and St. Mary's Colleges, and Music Critic for Commuter Times. He studied at Swarthmore College (B.A.) with Gerald Levinson and Joan Panetti, Dominican University (M.A., Composition) with Jules Langert, Claremont Graduate University (Ph.D., Musicology) with Roland Jackson, and privately with Terry Riley. Alburger writes daily at markalburger2009.blogspot.com and is in the fifth year of an 11-year project recording his complete works for New Music Publications and Recordings.

Mark Alburger

Animal Farm: Grand Zoological Fantasy-Variations.
Part 1 In Cold Blood Low / High

I. Wasps
II. Flies
III. Spiders
IV. Crabs
V. Sharks
VI. Frogs
VII. Turtles
VIII. Snake

Harriet March Page, spoken word


intermission
Loren Jones began experimenting with composition as a child. He spent his early years dividing his time between film-making and music, and some of his film work was periodically broadcast on local San Francisco television. Eventually choosing to pursue music instead of film, Loren formed and was part of several bands performing and creating different genres of original music. To this point largely self-taught, in the 1980's Loren returned to serious study to acquire greater depth musical education in order be able to create the kind of music that he had always been the most passionate about. Loren has studied with Tom Constantine, Alexis Alrich and is currently working with David Conte at the San Francisco Conservatory of Music, where he is also a member of the chorus. 

His music has been performed by his own chamber group, by the San Francisco Composers Chamber Orchestra, and by students and teachers from around the Bay Area. He has produced several recordings, worked in radio and film, including creating the sound track for an animated short which won a special Academy Award. His 2006 release, Woodward's Gardens, features two guitars, piano, flute, oboe, harp, and cello.  He was the recipient of a 2007 Meet the Composer Grant. His project, Dancing on the Brink of the World, a fourteen movement piece for chamber orchestra and period instruments, on the history of San Francisco, has been an ongoing part of the repertoire of the past three seasons of SFCCO concerts. 

Loren Jones

Banyan

I. River
II. Forest
III. Desert

Steve Adams, soprano sax


Born in Colfax, California, Terry Riley studied at Shasta College, San Francisco State University, and the San Francisco Conservatory before earning an MA in composition at the University of California, Berkeley, studying with Seymour Shifrin and Robert Erickson. He was involved in the experimental San Francisco Tape Music Center working with Morton Subotnick, Steve Reich, Pauline Oliveros, and Ramon Sender. His most influential teacher, however, was Pandit Pran Nath (1918–1996), a master of Indian classical voice, who also taught La Monte Young and Marian Zazeela. Riley made numerous trips to India over the course of their association to study and to accompany him on tabla, tambura, and voice. Throughout the 1960s he traveled frequently around Europe as well, taking in musical influences and supporting himself by playing in piano bars, until he joined the Mills College faculty in 1971 to teach Indian classical music. Riley was awarded an Honorary Doctorate Degree in Music at Chapman University in 2007.

Terry Riley

Click on the links to listen to the music.

Click on the links for video.


Microsoft Media Player or for Mac:
VLC Media Player.
PERFORMERS



Flute
Bruce Salvisberg

Oboe
Philip Freihofner

Clarinet
Michael Kimbell

Bassoon (ContraBassoon**)
Michael Cooke
Michael Garvey
Lori Garvey**

Soprano Sax
Steve Adams
Michael Cooke




Trombone
Patrick Malabuyo

Piano/Keyboards
Allan Crossman
Lisa Scola Prosek
Loren Jones

Percussion
Victor Flaviano
Andrew Meyerson
Mark Alburger
Loren Jones
Michael Kimbell




Violin
Monika Gruber

Viola
Beeri Moalem

Cello
Ariella Hyman

Bass
John Beeman

Guitar
Ray Zhou

Bouzouki
Loren Jones
Piano Sonata in 3 movements, The first, Petit oiseaux inspired by the erratic movements of flocks of tiny birds which I tried to capture as a sketch, the second movement, Romanza, inspired by the symmetry of it's own form, and the third, Nocturne, was written at 3 in the morning, written while wearing a dressing gown, alas, no chamberpot to make the romantic setting complete!
Flautando (2004) is a one-movement concertino for flute and chamber ensemble. The work starts with an introduction by the ensemble where the different instruments take turns in an alternating series of contrasting patterns. The permutated repetition of these patterns leads to the first bold statement of the flute. This virtuosic and highly ornamented statement is accompanied by rhythmically punctuated chords in the piano, percussion, and strings as well as by a more sustained and imitative line in the clarinet. This first statement by the flute is followed by a quasi return to the opening fragmentary statements in the ensemble. The opening five minutes of the piece described above serve as a prelude to the two other thirds of the piece which are structured as a theme and variations. After the flute introduces the theme, the ensemble takes turns with the soloist in articulating twenty-two variations to the theme. The music is pulsating and rhythmic through out the entire piece. There is no pause between variations but rather shifts in texture, polyrhythmic configurations and timbral contrasts between the different variations. At about two thirds through out the piece, interlocking chords in the ensemble mark the climax of the work, which is followed by a descent in register and intensity through a quasi recapitulation of the sustained opening statement in the flute. The twenty-two variations are followed by a short coda bringing back the fragmentary discourse in both, flute and ensemble. Flautando was written for and it is dedicated to Peter Bacchus and Group XXI with whom I got acquainted during my stay in Barcelona in 2003.
Minerva's Dance was originally written for my wife, Lisa, for our first dance as husband and wife in 2004. Lisa loves tangos and the music of Astor Piazzolla, so I decide to write her a tango. I went into my studio and started laying down some tracks and a few days later I had it ready to go. Since this was a studio piece with long improvised sections only a small part of it was ever written down. This summer I decided to notate and expand the orchestration. The flute and soprano sax are featured soloist. The flute solo is a transcription of the original solo I played but the sax solo for this concert will be improvised.
Most of the Love Letters collection is written for piano and G.A.C. was originally written for two pianos. Twenty years ago I decided I want to write a composition based on my father initials. But every time I sat down to write it I was unhappy with the results. After my parents visit this summer, I had a feeling time was running out and I sat down to try again. I finally heard something I was satisfied with and in a couple of weeks I completed the piece. Not only did I use his initials but I used his full name putting rests in place of letter not used by music notation. I also added in my own name at the end. My father is very interested in running and has run marathons all over the world; so the A theme last 26.2 measures (26.2 miles is the length of a marathon) and the B theme is reminiscent of the music in the movie that inspired his desire to run, "Chariots of Fire".
The 32 Grand Zoological Fantasy-Variations of Animal Farm takes for its subject the structure of Leslie Bricusse's Talk to the Animals, with each variant as four eight-bar phrases, plus a four-measure coda (36 total). The four variational subsets are in a biological progression derived from the work of Carolus Linnaeus as A. Cold-Blooded, B. Birds, C. Mammals I, and D. Mammals II. Variations have been premiered in Philadelphia, PA; Surrey, ME; and Tacoma, WA -- and the entire work, with videos, is online at the Dr. Mark Alburger channel on YouTube. The music is ideally paired with a coda of The Four Temperaments -- a quartet of human pieces on the same subject.
Musical gene-splicing may be heard in Cold-Blooded from Ralph Vaughan Williams's The Wasps and Tuba Concerto, F.J. Haydn's Symphony No. 94 ("Surprise"), Sergei Prokofiev's Peter and the Wolf, Gustav Mahler's Symphony No. 4, Gilles Binchois's L'homme arme (treated as crab [retrograde] and mensuration [time] canons a la Guillaume Dufay and Josquin des Pres), Camille Saint-Saens's Carnival of the Animals, John Williams's Jaws, Alburger's Mice and Men, Peter Tchaikovsky's The Nutcracker, Oliver Wallace's Alice in Wonderland, and Igor Stravinsky's The Flood.
The Banyan is a magnificent tree that can grow to gigantic proportions, spreading out laterally using aerial prop roots to cover a wide area, some trees reaching three quarters of an acre in size and living for hundreds of years. In this music the banyan tree represents, not only nature's roots, but our own roots as well, and our connectedness to all living things. River. A jazz piano groove sets the mood for solos as we travel down the jungle river. Giant banyan branches hang over the slow moving water and exotic birds fly overhead. Forest. Mallets introduce a world dominated by a gamelan layered forest where woodwinds and strings float through the canopy. Banyan roots grow over ancient stone temples and a mist surrounds the trees. The music of South East Asia and Indonesia is hypnotic. There seems to be vast possibilities here for the blending of East and West. Desert. A drone of strings, hand drums and bass create a pattern that forms the foundation for melodies on bouzouki and reeds. Though the desert of the Middle East is not an area associated with banyan trees, I chose to journey here, as the branches and roots of humanity are so interwoven, that it seemed appropriate.
In C consists of 53 short, numbered musical phrases, lasting from half a beat to 32 beats; each phrase may be repeated an indeterminate number of times. Musicians personally have control over which phrases they play: players are encouraged to play the phrases starting at different times, even if they are playing the same phrase. The performance directions state that the musical ensemble should try to stay within a few phrases of each other. The sections must be played in order; rhythms may be augmented within phrases as needed. As detailed in some editions of the score, it is customary for one musician to play a pulse in repeated eighth notes during the course of the piece.
The piece begins in C major (patterns one through seven) with a strong emphasis on the mediant E with F neighboring and passing notes. After this begins a series of slow progressions to other chords suggesting a few subtle and ambiguous changes of key, including a striking series of E-minor interior sections in syncopated eighth-note patterns of threes. The last motiv alternates between B_ and G, seemingly the top end of a C dominant 7th chord.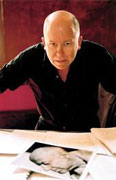 Dr. Mark Alburger is the Music Director, Conductor and founder of the San Francisco Composers Chamber Orchestra. Mark is an eclectic American composer of postminimal, postpopular, and postcomedic sensibilities. He is the Music Director of Goat Hall Productions / San Francisco Cabaret Opera, Editor-Publisher of 21st-Century Music Journal, an award-winning ASCAP composer of concert music published by New Music, Instructor in Music Theory and Literature at Diablo Valley College, Music Critic for Commuter Times, author, musicologist, oboist, pianist, and recording artist.
Dr. Alburger studied oboe with Dorothy Freeman, and played in student orchestras in association with George Crumb and Richard Wernick. He studied composition and musicology with Gerald Levinson, Joan Panetti, and James Freeman at Swarthmore College (B.A.), Karl Kohn at Pomona College, Jules Langert at Dominican College (M.A.), Tom Flaherty and Roland Jackson at Claremont Graduate School (Ph.D.), and Terry Riley.
Since 1987 he has lived in the San Francisco Bay Area, initially producing a great deal of vocal music with assembled texts, including the opera Mice and Men (1992), the crisis-madrigal collection L.A. Stories (1993), the rap sheet For My Brother For My Brother (1997), and the hieratic Passion According to Saint Matthew (1997).
Since 1997, Dr. Alburger has gridded and troped compositions upon pre-existent compositions ranging from world music and medieval sources to contemporaries such as George Crumb and Philip Glass. To date, he has written 16 concerti, 7 masses and oratorios, 12 preludes and fugues, 20 operas, 6 song cycles, 9 symphonies -- a total of 130 opus numbers and more than 800 individual pieces. He is presently at work on Waiting for Godot and Diabolic Variations.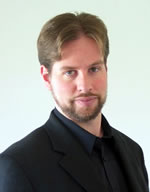 John Kendall Bailey is an Associate Conductor with the San Francisco Composers Chamber Orchestra and is Principal Conductor and Chorus Master of the Trinity Lyric Opera, Music Director and Conductor of Voices of Musica Sacra, and Artistic Director of the San Francisco Song Festival. In 1994, Mr. Bailey founded the Berkeley Lyric Opera and served as its Music Director and Conductor until 2001. Since then he has been a guest conductor with the Oakland East Bay Symphony, Oakland Youth Orchestra, and Oakland Ballet, and music director and conductor for productions with North Bay Opera, Mission City Opera, Goat Hall Productions, Solo Opera, the Crowden School and Dominican University. From 2002-2006 he was the Chorus Master of the Festival Opera of Walnut Creek. Mr. Bailey is also a composer, and his works have been performed and commissioned in the Bay Area and abroad.
Mr. Bailey also maintains a busy performance schedule as a bass-baritone, oboist, and pianist, and has performed with the San Francisco, Santa Rosa, Oakland East Bay, Berkeley, Redding, Napa, Sacramento, and Prometheus symphonies, American Bach Soloists, Philharmonia Baroque Orchestra, the Midsummer Mozart and West Marin music festivals, San Francisco Bach Choir, Coro Hispano de San Francisco, Pacific Mozart Ensemble, California Vocal Academy, San Francisco Concerto Orchestra, Masterworks Chorale of San Mateo, Baroque Arts Ensemble, San Francisco Korean Master Chorale, the Master Sinfonia, the Mark Morris and Merce Cunningham dance companies, Goat Hall Productions, Opera Piccola, the Berkeley, Golden Gate, and Oakland Lyric Opera companies, and many other groups. He has recorded for the Harmonia Mundi, Koch International, Pro Musica, Wildboar, Centaur, and Angelus Music labels.
Mr. Bailey has been a pre-performance lecturer for the Oakland East Bay Symphony and the San Francisco Opera, a critic for the San Francisco Classical Voice, a writer of real-time commentary for the Concert Companion, and has taught conducting at the University of California at Davis.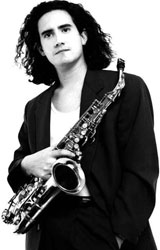 Michael Cooke is the Promotion & Fundraising Director of the San Francisco Composers Chamber Orchestra and a composer of jazz and classical music. This two-time Emmy and Louis Armstrong Jazz Award winner plays a variety of instruments: you can hear him on soprano, alto, and tenor saxophones, flute, soprano and bass clarinets, bassoon and percussion. A cum laude graduate with a music degree from the University of North Texas, he had many different areas of study; jazz, ethnomusicology, music history, theory and of course composition. In 1991 Michael began his professional orchestral career performing in many north Texas area symphonies. Michael has played in Europe, Mexico, and all over the United States. Cimarron Music Press began published many of Michael's compositions in 1994.
After relocating to the San Francisco Bay Area, he has been exploring new paths in improvised and composed music, mixing a variety of styles and techniques that draw upon the creative energy of a multicultural experience, both in and out of America. In 1999, Michael started a jazz label called Black Hat Records. The San Francisco Beacon describes Michael's music as "flowing out color and tone with a feeling I haven't heard in quite a while. Michael plays with such dimension and flavor that it sets (his) sound apart from the rest." Uncompromising, fiery, complex, passionate, and cathartic is how the All Music Guide labeled Michael's playing on Searching by Cooke Quartet, Statements by Michael Cooke and The Is by CKW Trio. His latest release, An Indefinite Suspension of The Possible, is an unusual mixture of woodwinds, trombone, cello, koto and percussion, creating a distinct synergy in improvised music that has previously been untapped. www.michaelkcooke.com
Harriet March Page has pursued a life-long obsession with the arts: as actor, singer, writer, director, producer. Reeling off the decades, the 1970's was grand opera in and about San Francisco Bay Area; 1980's acting in plays and musicals with the Los Altos Conservatory Theatre; 1990's, writing and performing autobiographical monologues in San Francisco and producing monthly Sunday-Salons; and the 2000's, directing and producing as Artistic Director for Goat Hall Productions San Francisco Cabaret Opera on Potrero Hill, whose mission is presenting contemporary opera in English and premiering new opera theater by Bay Area composers in a cabaret setting. March Page is very happy to be a part of SFCCO, singing an orchestrated version of four songs from ŹThe Wind God" part of a larger autobiographical work written by her with music composed by Mark Alburger which they like to call "Harriet's Verdian Ring".
Steve Adams is active both as a composer and as a performer on saxophones, flutes and electronics. Steve is best known as a member of the Rova Saxophone Quartet, with whom he has played for twenty years and released over twenty-five recordings. Rova has been called "one of the most daring ensembles of any instrumentation to emerge in recent years" by Downbeat magazine. He has been a member of Composers in Red Sneakers, a Boston composer's collective, and the bands Birdsongs of the Mesozoic and Your Neighborhood Saxophone Quartet. He has performed with Anthony Braxton, Sam Rivers, Dave Holland, Cecil Taylor, Roscoe Mitchell, John Zorn, Steve Lacy, Mark Dresser, Joan Jeanrenaud, Fred Frith, Tin Hat Trio, Willie "Loco" Alexander, Yo! Miles with Henry Kaiser and Wadada Leo Smith, Donald Byrd, Jaki Byard and Ted Nugent as well as many other jazz, rock, dance and theater groups. Steve has appeared on more than fifty recordings, and has five recordings as leader or co-leader on the 9 Winds and Clean Feed labels, the latest of them being Surface Tension. Steve has performed the premieres of numerous classical compositions, including Prisoner of Love by Robert Aldridge, Thomas Oboe Lee's Saxxologie... A Sextet, and Passing Time by Jon Nelson. He performed Edmund Campion?s Corail with the Berkeley Symphony and at the Ojai Music Festival, and was a member of the 25th Anniversary performance of Terry Riley's In C, which was released on New Albion. Steve has written more than fifty compositions for saxophone quartet, as well as many others for varied instrumentations. His piece Cage (for John Cage) was performed at the 1993 Bang on a Can festival, and his piece The Gene Pool was commissioned by Meet the Composer and performed at their festival "The Works" in Minneapolis in 2002. He received a California Arts Council Fellowship in 2000 and a Meet the Composer grant in 1993, and teaches at Mills College. Steve is a graduate of the School of Contemporary Music in Brookline, MA and studied composition with Alan Crossman, Christopher Yavelov and Thomas Oboe Lee, saxophone with David Birkin and Indian music with Peter Row and Steve Gorn.