Horse was commissioned by the Left Coast Chamber Ensemble for the inaugural season of their Intersection Workshop in 2013. The charge was to compose a short, fun, and accessible piece for skilled amateur players. This title reflects a fondness for repetitive rhythms of galloping horses, and the vantage point that sitting on a horse offers when stopping to study the terrain. Horse shares a close kinship with the orchestral piece, Gait Changes, premiered recently by the San Francisco Composers Chamber Orchestra.
Sejong the Great, Op. 235 (2015), was written for and is dedicated to The Sejong Cultural Society -- in appreciation for its introducing the composer to 10 wonderful Korean melodies, the pitches of which (altered only in movement II) have been gene-spliced into dynamic / rhythmic / timbral frameworks inspired by Pierre Boulez's Le Marteau sans Maitre. Each movement of Sejong has a differing instrumentation of two to five timbres with respect to seven possibilities (flute, clarinet, piano [augmented baroquely by bassoons in this performance], violin arco, violin pizz, cello arco, cello pizz), and additionally corresponds to subsections of the Wikipedia article on the titular Joseon-dynasty king (1397-1450). Overall textural result is a heterophonic sound-world in homage to 15th-century Korean court music. The form is a trilogy of trilogies, with coda: three trios of two pieces with direct repetitions, followed by one without -- i.e., movements 1-2 / 4-5 / 7-8 are repeated, with 3 / 6 / 9 respectively as through-composed / progressive-revelation- dissolution passacaglia / double (elaborated written-out-repeat). The tenth selection has two literal repeats, followed by a two-bar non-cyclic conclusion. Tempo markings are rather Erik Satiean, with the designations of I. and VI. combined in X. Other pitch-rhythmic configurations allude to Japan, sea chanty, Ludwig van Beethoven, swing, and minimalism.
Written in collaboration with the historians of the Fort Ross Conservancy, Lucaria is the story of the Russian, German, Mexican, and American occupation of the Fort Ross highlands, as experienced by a Pomo woman, Lucaria.
Golden Gate Barcaroleis a tone poem that paints a musical picture of the Golden Gate. Over a gentle, rhythmic ocean swell (hence the piece's title), the music suggests fog and mist, rocks and cliffs, hills and clouds, the great bridge and the city lights beyond. Individual instruments and sections of the orchestra are showcased throughout.
"Riffing off the renowned Marcel Proust novel, and conceived during summer 2015 at the Folleterre sanctuary in confabulation with real-life faeries, A la recherche des danses perdues (In Search of Lost Dances) is a fantastic imagination of somewhere once upon a time where distracted faeries could introduce a Court of Miracles, the refuge of twirling mendicants and magicians. It is the dances of tormented souls, magical owls, rapid snails, and gigantic butterflies who inhabit a mythical land just far enough from here to be there instead. Fluttering leaves and ripples in still water accompany croaking frogs and hovering dragonflies in this dreamscape of dance. Should you feel so moved, sit back, close your eyes, listen to the music, and let these lost dances flicker into your awareness."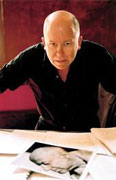 Dr. Mark Alburger is the Music Director, Conductor and founder of the San Francisco Composers Chamber Orchestra. Mark is an eclectic American composer of postminimal, postpopular, and postcomedic sensibilities. He is the Music Director of Goat Hall Productions / San Francisco Cabaret Opera, Editor-Publisher of 21st-Century Music Journal, an award-winning ASCAP composer of concert music published by New Music, Instructor in Music Theory and Literature at Diablo Valley College, Music Critic for Commuter Times, author, musicologist, oboist, pianist, and recording artist.
Dr. Alburger studied oboe with Dorothy Freeman, and played in student orchestras in association with George Crumb and Richard Wernick. He studied composition and musicology with Gerald Levinson, Joan Panetti, and James Freeman at Swarthmore College (B.A.), Karl Kohn at Pomona College, Jules Langert at Dominican College (M.A.), Tom Flaherty and Roland Jackson at Claremont Graduate School (Ph.D.), and Terry Riley.
Since 1987 he has lived in the San Francisco Bay Area, initially producing a great deal of vocal music with assembled texts, including the opera Mice and Men (1992), the crisis-madrigal collection L.A. Stories (1993), the rap sheet For My Brother For My Brother (1997), and the hieratic Passion According to Saint Matthew (1997).
Since 1997, Dr. Alburger has gridded and troped compositions upon pre-existent compositions ranging from world music and medieval sources to contemporaries such as George Crumb and Philip Glass. To date, he has written 16 concerti, 7 masses and oratorios, 12 preludes and fugues, 20 operas, 6 song cycles, 9 symphonies -- a total of 130 opus numbers and more than 800 individual pieces. He is presently at work on Waiting for Godot and Diabolic Variations.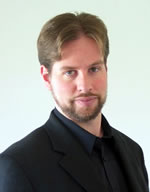 John Kendall Bailey is an Associate Conductor with the San Francisco Composers Chamber Orchestra and is Principal Conductor and Chorus Master of the Trinity Lyric Opera, Music Director and Conductor of Voices of Musica Sacra, and Artistic Director of the San Francisco Song Festival. In 1994, Mr. Bailey founded the Berkeley Lyric Opera and served as its Music Director and Conductor until 2001. Since then he has been a guest conductor with the Oakland East Bay Symphony, Oakland Youth Orchestra, and Oakland Ballet, and music director and conductor for productions with North Bay Opera, Mission City Opera, Goat Hall Productions, Solo Opera, the Crowden School and Dominican University. From 2002-2006 he was the Chorus Master of the Festival Opera of Walnut Creek. Mr. Bailey is also a composer, and his works have been performed and commissioned in the Bay Area and abroad.
Mr. Bailey also maintains a busy performance schedule as a bass-baritone, oboist, and pianist, and has performed with the San Francisco, Santa Rosa, Oakland East Bay, Berkeley, Redding, Napa, Sacramento, and Prometheus symphonies, American Bach Soloists, Philharmonia Baroque Orchestra, the Midsummer Mozart and West Marin music festivals, San Francisco Bach Choir, Coro Hispano de San Francisco, Pacific Mozart Ensemble, California Vocal Academy, San Francisco Concerto Orchestra, Masterworks Chorale of San Mateo, Baroque Arts Ensemble, San Francisco Korean Master Chorale, the Master Sinfonia, the Mark Morris and Merce Cunningham dance companies, Goat Hall Productions, Opera Piccola, the Berkeley, Golden Gate, and Oakland Lyric Opera companies, and many other groups. He has recorded for the Harmonia Mundi, Koch International, Pro Musica, Wildboar, Centaur, and Angelus Music labels.
Mr. Bailey has been a pre-performance lecturer for the Oakland East Bay Symphony and the San Francisco Opera, a critic for the San Francisco Classical Voice, a writer of real-time commentary for the Concert Companion, and has taught conducting at the University of California at Davis.
Martha Stoddard, Associate Conductor earned her Bachelor of Arts degree at Humboldt State University and her Master of Music degree from San Francisco State University, where she studied flute, conducting and composition. She was named Program Director for the John Adams Young Composers Program at the Crowden Music Center in 2012 and has held the position of Artistic Director of the Oakland Civic Orchestra since 1997.She is Associate Conductor of the San Francisco Composers' Chamber Orchestra and Director of Instrumental Music at Lick-Wilmerding High School.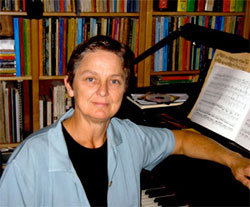 Her most recent commissions include today's premiere and her Trio for Clarinet,Cello and Piano for the 2009 San Francisco Chamber Wind Festival at the San Francisco Conservatory.  She has held the position of Artistic Director of the Oakland Civic Orchestra since 1997. Other recent conducting activities include engagements as Conductor for the John Adams Young Composers' Orchestration Workshops at the Crowden School, Musical Director for the operas Belfagor and Trap Door by Lisa Prosek, Guest Conductor for the San Francisco All City High School String Orchestra and the Santa Rosa Youth Symphony Summer Academy Orchestra. She has also served as an adjudicator for the San Francisco Conservatory of Music and Santa Cruz Youth Symphony Concerto Competitions.  Ms. Stoddard is founding member and director of ChamberMix, and is a featured performer on alto flute in John Bilotta's Shadow Tree (Capstone Records CPS-8787) and in John Thow's Cantico  (Palatino label #1001) Marika Kuzma, conductor, and as conductor for Janis Mercer's, Voices (Centuar Recordings, CPS 2951).