SAN FRANCISCO COMPOSERS CHAMBER ORCHESTRA
Presents "A Free And Frank Exchange Of Ideas"
Saturday, November 4, 2017 at 8 pm
St. Mark's Lutheran Church
1111 O'Farrell Street, San Francisco, CA

PROGRAM
Kat Walsh is a bassoonist, violist, violinist, and composer based in Mountain View, CA. She has performed with groups including the Pan American Symphony Orchestra, Orlando Opera, Central Florida Lyric Opera, and Southern Winds, and currently plays with a variety of casual ensembles around the Bay Area. Walsh has a BA in music from Stetson University in DeLand, Florida and a JD from George Mason University in Arlington, VA, and when not behind a music stand is instead practicing law, in technology, IP, and internet policy.

Kat Walsh

William Severson (b. 1941), at age eight, negotiated piano lessons before informing his parents in a small mountain town in California, but waited until he was 27 to begin vocal lessons in Hawaii when singing with the Honolulu Chorale. This latter instruction was somewhat successful as he sang 1976-7 season with the Tanglewood Festival Chorus, which is a volunteer professional chorus associated with the Boston Symphony in Massachussetts. His parents insisted that he have a livelihood so he has a degree in Electrical Engineering from the University of California at Berkeley, and worked in the computer field for 40 years. He has not mixed computers with music except to be one of the partners of Micro Pro Musica Press. It uses computers to engrave music including his own compositions and arrangements and offer them over the internet. Severson performs around the greater Bay Area with the Golden Age Ensemble. He has had permanent singing positions in churches for 20 years. Severson begain composing in 1979 and was a founding member of the Society of Gay and Lesbian Composers, which performed several of his works. He is a member of the Irregular Resolutions, based in San Francisco. Severson studiedwith Rebeca Mauleon-Santana at CCSF, and Janis Mercer at CMC.

William Severson


Harry Bernstein has been involved in San Francisco Bay Area music for many years as a composer, performer and teacher. He began his musical training on the trumpet, later learning the recorder as well as the Baroque the modern flutes. More recently, his life has been altered by the invasion of a viola. This occurred a few years after Bernstein began his association with City College. Why take up a stringed instrument in one's fifties? In his case, he took on the challenge of learning the viola in order to explore both orchestral and chamber music, and to learn how to write more effectively for strings. Not long after earning a D.M.A. in early music performance from Stanford University, he moved 30 miles north to San Francisco where he has lived ever since. He has studied composition with Jerry Mueller and has written vocal and instrumental music. Bernstein is co-founder of the Golden Age Ensemble, a duo presenting varied programs of instrumental and vocal music around the Bay Area and is a partner in Micro Pro Musica Press, SF, which offers music engraving, arranging and transcription services. He is currently active with the San Francisco Composers Chamber Orchestra (flute), the Bay Area Rainbow Symphony (viola), and that unpredictable composers' circle known as Irregular Resolutions. Bernstein is an instructor in both the Music and Older Adults Departments at City College of San Francisco, and also teaches privately.

Harry Bernstein

Stringtet

I. Stringing me along in the key of U (WS)
II. Mystery, Theme and Variations (HB)
III. Stringing me along in the key of X (WS)


Nancie Kester teaches piano and music composition in her private studio. She recently retired from her long-standing faculty position at Diablo Valley College in Pleasant Hill, CA. In addition to her teaching, Kester is an award-winning composer and arranger, having won prizes in the 2012, 2013 and 2015 MTAC Composer's Today competitions for her choral triptych, California Collage, and for various piano works. She received a BA in Piano and Music Composition from California State University, East Bay, and an MM in Kodaly Music Education from Holy Names College with piano as her instrumental focus. Kester has continued her piano and composition studies with Julian White, Jason Levis, and other master teachers. She has composed and arranged numerous works for chorus, piano, and instrumental ensembles. She is an author and partner in Calicanto Associates -- publisher of books, CDs, choral arrangements, and musical plays featuring songs with historical relevance. Kester resides in Berkeley, CA.

Nancie Kester

Steve Eulberg, Hammered Dulcimer

Stardust is "an animist radical faerie composer living in the somewhat embattled and mythical sanctuary of San Francisco. Stardust is currently obsessed with True of Voice activities, including this season's True of Voice Finale, which follows the SFCCO performances of the True of Voice Overture and the True of Voice Entr'acte. Stardust's previous SFCCO offerings included A la recherche des danses perdues and Railway Sonata. Other works include chamber music and symphonic music prepared for encouraging musician friends at events such as the Humboldt Chamber Music Workshops and welcoming ensembles such as the Opus Project Orchestra, the Golden Gate Symphony, the San Francisco Lesbian and Gay Freedom Band, and of course the San Francisco Composers Chamber Orchestra." Stardust plays the oboe and the English horn.

Stardust

Intervention / Portal / Recovery / Radicalized / Guilty? / Protest
Ideology / Nationalism / Liberation / Impossible Until It's Done

intermission
Dr. Mark Alburger (b. 1957, Upper Darby, PA) is a multiple-award-winning ASCAP composer of postminimal, postpopular, and postcomedic sensibilities. His compositions are generally assembled or gridded over pieces ranging from ancient and world music, to postmodern art and vernacular sources -- 174 opus numbers (markalburgerworks.blogspot.com), including 16 concertos, 20 operas, 9 symphonies, and the four-hours-and-counting opera-oratorio work-in-progress, The Bible. He is Music Director of San Francisco Composers Chamber Orchestra (sfcco.org) and San Francisco Cabaret Opera / Goat Hall Productions (goathall.org), Editor-Publisher of 21st-Century Music Journal (21st-centurymusic.blogspot.com and 21st-centurymusic.com), Instructor in Music Literature and Theory at Diablo Valley and St. Mary's Colleges, and Music Critic for Commuter Times. He studied at Swarthmore College (B.A.) with Gerald Levinson and Joan Panetti, Dominican University (M.A., Composition) with Jules Langert, Claremont Graduate University (Ph.D., Musicology) with Roland Jackson, and privately with Terry Riley. Alburger writes daily at markalburger2009.blogspot.com and is in the fifth year of an 11-year project recording his complete works for New Music Publications and Recordings.

Mark Alburger

2017, Op. 261 (2017)

I. Farewell Address
II. Press Conference
III. Confirmation Hearing
IV. Tweets
V. Phone Calls
VI. Meet the Press


Valerie Salcedo - Barack Obama, Elizabeth Warren,
Tamara Keith, Scott Simon, Chuck Todd

Mark Alburger - Donald Trump, Ben Carson,
Michael Flynn, Sergei Kislyak, John Lewis

John Beeman studied with Peter Fricker and William Bergsma at the University of Washington where he received his Master's degree. His first opera, The Great American Dinner Table was produced on National Public Radio. Orchestral works have been performed by the Fremont-Newark Philharmonic, Santa Rosa Symphony, and the Peninsula Symphony. The composer's second opera, Law Offices, premiered in San Francisco in 1996 and was performed again in 1998 on the steps of the San Mateo County Courthouse. Concerto for Electric Guitar and Orchestra was premiered in January 2001 by Paul Dresher, electric guitar. Mr. Beeman has attended the Ernest Bloch Composers' Symposium, the Bard Composer-Conductor program, the Oxford Summer Institutes, and the Oregon Bach Festival and has received awards through Meet the Composer, the American Music Center and ASCAP. Compositions have been performed by Ensemble Sorelle, the Mission Chamber Orchestra, the Ives Quartet, Fireworks Ensemble, the Oregon Repertory Singers and Schola Cantorum of San Francisco.

John Beeman

Carla Brooke, Librettist

Scene 4: The Demon Train
Scene 6: The Dinner


Jacqueline Goldgorin, Mother
Robert Vann, Ishi
Carley Neill, Grace
Victoria Ko, Helen
Nikolas Nackley, T.T. Waterman

Dr. Erling Wold is a composer and man-about-town. He recently premiered two large works, his Missa Beati Notkeri Balbuli Sancti Galli Monachi in St Gallen, Switzerland, and his solo opera Mordake for tenor John Duykers as part of the San Francisco International Arts Festival. He is currently working on a personal autobiographical theater piece detailing his corruption and death with the help of James Bisso, which may never be finished, and just finished a more tractable violin sonata for the Denisova-Kornienko duo in Vienna. He is best known for his operas, including Sub Pontio Pilato, an historical fantasy on the death and remembrance of Pontius Pilate, a chamber opera based on William Burroughs' early autobiographical novel Queer, and his critically acclaimed work A Little Girl Dreams of Taking the Veil, based on the Max Ernst collage novel.

Erling Wold

The Sinking of the Szent István

The Strait of Otranto / The Unloved War
Blessed are the young men who hunger and thirst for glory
Ich hatt' einen Kameraden
How beautifully the rockets illuminate the night


Click on the links to listen to the music.

Click on the links for video.


Microsoft Media Player or for Mac:
VLC Media Player.
PERFORMERS



Flute
Bruce Salvisberg
Harry Bernstein
Martha Stoddard

Oboe
Stardust
Philip Freihofner

Clarinet
Michael Kimbell
Tom Berkelman

Bassoon
Michael Garvey
Lori Garvey




Trumpet
Michael Cox

Horn
Bob Satterford
Alex Strachan

Trombone
Scott Sterling

Piano
Erling Wold

Percussion
Victor Flaviano
Anne Szabla




Violin I
Kristen Kline

Violin II
Kat Walsh

Viola
Harry Bernstein
Nansamba Ssensalo

Cello
Ariella Hyman

Bass
John Beeman
True Of Voice
is a musical dance-theatre production in development. Set in ancient Egypt and modern times, the spectacle will include incidental music performed by a hip-hop orchestra and an ancient Egyptian orchestra playing period instruments -- including ancient flutes, two-barreled oboe-like instruments, Hathor-decorated sistrums, and two ancient Egyptian curved harps a Portland artisan is currently crafting for the production.
"Plotwise, a powerful polyamorous Egyptian priestess queen magically transports three pivotal people through time to assist her king and his male lover with the pressing political and social needs of the Old Kingdom, despite the efforts of a mysterious spy who tries to thwart their plans. Transformed by their experiences in the past, the trio return energized to create change in our present-day world, each in their own unique way. These key characters are an innocent young black man shot by police, a lesbian couple turned out from a San Francisco restaurant on their tenth anniversary, and incarcerated transgender private Chelsea Manning awaiting trial for leaking military secrets.
The True Of Voice Finale is part of the composer's continuing attempt to spark composition of the incidental music for True of Voice, following on the True Of Voice Overture and the True of Voice Entr'acte previously performed by SFCCO. The overture, to be presented before the curtain rises, covers the beginning scenes of the production, while the entr'acte, to be presented during intermission of the production, covers scenes from the middle of the production before the time-traveling characters return to modern times. The True Of Voice Finale, covering the final scenes in modern times, will be presented at the end of the production.
Selections from this season's True Of Voice Finale evoke theatrical scenes from the production in miniature, including Intervention (paramedic discovers ankh pendant protected Neferkare), Portal (Neith thankful to see Iput), Recovery (paralyzed Neferkare discusses politics), Radicalized (Neith accepts Iput's advice to protest), Guilty? (Chelsea receives guilty verdict, prepares gender announcement), Protest (Queer Nation protest at restaurant), Ideology (discussions about violent vs. non-violent strategy and appropriation), Nationalism (ICE threatens Iput with deportation), Liberation (Chelsea announce gender and applies for medical treatment), Impossible Until It's Done (from a Mandela quote about the utopian future).
The True Of Voice Finale will no doubt whet your artistic appetite for the production of True Of Voice the musical appearing in workshop during 2018 and, assuming funding, in mature theatrical glory by 2019 (more info at http://trueofvoice.com)."
Stringtet is admittedly not an original work by a single composer. Harry wanted to contribute something to the current San Francisco Composers Chamber Orchestra program. "To be honest I not only enjoy the sonority of the string quintet but, after my earlier appearance with the SFCCO string section in 2013 with my short piece titled Plan B, I wanted to be able to play the viola with them again. The requirement for a second viola part in the quintet provided the opportunity. I chose to modify the instrumentation of one of my previous pieces, written for a performance of Irregular Resolutions, whose second concert was given in October, 2006, with all the music performed by the Presidio Ensemble. This group consisted of a string quartet, plus flute, and one condition of their participation was that at least half of the pieces should include the latter. Accordingly, some of us adjusted our music to satisfy their request. I asked for an alto flute, as well as a second viola, perhaps because I had begun playing this instrument in the Oakland Civic Symphony the year before. Mystery (Theme and Variations) is based on a theme from the slow movement of an even earlier piece called Improvisation that I wrote for men's chorus and flute for a performance in 1991. For today's concert, I gave the alto flute part to the second violin."
Two of the movements written by William Severson for Stringtet have similar names. The two Stringing Me Along pieces are companion pieces, both being string quintets with two violas. "Stringing Me Along In the Key of U is a nice little odd-sounding march due to its unusual scale. It uses the so-called oriental scale, which differs from the natural minor scale by raising the fourth and seventh degrees by a half step. The piece is a reworking of the second part of my Rhapsody, originally written for flute and piano. One of my friends, a non-musician, claimed some pieces of music were in the key of X, so I decided to write Stringing Me Along In the Key of X. Any residual key feeling is unintentional, though not unlikely, since it seems natural to me to use a key center of some kind when I compose. This quintet is also an exercise in layering, in which contrasting musical ideas may be heard simultaneously."
Driven (2017) for string quartet, is a "short exploration in three parts of the feeling of pursuing an idea you are compelled to follow. The opening is the anxiety and anticipation before getting started, with the cello providing a heartbeat as the upper strings build in intensity with minor-key counterpoint. It is followed by action, relentless motion with a steady sixteenth-note pulse laying the foundation for a syncopated melody, in a modal feeling. The driving rhythm pauses for a brief interlude as flow state is reached. Finally, the viola takes up the pulse and the piece continues in a major key as the idea is successfully realized.
Turkish Impressions (2016) was composed following a trip to Turkey in 2013. There, Kester was inspired by the Whirling Dervish dances, the grand geologic formations towering throughout Cappadocia, and the accidental antiphonal effect of several Muezzins' Calls to Prayer from one mosque to the next throughout the day. The piece is written in a modified ABA form and is scored for winds and strings, including hammered dulcimer. To capture the quality of Middle-Eastern music, Kester utilized quartertones with bending pitches and a Phrygian melody, a mode found frequently in traditional Turkish music. She also incorporated specific Turkish rhythmic patterns, plus the alternation between 4/4 and 5/4 meters. "It is an honor to have this work performed by the San Francisco Composers Chamber Orchestra, featuring Steve Eulberg on hammered dulcimer."
Ishi, the last survivor of the Yahi tribe, lived alone for three years in the wilderness near Mt. Lassen following the massacre of his people. In 1911, he was discovered by a sheriff, trembling with starvation, and soon taken to the Oroville prison. The news of Ishi's discovery reached anthropologists T.T Waterman and Alfred Kroeber who were curating the museum of anthropology in San Francisco. In this excerpt from Scene 4 of the opera, Ishi is fearful as he travels by train to San Francisco. Train sounds segue into a mythical encounter with his mother. Ishi arrives in San Francisco with an expression of wonder, wearing a suit and barefoot. In Scene 6, Ishi is invited to Waterman's home to share dinner with his wife and daughter. This scene serves as a close up look at the intimate friendship that has developed outside museum walls. John Beeman, composer, and librettist Carla Brooke convey the timeless story of Ishi through the emotional power of opera while hoping to bridge the cultural divide.
2017, Op. 261 (2017), is a "Fake 12-Minute Opera, written in 12 days, about the same -- from Barack Obama's Farewell Address to the Nation (January 10), to the inauguration of a Fake President, and the Women's March on Washington (January 21), with a cast of mutually-suspicious characters including Vladimir Putin, Elizabeth Warren, Ben Carson, Tamara Keith, Michael Flynn, Sergey Kislyak, John Lewis, Angela Merkel, Steve Mnuchin, Sherrod Brown, America Ferrara, and The Egomaniacal Lying Tweeter-in-Chief. Texts are drawn exclusively from the public record; music is minimalistically / post-modernly corrupted from Richard Wagner's Das Reingold (trolls, etc.), Dmitri Shostakovich's The Nose, and YouTube political commentary and hearings." The work was premiered this past summer to rave reviews as part of Goat Hall Production / San Francisco Cabaret Opera's Fresh Voices VII programs -- in Albany, San Francisco, and Vallejo -- by Patrick Brancato, Valerie Salcedo, and Ryan Swale.
The Sinking Of The Szent István
(2017) "is an instrumental suite from my soon-to-be-written opera on the sinking of the Tegetthoff-class battleship SMS Szent István, an event which, as it happened on the maiden voyage due to a series of mishaps and foolishnesses, was an embarrassment for the Austro-Hungarian empire, already in rapid decline post Franz Josef. However, in Italy, the country that provided the torpedoes that dealt the blow, it is still commemorated as Navy Day, June 10th, the day in 2018 the opera will premiere, the 100th anniversary of the awesome event. In five sections:
1) A few years ago, a former attendant of the Empress took me to see A Winged Victory for the Sullen, and something about the calmness of their music has infected me. So when the librettist's stage directions commanded that the music starts in a calming and smooth manner, in the first section, The Strait of Otranto, where the battle eventually takes place, I said OK I will and let the infection run its course. In the opening, we hear that the Strait of Otranto, the Otrantostrasse, is for sailors what Verdun is for the foot soldiers at the front.
2) As the ship sails, the mishaps accumulate. They have set off late, so will not arrive under cover of darkness, and the coal is damp, sending dense black smoke, signaling the enemy. Those that love war love this, The Unloved War.
3) I was improvising at the piano and came across some chords which, after some time, I realized were thinly disguised versions of chords I have used many times before, but shortly thereafter noticed a modal similarity to the chords that begin Schubert's Der Doppelgänger, and since the librettist is liberally quoting lots of pro and anti war poetry I thought why shouldn't I do some quoting, so in the section Blessed are the young men who hunger and thirst for glory, from Gabriele D. Annuncio's beatitudinal Bergpredigt, I mixed in some of me with some of Mr. Schubert's song. My favorite Schubert musics are the dark musics, e.g. the above, Die liebe Farbe, etc., and that darkness here is featured in the contrabassoon doubling bits of the melody.
4) The librettist, Peter Wagner, said to use Ich hatt' einen Kameraden -- the German equivalent of Taps -- might be too heavy-handed, but I arranged it anyway.
5) Which leads us attaca to How beautifully the rockets illuminate the night, a repurposing of a piano piece of mine, arranged for the small orchestra. A pulsing but slowly changing harmony, and a dropping melody in the bells. Orchestration can do many things given a piano piece as its source: in this case, providing the swell of the dynamics and the pedaling of the piano."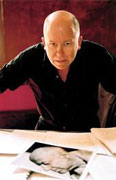 Dr. Mark Alburger is the Music Director, Conductor and founder of the San Francisco Composers Chamber Orchestra. Mark is an eclectic American composer of postminimal, postpopular, and postcomedic sensibilities. He is the Music Director of Goat Hall Productions / San Francisco Cabaret Opera, Editor-Publisher of 21st-Century Music Journal, an award-winning ASCAP composer of concert music published by New Music, Instructor in Music Theory and Literature at Diablo Valley College, Music Critic for Commuter Times, author, musicologist, oboist, pianist, and recording artist.
Dr. Alburger studied oboe with Dorothy Freeman, and played in student orchestras in association with George Crumb and Richard Wernick. He studied composition and musicology with Gerald Levinson, Joan Panetti, and James Freeman at Swarthmore College (B.A.), Karl Kohn at Pomona College, Jules Langert at Dominican College (M.A.), Tom Flaherty and Roland Jackson at Claremont Graduate School (Ph.D.), and Terry Riley.
Since 1987 he has lived in the San Francisco Bay Area, initially producing a great deal of vocal music with assembled texts, including the opera Mice and Men (1992), the crisis-madrigal collection L.A. Stories (1993), the rap sheet For My Brother For My Brother (1997), and the hieratic Passion According to Saint Matthew (1997).
Since 1997, Dr. Alburger has gridded and troped compositions upon pre-existent compositions ranging from world music and medieval sources to contemporaries such as George Crumb and Philip Glass. To date, he has written 16 concerti, 7 masses and oratorios, 12 preludes and fugues, 20 operas, 6 song cycles, 9 symphonies -- a total of 130 opus numbers and more than 800 individual pieces. He is presently at work on Waiting for Godot and Diabolic Variations.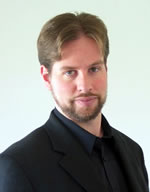 John Kendall Bailey is an Associate Conductor with the San Francisco Composers Chamber Orchestra and is Principal Conductor and Chorus Master of the Trinity Lyric Opera, Music Director and Conductor of Voices of Musica Sacra, and Artistic Director of the San Francisco Song Festival. In 1994, Mr. Bailey founded the Berkeley Lyric Opera and served as its Music Director and Conductor until 2001. Since then he has been a guest conductor with the Oakland East Bay Symphony, Oakland Youth Orchestra, and Oakland Ballet, and music director and conductor for productions with North Bay Opera, Mission City Opera, Goat Hall Productions, Solo Opera, the Crowden School and Dominican University. From 2002-2006 he was the Chorus Master of the Festival Opera of Walnut Creek. Mr. Bailey is also a composer, and his works have been performed and commissioned in the Bay Area and abroad.
Mr. Bailey also maintains a busy performance schedule as a bass-baritone, oboist, and pianist, and has performed with the San Francisco, Santa Rosa, Oakland East Bay, Berkeley, Redding, Napa, Sacramento, and Prometheus symphonies, American Bach Soloists, Philharmonia Baroque Orchestra, the Midsummer Mozart and West Marin music festivals, San Francisco Bach Choir, Coro Hispano de San Francisco, Pacific Mozart Ensemble, California Vocal Academy, San Francisco Concerto Orchestra, Masterworks Chorale of San Mateo, Baroque Arts Ensemble, San Francisco Korean Master Chorale, the Master Sinfonia, the Mark Morris and Merce Cunningham dance companies, Goat Hall Productions, Opera Piccola, the Berkeley, Golden Gate, and Oakland Lyric Opera companies, and many other groups. He has recorded for the Harmonia Mundi, Koch International, Pro Musica, Wildboar, Centaur, and Angelus Music labels.
Mr. Bailey has been a pre-performance lecturer for the Oakland East Bay Symphony and the San Francisco Opera, a critic for the San Francisco Classical Voice, a writer of real-time commentary for the Concert Companion, and has taught conducting at the University of California at Davis.
Carla Brooke has collaborated with her husband John Beeman, as an author, librettist, and lyricist. Besides writing the libretto for his opera, The Answering Machine, Brooke also wrote the text for the choral Angel of Peace, performed at the Oregon Bach Festival. She co-authored Foam, a musical-dramatic work, and wrote the book and lyrics for the children's musical El Condor. As an author and poet, Carla has written Artfelt, a guide for helping children deal with grief, and recently, Hanai and I, a children's story. Her poetry and essays have been published by Insight Meditation Center in a collection called Passing It On.