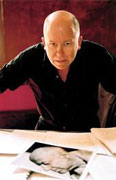 Dr. Mark Alburger is the Music Director, Conductor and founder of the San Francisco Composers Chamber Orchestra. Mark is an eclectic American composer of postminimal, postpopular, and postcomedic sensibilities. He is the Music Director of Goat Hall Productions / San Francisco Cabaret Opera, Editor-Publisher of 21st-Century Music Journal, an award-winning ASCAP composer of concert music published by New Music, Instructor in Music Theory and Literature at Diablo Valley College, Music Critic for Commuter Times, author, musicologist, oboist, pianist, and recording artist.
Dr. Alburger studied oboe with Dorothy Freeman, and played in student orchestras in association with George Crumb and Richard Wernick. He studied composition and musicology with Gerald Levinson, Joan Panetti, and James Freeman at Swarthmore College (B.A.), Karl Kohn at Pomona College, Jules Langert at Dominican College (M.A.), Tom Flaherty and Roland Jackson at Claremont Graduate School (Ph.D.), and Terry Riley.
Since 1987 he has lived in the San Francisco Bay Area, initially producing a great deal of vocal music with assembled texts, including the opera Mice and Men (1992), the crisis-madrigal collection L.A. Stories (1993), the rap sheet For My Brother For My Brother (1997), and the hieratic Passion According to Saint Matthew (1997).
Since 1997, Dr. Alburger has gridded and troped compositions upon pre-existent compositions ranging from world music and medieval sources to contemporaries such as George Crumb and Philip Glass. To date, he has written 16 concerti, 7 masses and oratorios, 12 preludes and fugues, 20 operas, 6 song cycles, 9 symphonies -- a total of 130 opus numbers and more than 800 individual pieces. He is presently at work on Waiting for Godot and Diabolic Variations.
Dr. Erling Wold is the Executive Director of the San Francisco Composers Chamber Orchestra and is a prolific composer versed in a variety of musical styles and media. Recent performances include a Mass for the Dom Cathedral in St Gallen, Switzerland, a dance opera on a true crime story with Palindrome Dance in Germany, and a solo opera for tenor John Duykers. He is now working on an autobiographical opera with the help of James Bisso. He premiered his opera Sub Pontio Pilato, an historical fantasy on the death and remembrance of Pontius Pilate in San Francisco and Austria. He completed a residency at ODC Theater in 2001 with a presentation of a chamber opera based on William Burroughs' early autobiographical novel Queer and a restaging of his critically acclaimed work A Little Girl Dreams of Taking the Veil, based on the Max Ernst collage novel. He is an eclectic composer whose teachers include Gerard Grisey, Robert Gross, Andrew Imbrie and John Chowning, but who has been called "the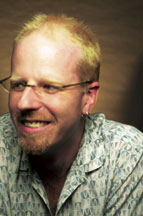 Eric Satie of Berkeley surrealist/minimalist electro-artrock" by the Village Voice. He composed the soundtracks for a number of Jon Jost films.
He has published technical and artistic articles in many publications, including IEEE MultiMedia, Proceedings of the ICMC, SIGGRAPH, the JI Journal 1/1, and the IEEE Transactions on Computers. He has five patents in musical signal processing, holds a doctorate from the University of California at Berkeley and was a researcher in signal processing and music synthesis at Yamaha Music Technologies before cofounding Muscle Fish LLC, an audio and music software company.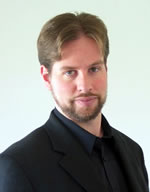 John Kendall Bailey is an Associate Conductor with the San Francisco Composers Chamber Orchestra and is Principal Conductor and Chorus Master of the Trinity Lyric Opera, Music Director and Conductor of Voices of Musica Sacra, and Artistic Director of the San Francisco Song Festival. In 1994, Mr. Bailey founded the Berkeley Lyric Opera and served as its Music Director and Conductor until 2001. Since then he has been a guest conductor with the Oakland East Bay Symphony, Oakland Youth Orchestra, and Oakland Ballet, and music director and conductor for productions with North Bay Opera, Mission City Opera, Goat Hall Productions, Solo Opera, the Crowden School and Dominican University. From 2002-2006 he was the Chorus Master of the Festival Opera of Walnut Creek. Mr. Bailey is also a composer, and his works have been performed and commissioned in the Bay Area and abroad.
Mr. Bailey also maintains a busy performance schedule as a bass-baritone, oboist, and pianist, and has performed with the San Francisco, Santa Rosa, Oakland East Bay, Berkeley, Redding, Napa, Sacramento, and Prometheus symphonies, American Bach Soloists, Philharmonia Baroque Orchestra, the Midsummer Mozart and West Marin music festivals, San Francisco Bach Choir, Coro Hispano de San Francisco, Pacific Mozart Ensemble, California Vocal Academy, San Francisco Concerto Orchestra, Masterworks Chorale of San Mateo, Baroque Arts Ensemble, San Francisco Korean Master Chorale, the Master Sinfonia, the Mark Morris and Merce Cunningham dance companies, Goat Hall Productions, Opera Piccola, the Berkeley, Golden Gate, and Oakland Lyric Opera companies, and many other groups. He has recorded for the Harmonia Mundi, Koch International, Pro Musica, Wildboar, Centaur, and Angelus Music labels.
Mr. Bailey has been a pre-performance lecturer for the Oakland East Bay Symphony and the San Francisco Opera, a critic for the San Francisco Classical Voice, a writer of real-time commentary for the Concert Companion, and has taught conducting at the University of California at Davis.
Martha Stoddard, Associate Conductor earned her Bachelor of Arts degree at Humboldt State University and her Master of Music degree from San Francisco State University, where she studied flute, conducting and composition. She is a 2009 Recipient of the Ascap Plus Award and her music has been performed for the San Francisco Chapter of the American Composer⤙s Forum, by the Avenue Winds, in London, UK, by alto flutists Carla Rees and Lisa Bost, the San Francisco Choral Artists, San Francisco Composers⤙ Chamber Orchestra, Schwungvoll!, the Community Women⤙s Orchestra, Oakland Civic Orchestra, Womensing, on the New Directions Series of the Bakersfield Symphony, in the Trinity Chamber Concert Series and the New Music Forum Festival of Contemporary Music.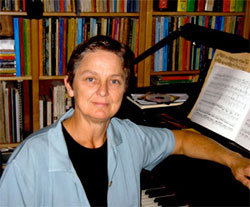 ¬†Her most recent commissions include¬†¬†today's premiere ¬†and her¬†Trio for Clarinet,Cello and Piano¬†for the 2009 San Francisco Chamber Wind Festival at the San Francisco Conservatory.¬†She has held the position of Artistic Director of the Oakland Civic Orchestra since 1997. Other recent conducting activities include engagements as Conductor for the John Adams Young Composers'§ô Orchestration Workshops at the Crowden School, Musical Director for the operas¬†Belfagor¬†and¬†Trap Door¬†by Lisa Prosek, Guest Conductor for the San Francisco All '§ď City High School String Orchestra and the Santa Rosa Youth Symphony Summer Academy Orchestra. She has also served as an adjudicator for the San Francisco Conservatory of Music¬†and Santa Cruz Youth Symphony Concerto Competitions. ¬†¬†Ms. Stoddard is founding member and director of ChamberMix, and is a featured performer on alto flute in John Bilotta'§ôs¬†Shadow Tree¬†(Capstone Records CPS-8787) and in John Thow'§ôs¬†Cantico¬† (Palatino label #1001) Marika Kuzma, conductor, and as conductor ¬†for Janis Mercer'§ôs,¬†Voices¬†(Centuar Recordings, CPS¬†2951).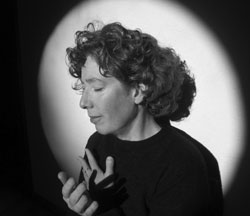 Lisa Scola Prosek is the General Manager of the San Francisco Composers Chamber Orchestra and was raised in Rome, Italy, and began studying piano at the age of 4. After moving to the United States at the age of 11, Lisa graduated from Princeton University, where she studied with Edward Cone and Milton Babbitt, and privately with Lukas Foss in New York. During this time, Lisa developed a great love for the voice, and studied singing with Margherita Kalil of the Met. After Princeton, Lisa returned to Italy, where she attended the Conservatorio Luigi Cherubini, and studied with composer Gaetano Giani-Luporini. To date, Scola Prosek has composed two oratorios, and 5 operas, in Italian and English, including Satyricon, reviewed by the San Francisco Observer as a "Tour de Force" and featured on KRON TV; and Leonardo's Notebooks, in Italian, both of which premiered to capacity audiences, and were featured on NPR's West Coast Live. The Contemporary Classical Music Weekly writes: "This composer's work is steeped in the Mediterranean world of gestures, writ both big and small. Her vocal writing references bel canto and the madrigal, and the instrumental writing, with its shadowy inner voices, has character and point. Intricate and highly expressive music." Sequenza 21. Lisa Scola Prosek is the recipient of numerous grants and awards, including from the Argosy Foundation, for Belfagor, and from the LEF Foundation, Meet The Composer, The Hewlett Foundation, the Argosy Contemporary Music Fund, and the American Composers Forum for her opera Trap Door.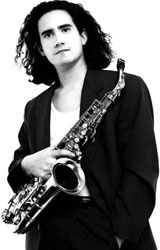 Michael Cooke is the Promotion & Fundraising Director of the San Francisco Composers Chamber Orchestra and a composer of jazz and classical music. This two-time Emmy and Louis Armstrong Jazz Award winner plays a variety of instruments: you can hear him on soprano, alto, and tenor saxophones, flute, soprano and bass clarinets, bassoon and percussion. A cum laude graduate with a music degree from the University of North Texas, he had many different areas of study; jazz, ethnomusicology, music history, theory and of course composition. In 1991 Michael began his professional orchestral career performing in many north Texas area symphonies. Michael has played in Europe, Mexico, and all over the United States. Cimarron Music Press began published many of Michael's compositions in 1994.
After relocating to the San Francisco Bay Area, he has been exploring new paths in improvised and composed music, mixing a variety of styles and techniques that draw upon the creative energy of a multicultural experience, both in and out of America. In 1999, Michael started a jazz label called Black Hat Records. The San Francisco Beacon describes Michael's music as "flowing out color and tone with a feeling I haven't heard in quite a while. Michael plays with such dimension and flavor that it sets (his) sound apart from the rest." Uncompromising, fiery, complex, passionate, and cathartic is how the All Music Guide labeled Michael's playing on Searching by Cooke Quartet, Statements by Michael Cooke and The Is by CKW Trio. His latest release, An Indefinite Suspension of The Possible, is an unusual mixture of woodwinds, trombone, cello, koto and percussion, creating a distinct synergy in improvised music that has previously been untapped. www.michaelkcooke.com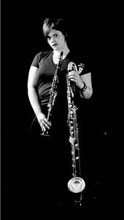 Rachel Condry is the Booking Manager of the San Francisco Composers Chamber Orchestra. She has spent her career commissioning, premiering and performing new works for solo clarinet, clarinet with tape and clarinet and orchestra. In the spring of 2005 she made her Carnegie Hall debut with The Matt Small Chamber Ensemble, a group that seamlessly blends jazz, improvised music and classical genres. As a performing member of the San Francisco Composer's Chamber Orchestra, Rachel premiered the Cello Concerto of Thomas Goss on Bass clarinet in 2003 and in 2005 she premiered Erling Wold's work "Brightness" for solo clarinet and orchestra. She has independently produced several concerts comprised of recent and newly commissioned work for clarinet and bass clarinet by Bay Area composers such as Earl Zindars, Erling Wold, Andrew Shapiro, Lisa Prosek, Janis Mercer, Jono Kornfeld, Melissa Hui, Alexis Alrich and others. Rachel received a Bachelor of Music degree from Oberlin Conservatory where she was a finalist of the Oberlin Concerto Competition and was a soloist with the Oberlin Contemporary Music Ensemble.
David Graves is the Coordinator of the San Francisco Composers Chamber Orchestra. He has composed music for multiple genres, including "neoclassical," ambient, jazz, and rock. He has also scored music for film and theatre, including A Period Piece, performed in San Francisco and New York (1995-1998) and ICON: The Photography of Gordon Parks (2003), a movie by PCTV. In 2003 and 2005 he was a resident composer at the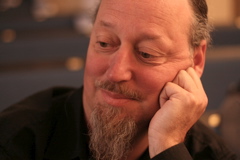 Djerassi Resident Artist Program where he was awarded the William and Flora Hewlett Foundation Fellowship. Deciduous, a large-scale surround sound performance, was showcased in 2006's Soundwave>Series. He will be performing Human Street Textures, an electronic piece for moving AudioBus, in the Soundwave>Series this summer along with [ruidobello]. He is currently an Emerging Composer-in-Residence with the Berkeley Symphony.