SAN FRANCISCO COMPOSERS CHAMBER ORCHESTRA
Presents "The Pluto Memorial Concert" at Old First Church
Saturday, October 14th, 2006 at 8 pm
Old First Presbyterian Church
1751 Sacramento Street/Van Ness, San Francisco, CA 94109
Listen to the
complete concert
.
PROGRAM
Philip Freihofner -- oboist, synthesist & composer, has been a member of the San Francisco Composers Chamber Orchestra since the fall of 2004. He has an A.B. in Music from the University of California in Berkeley, and works variously as a contract programmer, oboe performer, coach & "reed doctor," composer & sound designer, and as a retail clerk on Saturdays at Forrests Music in Berkeley. His diverse musical background includes classwork at the SF Conservatory of Music (Prep Dept), Blue Bear School of Music and the Ali Akbar College of Music, and appearances on a recording each by The Residents & negativland, performance with the groups "Flak" and J Poet's rock band "Young Adults," and scoring (artistic, commercial and experimental) for video, A/V, drama and dance. Credits include title music for the UC Berkeley "The Distinguished Teaching Awards" and the theme music for Harry Kreisler's "Conversations with History" series (over 400 episodes produced). He wrote and served as Music Director for Cheryl Koehler/Zig Zag Theatre's full-length dance theater production: "The Fish and the Fire" (performed at Julia Morgan Center in 1993, and the Cowell Theater in 1994) as well as three UC Berkeley Drama Department productions (with directors George House & Lorne Buckmann). The New Music group EARPLAY workshopped a sketch that has been further developed into a work-in-progress setting of the short story "Carmilla" by Sheridan Le Fanu (performed at SFCCO's December 2008 concert). His "Quartet #1 for Oboe, Clarinet, Horn & Bassoon" has been performed by the UC Santa Cruz Music Department faculty, and excerpts of his silent film score for "Der Golem" were recently released on CD by the double reed consort: "WiZARDS!". Most recent work includes electro-acoustic compositions, including "It's only the Wind" premiered at SFCCO Fall 2009 concert at Chapel-of-the-Chimes, "The Obelisk" performed by Steve Adams (SFCCO June 2009) and "What Are You Going to Dream Tonight?" (SFCCO Feb 2009). He also self-publishes and sells sheet music arrangements and original compositions for chamber music ensembles, with an emphasis on double reed quartets, and invented a tool to assist with oboe reed making, the "Blend-Guide Mandrel," currently being marketed by Forrests Music. As an oboist, in addition to working with SFCCO, he has recently performed with Bay Area Chamber Harmonies, and for Bay Area composers Harry Bernstein, Mark Alburger, Jan Pusina, and in Lisa Schola Prosek's Chamber Opera "Trap Door."

Philip Freihofner

The Thing Itself
In my craft or sullen art

John Kendall Bailey, voice

Allan Crossman has written for many soloists and ensemble. The North/South Consonance (NYC) recording of Millennium Overture Dance received a GRAMMY nomination in 2003; Music for Human Choir (SATB) shared Top Honors at the Waging Peace through Singing Festival; North/South recently recorded his FLYER (cello and string orchestra, with soloist Nina Flyer); and a recent commission is the piano trio Icarus, for the New Pacific Trio (San Francisco).

One of his many theatre scores, The Log of the Skipper's Wife, was produced by the Royal Shakespeare Company at Stratford and the Kennedy Center, with Crossman's music drawn from Irish/English shanties and dances. His music is the soundtrack for the award-winning animated short, X man, by Christopher Hinton (National Film Board of Canada). His work has been supported by such organizations as Canada Council for the Arts, American Composers Forum, and Meet the Composer (NY). Professor Emeritus, Concordia University (Montreal), he has also taught at Wheaton College, the Pacific Conservatory, and is presently on the faculty of the San Francisco Conservatory of Music. His doctoral studies were with George Rochberg, George Crumb, and Hugo Weisgall at the University of Pennsylvania.

Allan Crossman

Flyer

Nina Flyer, cello

Beeri Moalem is a violist, violinist, composer, teacher, writer. In addition to SFCCO, he plays with the San Francisco Chamber Orchestra, Monterey Symphony, and Fresno Symphony. He teaches orchestra at Terman School in Palo Alto, and is a critic for the San Francisco Classical Voice. His other interests include mountain biking, travel, green technology, and computer games.

Beeri Moalem
intermission
Martha Stoddard earned her Bachelor of Arts degree at Humboldt State University and Master of Music from San Francisco State University, where she studied flute, conducting, and composition. She was recently named Program Director of the John Adams Young Composers Program at the Crowden Music Center and has held the position of Artistic Director of the Oakland Civic Orchestra since 1997. Stoddard is Associate Conductor of the San Francisco Composers Chamber Orchestra and Director of Instrumental Music at Lick-Wilmerding High School. Other activities include engagements as Musical Director for Lisa Scola Prosek's Belfagor and Trap Door, John Bilotta's Trifles, Mark Alburger's Job: A Masque, and the Erling Wold / Davide Verotta / Scola Prosek / Stoddard Dieci Giorni, premiered in San Francisco in 2010. In October 2012, she conducted the premiere of Scola Prosek's The Daughter o the Red Tsar, featuring tenor John Duykers. A 2009 and 2010 recipient of AscapPlus Awards, her music has been performed in San Francisco through the American Composerís Forum, by the Sierra Ensemble, Avenue Winds and in the UK by flutists Carla Rees and Lisa Bost. She has had performances by the San Francisco Choral Artists, Schwungvoll!, the Community Womenís Orchestra, Oakland Civic Orchestra, Womensing, Bakersfield Symphony New Directions Series, in the Trinity Chamber Concert Series and the New Music Forum Festival of Contemporary Music. Recent commissions include Points of Reference, Outbursts: an Homage to Brahms, Orchestral Suite for the Young of all Ages, and the Trio for Clarinet, Cello, and Piano.

Martha Stoddard

Dr. Mark Alburger (b. 1957, Upper Darby, PA) is a multiple-award-winning ASCAP composer of postminimal, postpopular, and postcomedic sensibilities. His compositions are generally assembled or gridded over pieces ranging from ancient and world music, to postmodern art and vernacular sources -- 174 opus numbers (markalburgerworks.blogspot.com), including 16 concertos, 20 operas, 9 symphonies, and the four-hours-and-counting opera-oratorio work-in-progress, The Bible. He is Music Director of San Francisco Composers Chamber Orchestra (sfcco.org) and San Francisco Cabaret Opera / Goat Hall Productions (goathall.org), Editor-Publisher of 21st-Century Music Journal (21st-centurymusic.blogspot.com and 21st-centurymusic.com), Instructor in Music Literature and Theory at Diablo Valley and St. Mary's Colleges, and Music Critic for Commuter Times. He studied at Swarthmore College (B.A.) with Gerald Levinson and Joan Panetti, Dominican University (M.A., Composition) with Jules Langert, Claremont Graduate University (Ph.D., Musicology) with Roland Jackson, and privately with Terry Riley. Alburger writes daily at markalburger2009.blogspot.com and is in the fifth year of an 11-year project recording his complete works for New Music Publications and Recordings.

Mark Alburger

Suite ("Sol[ar]")for Orchestra

David Graves has been writing a variety of musical works since the 1970s, including jazz, pop, electronic and neoclassical pieces for film, theater, studio recordings and orchestra. He has studied at the San Francisco Conservatory of Music and City College of San Francisco. In 2003 and 2005 David was a resident composer with the Djerassi Resident Artist Program where he was awarded the William and Flora Hewlett Foundation Fellowship. He was also a resident composer with the Berkeley Symphony for two consecutive seasons and wrote six pieces that were performed as a part of their Under Construction series. His large-scale ambient works have been installed in a redwood canyon (tree/sigh), The LAB (Deciduous), and the renowned San Francisco AudioBus (Human Street Textures). For many years, he has been the Coordinator for the San Francisco Composers Chamber Orchestra and has had pieces performed annually by that ensemble as well as the Irregular Resolutions composer collective. In the late 2000s he released albums with the prog-rock group ScienceNV, recorded a collection of pop vocal tunes, received grants from the American Composers Forum and Meet the Composer, was sound designer for Miss Julie at the Aurora Theater, and developed a collection of short video dreams (Living in the Village of My Dreams). More recently, he was sound designer for Mary Stuart at Shotgun Theater, performed as AmbientBlack at various venues, created soundscapes for the featurette Alien Worlds at the California Academy of Sciences, and installed Fog and Expectations in the backyard garden of Urban Bazaar.

David Graves

Yearnings of a Middle Aged Composer About to Be Drowned

I. To Be Courted
II. Revenge
III. Something More


Click on the links to listen to the music. Click on the links for video.
Microsoft Media Player or for Mac: VLC Media Player.
PERFORMERS



Flute (Piccolo *, Alto Flute**)
Bruce Salvisberg*
Martha Stoddard**

Oboe
Phil Freihofner

English Horn
Ted Rust

Clarinet (Bass Clarinet**)
Jonathan Russell**
Michael Cooke

Bassoon (ContraBassoon**)
Michael Garvey
Lori Garvey**
Michael Cooke

Soprano Sax
Michael Cooke




French Horn
Jan Pusina

Trumpet
Rob Wilkins

Trombone
Jen Baker

Piano
Alexis Alrich

Synthesizers
James Henriques
David Graves

Percussion
Victor Flaviani
Alexis Alrich
John Kendall Bailey
Erling Wold




Violin I
Monika Gruber

Violin II
Hande Erdem

Viola
Be'eri Moalem

Cello
Beth Snellings

Bass
John Beeman
Nina Flyer has toured and recorded throughout Europe, Scandanavia and America. She has been principal cellist with the symphonies of Jerusalem, Bergen (Norway) and Iceland, and has held the post of acting principal cellist with the San Diego Symphony. She is presently principal cellist of the Women's Philharmonic, the Classical Philharmonic and the Bear Valley Music Festival, as well as cello and chamber music instructor at the University of the Pacific. She performs with the San Francisco Symphony, and records for the TV and Motion Picture Industry. She maintains a busy schedule of solo appearances and chamber music performances in the US and abroad, and is a founding member of the Yerba Buena Ensemble, the chamber ensemble-in-residence with NOONTIME CONCERTS (tm) in San Francisco. Ms. Flyer was a finalist in the Coleman and Colmar (France) chamber music competitions. Her piano trio in Israel was sent on a government-commissioned tour of Norway, Denmark, and Iceland. An active proponent of contemporary music, Ms. Flyer performs regularly with contemporary music groups and has had many new works dedicated to her. One of Ms. Flyer's recent CDs, a concerto by Shulamit Ran, recorded with the English Chamber Orchestra, was nominated for two grammys. Her latest CD, on KOCH International, was released in July of 1999 to critical acclaim. She is currently performing, and soon to be recording, a new cello/piano version of the Carnival of the Animals, arranged by Mark Fish, with David Ogden Stiers as narrator. Nina Flyer is a Lecturer in Cello at the University of the Pacific Conservatory of Music.
In my craft or sullen art
Dylan Thomas

In my craft or sullen art
Exercised in the still night
When only the moon rages
And lovers lie abed
With all their griefs in their arms,
I labor by singing light
Not for ambition or bread
Or the strut and the trade of charms
On the ivory stages
But for the common wages
Of their most secret heart.

Not for the proud man apart
From the raging moon I write
On these spindrift pages
Nor for the towering dead
With their nightingales and psalms
But for the lovers, their arms
Round the griefs of the ages,
Who pay no praise or wages
Nor heed my craft or art.

Copyright (C) 1971 by The Trustees for the Copyrights of Dylan Thomas

Flyer, for cello solo and string ensemble, was completed just in time for the centenary of powered flight in 2003. Some of the sketches were actually made at Kitty Hawk, NC, where the Wright Brothers first flew the plane they called Flyer, an astounding feat of vision and engineering. The piece sets out to simulate sensations of flying for the first time – weightlessness, wonder, danger, ecstasy…in other words, sensations of launching oneself into parts unknown – how suitable for the 21st century! The first powered flight is both a deeply American phenomenon and with deeply global consequences – without end in space and time. Many of the figures played by the ensemble may suggest the wind in all its unpredictability, with the cello solo piloting through it, countering it, reading it, riding it. In the score, an entire section of these figures appears as designs rather than as traditional notation. And as you hear, some passages leave behind the physical act of flying and enter into the pure, spiritual experience of flight. The composition is dedicated to the American cellist, Nina Flyer.
Avinu Malkeinu is sung on the Jewish holidays of Rosh Hashanah (New Year) and Yom Kippur (Day of Atonement). It is chanted by the entire congregation at the end of the prayer service. The prayer translates to:

Our Father, our King
Have mercy on us, answer us
For we have no deeds.
Do with us
Justice and benevolence
And save us.

This plea is followed by the sounding of the Shofar—a traditional instrument usually made of ram's horn. This composition is based entirely on the prayer song and the Shofar calls. As a Jew, the melodies are very meaningful to me. As a composer I exercised a lot of restraint with this piece. I deliberately resisted adding more melodies, more harmony, and counterpoint. In this way, one might call this a minimalist composition, but it does not in any way sound like the "minimalist" aesthetic popular with contemporary composers. Rather, it is minimalist in the primitive and meditative sense of the word.
The origins of Parodies for Chamber Orchestra lie in an unfinished trio for clarinet, bassoon and piano, themes from which were reworked in an orchestral context. The single movement form is comprised of several distinct segments all framed by two rather stiff matching pillars. These serve as a gateway to the playful interior, where references to French wind music, contrapuntal textures, minimalist gestures, band elements of jazz and rock idioms appear in succession, in a carnival "fun-house" parody.
Suite ("Sol[ar]") for Orchestra, Op. 134, is an orchestration and expansion of an earlier version for oboe, piano, and percussion -- music on a grid derived from a reverse usage of George Crumb's Makrokosmos, Volume I. The work is a journey from the sun to the outer solar system and back, identified over the course of a year, with character designations in the tradition of Edward Elgar, Gustav Holst, and Crumb. Other musical passengers include Webernian atonality, modal naiveté, Cowell clusters, minimalist substitutions, echoes of Mice and Men and Business As Usual, Ralph Vaughan Williams's Symphony No. 4, Franz Schubert's Symphony No. 9, Igor Stravinsky's Histoire du Soldat, Dmitri Shostakovich's Symphony No. 11, Nicolai Rimsky-Korsakov's Procession of Nobles, Edgar Varèse's Ionization, Harold Arlen's The Wizard of Oz, Antonin Dvorak's Symphony No. 9, Arnold Schoenberg's Five Pieces for Orchestra, American football cheers, the Wheaties song, children's taunts, the Gregorian hymn O Come O Come Emanuel, Sergei Prokofiev's Symphony No. 3, Guido d'Arezzo's Hymn to St. John, and 70's disco.
Here is how it will happen. Walking on Ocean Beach, forgetting himself and looking away from the surf, he hears the roar. As he turns to look at the waves he realizes he is about to be swept away. In these final moments he only has time for a few thoughts, and they come suddenly, rushing at him like the dark water: he wishes that he had been courted, at least once in his life; he thinks of those who have wronged him, however subtly, and longs for revenge; and he yearns for something more than how he's lived (although he really doesn't know what that would be). Finally, his face pushes into the cold sea…In Yearnings, the chamber orchestra is augmented by two synthesizers. These are not pre-recorded tracks; in contrast to synthesizers of the twentieth century, computer processing is now sufficiently fast to enable live performance of very complex synthetic algorithms. This frees the conductor to choose tempos traditionally, eliminating the need for pre-recorded tracks. One of these parts ("dark bells") plays continuously between the first and second movements.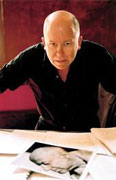 Dr. Mark Alburger is the Music Director, Conductor and founder of the San Francisco Composers Chamber Orchestra. Mark is an eclectic American composer of postminimal, postpopular, and postcomedic sensibilities. He is the Music Director of Goat Hall Productions / San Francisco Cabaret Opera, Editor-Publisher of 21st-Century Music Journal, an award-winning ASCAP composer of concert music published by New Music, Instructor in Music Theory and Literature at Diablo Valley College, Music Critic for Commuter Times, author, musicologist, oboist, pianist, and recording artist.
Dr. Alburger studied oboe with Dorothy Freeman, and played in student orchestras in association with George Crumb and Richard Wernick. He studied composition and musicology with Gerald Levinson, Joan Panetti, and James Freeman at Swarthmore College (B.A.), Karl Kohn at Pomona College, Jules Langert at Dominican College (M.A.), Tom Flaherty and Roland Jackson at Claremont Graduate School (Ph.D.), and Terry Riley.
Since 1987 he has lived in the San Francisco Bay Area, initially producing a great deal of vocal music with assembled texts, including the opera Mice and Men (1992), the crisis-madrigal collection L.A. Stories (1993), the rap sheet For My Brother For My Brother (1997), and the hieratic Passion According to Saint Matthew (1997).
Since 1997, Dr. Alburger has gridded and troped compositions upon pre-existent compositions ranging from world music and medieval sources to contemporaries such as George Crumb and Philip Glass. To date, he has written 16 concerti, 7 masses and oratorios, 12 preludes and fugues, 20 operas, 6 song cycles, 9 symphonies -- a total of 130 opus numbers and more than 800 individual pieces. He is presently at work on Waiting for Godot and Diabolic Variations.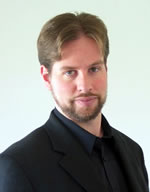 John Kendall Bailey is an Associate Conductor with the San Francisco Composers Chamber Orchestra and is Principal Conductor and Chorus Master of the Trinity Lyric Opera, Music Director and Conductor of Voices of Musica Sacra, and Artistic Director of the San Francisco Song Festival. In 1994, Mr. Bailey founded the Berkeley Lyric Opera and served as its Music Director and Conductor until 2001. Since then he has been a guest conductor with the Oakland East Bay Symphony, Oakland Youth Orchestra, and Oakland Ballet, and music director and conductor for productions with North Bay Opera, Mission City Opera, Goat Hall Productions, Solo Opera, the Crowden School and Dominican University. From 2002-2006 he was the Chorus Master of the Festival Opera of Walnut Creek. Mr. Bailey is also a composer, and his works have been performed and commissioned in the Bay Area and abroad.
Mr. Bailey also maintains a busy performance schedule as a bass-baritone, oboist, and pianist, and has performed with the San Francisco, Santa Rosa, Oakland East Bay, Berkeley, Redding, Napa, Sacramento, and Prometheus symphonies, American Bach Soloists, Philharmonia Baroque Orchestra, the Midsummer Mozart and West Marin music festivals, San Francisco Bach Choir, Coro Hispano de San Francisco, Pacific Mozart Ensemble, California Vocal Academy, San Francisco Concerto Orchestra, Masterworks Chorale of San Mateo, Baroque Arts Ensemble, San Francisco Korean Master Chorale, the Master Sinfonia, the Mark Morris and Merce Cunningham dance companies, Goat Hall Productions, Opera Piccola, the Berkeley, Golden Gate, and Oakland Lyric Opera companies, and many other groups. He has recorded for the Harmonia Mundi, Koch International, Pro Musica, Wildboar, Centaur, and Angelus Music labels.
Mr. Bailey has been a pre-performance lecturer for the Oakland East Bay Symphony and the San Francisco Opera, a critic for the San Francisco Classical Voice, a writer of real-time commentary for the Concert Companion, and has taught conducting at the University of California at Davis.