Composer and pianist Alexander Lu is a graduate of the Biola University Conservatory of Music in La Mirada, California, where he earned a B.M. in composition and a B.M. in piano performance. He has also studied composition at the Roehampton University in London and more recently, spent the summer of 2006 in the European American Musical Alliance composition program at the Ecole Normale de Musique, Paris. A versatile pianist, Alex has performed solo and with various choruses, jazz ensembles, classical chamber groups, and rock/pop bands in the Los Angeles and Bay Area. He has also been featured as pianist in various film scores. Alex's music has been performed by the San Francisco Conservatory Chorus, Pasadena Young Musicians Orchestra, South Bay Children's Choir, West Hollywood Chorale, among others. He is currently pursuing a masters degree in composition under David Conte at the San Francisco Conservatory of Music.
Enzo Garcia has been a professionally performing musician for 10 years. He is a singer and a songwriter who accompanies his voice with guitar, accordion, 5-string banjo, harmonica and saw. His abilities as an instrumentalist, sideman and solo performer allow for him to adeptly present his material as a soloist or a bandleader. Over the course of just a few years, San Francisco-based Enzo Garcia has released nine albums of original reworkings of traditional and original kid's songs, and leads a popular local family folk music show every Sunday morning, Breakfast with Enzo.
Free Form (for alto sax and chamber orchestra) was composed in 2004. The concept of water was central to this composition. The piece begins in six-eight meter with a placid water scene. The alto sax plays a lyrical melody over a rolling accompaniment in the strings and horns. High-pitched splashes of percussion accentuate the cadences. The tranquil music gradually intensifies. Timpani punctuations lead the music into the next section. A rocklike accompaniment begins the Allegro. Peaceful water has been transformed into powerful waves. A jazzy sax melody soars above. Fragments of the tune are heard in the upper strings and horns as the music progresses. The Allegro grows intensifies then transforms into a softer, contrapuntal middle section. Bluesy, chromatic melodies are passed from alto sax through the orchestra. Finally, consonant clusters of sound are heard to return the music to the main theme. The original sax melody returns, but the string accompaniment is slightly altered, as a water scene might be different at another time. Shortly, this section leads into an energetic coda. The music rises, grows in complexity, then finally holds on a fortissimo chord. Free Form concludes dramatically with a rapid sax passage and loud accents in the orchestra.
Life Is Like That was written specifically for the San Francisco Composers Chamber Orchestra, its standard instrumentation plus a synthesizer. The performance is scheduled for September 15, 2007. Click on the SFCCO link for information about other pieces scheduled for that concert, as well as directions. This will be my fourth autumn concert in a row with SFCCO, on the occasion of SFCCO's fifth anniversary. I'm very excited about the piece, which was written over the course of 2006 and tweaked in the past year. Several metaphors were developed from clichés into music ... Life Is Like That uses a 5+4/4 motif, which weaves into an uncertain rhythm that is vaguely familiar. Harmonies, at times both consonant and dissonant, elide throughout the piece; one chord passes into another, almost unnoticed. Moments of apparent clarity are interrupted by childish pranks and surprises. And it ends with a question mark.
The Pied Piper Suite Concertino for Orchestra (after the poem by Robert Browning) was composed as a commission from the Diablo Valley Philharmonic to be premiered in March 2006,. The work was extracted from the composer's 23rd opera, The Pied Piper of Hamelin,commissioned by Harriet March Page for San Francisco Cabaret Opera's Fresh Voices VI (May 2006). The six selections are derived from the overture and five scenes of W.A. Mozart's Cosi fan tutti, with additional infestations from Philip Glass's Glassworks and Songs from Liquid Days, George Gershwin's Porgy and Bess, Claude Debussy's Prelude to the Afternoon of a Faun, Alban Berg's Wozzeck, Igor Stravinsky's The Rake's Progress, Maurice Ravel's Pavanne for a Dead Princess, Giacomo Puccini's La Boheme, Modest Mussorgsky's Pictures at an Exhibition, 12-bar blues, and vaudeville shuffle. The work is styled as both a baroque suite -- with titles after J.S. Bach and Ravel -- and as a concertino, where various instrumental groups are given prominence, ideally including four flutes (including piccolo, plus alto and bass flute) that characterize the Piper's magic. The Ouverture is an abbreviated sonata-allegro, the Air a three-part collision of found musics, the Menuet an abruptly cut-off Minuet and Trio, the Badinerie a locrian-lydian boogie, the Pavanne a minor retrograde of Ravel, and the Rondeau a St. Vitus Dance Rondo of 13 motives and themes.
Mordake Suite appropriates a few themes from one of my current works in progress, an opera consisting of three intertwined stories. The first is about Edward Mordake, a young Victorian aristocrat and his 'devil twin,' a man tormented by a voice coming from a woman's face on the back of his head. Unable to integrate these two parts of himself, he destroys himself and his family. In the second, a present-day James Ives has achieved his dream to star in a film; however, the director wants him to play the role as Madame Starr—the burlesque drag act that made Ives famous—and not as himself. In the third, a geneticist of the future faces a difficult question: to take a final step that would integrate us all into a perfect homogeneity, removing all our monsters, all our differences. These three threads weave together through the metaphor of the mythological chimera, a union of lion, serpent and goat, a perfect metaphor for today, the uneasy unity of our culture, strengthened and troubled in equal amounts by its diversity. The libretto for the work was written by Douglas Kearney, a poet and playwright from Los Angeles. In the sections tonight, we hear a bit of the libretto in recorded form, sung by Diana Pray and, at the beginning, a small fragment of Antonio Scotti singing Pagliacci as Edward Mordake listens. The piece will premiere next spring in the San Francisco International Arts Festival with John Duykers in the solo role. Additional performers: Antonio Scotti, tenor (recorded), Diana Pray, soprano (recorded)
Dancing on the Brink of the World: San Francisco - 1600 to The Present, a 14 Movement piece on the history of San Francisco - 1600 to the Present. Seven other movements have been performed in previous SFCCO concerts. This piece was made possible by a Creative Connections Award from Meet The Composer.

9. Playland - 1920's

As early as 1884, there was a roller coaster at Ocean Beach, but Playland-at-the-Beach really began in 1928. At the entrance to Playland, "Laughing Sal" was the mechanical laughing lunatic who greeted visitors to the Crazy House, later called the Fun House. It housed the worlds greatest mirror maze, saved from the Midwinter Exposition. High above the moving sidewalks, shooting air holes, and staggering staircases, loomed a 200-foot, six lane slide of polished hardwood, the largest indoor slide in the world. There was a great Roller Coaster, a scary Haunted House dark ride, a Diving Bell, Bumper Cars, many other rides, and hundreds of concessions and minor amusements. A carnival atmosphere prevailed in this cousin of Coney Island. At night, the place glowed with thousands of glittering lights, creating a "fairy-like effect." In the 1960's it began to run down, and developed a rather sleazy ominous atmosphere, however, it still retained much of the magic and joy of an earlier era. Sadly, Playland was torn down in 1972 and replaced by condominiums. The sounds of Ocean Beach and Laughing Sal begin this movement. Laughing Sal and many of Playland's original player pianos and other wonderful curios can still be experienced at the Musee Mecanique at Fisherman's Wharf.


11. North Beach - 1950's

Along with Chinatown and the Barbary Coast, this was one of the original parts of San Francisco. For more than a century North Beach has been a predominantly Italian neighborhood. The Beatnik era of the 1950's attracted poets and artists here from around the world. When I was a kid my parents would frequently take me out to dinner to one of their favorite Italian North Beach restaurants. I loved the narrow streets, the steep hills around Coit Tower, the Beat scene, and a girl who worked in an art store who looked like she was from the "Adams family". When I grew up I wanted to be a Beatnik. Today, North Beach is still the Little Italy of the West Coast, as well as a home for Beatniks and Hipsters.


8. Earthquake and Fire - 1906

Just after 5:00 AM on April 18, 1906, San Francisco was devastated by a major earthquake, and then ravaged by a great fire that burned for four days. Over 3,000 people lost their lives. A quote from an Oakland paper read: "After darkness, thousands of the homeless were making their way with their blankets and scant provisions to Golden Gate Park and the beach to find shelter. Everybody in San Francisco is prepared to leave the city, for the belief is firm that San Francisco will be totally destroyed." Culled from hundreds of photographs, life stories and letters written during this period, this movement was created during the earthquake's one hundred year anniversary. The movement begins with the clock striking 5:00 AM, then uses percussion and effects to create the quake and it's aftermath. Various themes are occasionally enhanced by the haunting qualities of a musical saw.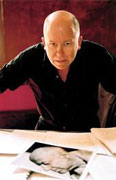 Dr. Mark Alburger is the Music Director, Conductor and founder of the San Francisco Composers Chamber Orchestra. Mark is an eclectic American composer of postminimal, postpopular, and postcomedic sensibilities. He is the Music Director of Goat Hall Productions / San Francisco Cabaret Opera, Editor-Publisher of 21st-Century Music Journal, an award-winning ASCAP composer of concert music published by New Music, Instructor in Music Theory and Literature at Diablo Valley College, Music Critic for Commuter Times, author, musicologist, oboist, pianist, and recording artist.
Dr. Alburger studied oboe with Dorothy Freeman, and played in student orchestras in association with George Crumb and Richard Wernick. He studied composition and musicology with Gerald Levinson, Joan Panetti, and James Freeman at Swarthmore College (B.A.), Karl Kohn at Pomona College, Jules Langert at Dominican College (M.A.), Tom Flaherty and Roland Jackson at Claremont Graduate School (Ph.D.), and Terry Riley.
Since 1987 he has lived in the San Francisco Bay Area, initially producing a great deal of vocal music with assembled texts, including the opera Mice and Men (1992), the crisis-madrigal collection L.A. Stories (1993), the rap sheet For My Brother For My Brother (1997), and the hieratic Passion According to Saint Matthew (1997).
Since 1997, Dr. Alburger has gridded and troped compositions upon pre-existent compositions ranging from world music and medieval sources to contemporaries such as George Crumb and Philip Glass. To date, he has written 16 concerti, 7 masses and oratorios, 12 preludes and fugues, 20 operas, 6 song cycles, 9 symphonies -- a total of 130 opus numbers and more than 800 individual pieces. He is presently at work on Waiting for Godot and Diabolic Variations.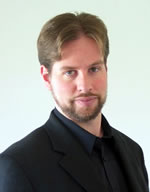 John Kendall Bailey is an Associate Conductor with the San Francisco Composers Chamber Orchestra and is Principal Conductor and Chorus Master of the Trinity Lyric Opera, Music Director and Conductor of Voices of Musica Sacra, and Artistic Director of the San Francisco Song Festival. In 1994, Mr. Bailey founded the Berkeley Lyric Opera and served as its Music Director and Conductor until 2001. Since then he has been a guest conductor with the Oakland East Bay Symphony, Oakland Youth Orchestra, and Oakland Ballet, and music director and conductor for productions with North Bay Opera, Mission City Opera, Goat Hall Productions, Solo Opera, the Crowden School and Dominican University. From 2002-2006 he was the Chorus Master of the Festival Opera of Walnut Creek. Mr. Bailey is also a composer, and his works have been performed and commissioned in the Bay Area and abroad.
Mr. Bailey also maintains a busy performance schedule as a bass-baritone, oboist, and pianist, and has performed with the San Francisco, Santa Rosa, Oakland East Bay, Berkeley, Redding, Napa, Sacramento, and Prometheus symphonies, American Bach Soloists, Philharmonia Baroque Orchestra, the Midsummer Mozart and West Marin music festivals, San Francisco Bach Choir, Coro Hispano de San Francisco, Pacific Mozart Ensemble, California Vocal Academy, San Francisco Concerto Orchestra, Masterworks Chorale of San Mateo, Baroque Arts Ensemble, San Francisco Korean Master Chorale, the Master Sinfonia, the Mark Morris and Merce Cunningham dance companies, Goat Hall Productions, Opera Piccola, the Berkeley, Golden Gate, and Oakland Lyric Opera companies, and many other groups. He has recorded for the Harmonia Mundi, Koch International, Pro Musica, Wildboar, Centaur, and Angelus Music labels.
Mr. Bailey has been a pre-performance lecturer for the Oakland East Bay Symphony and the San Francisco Opera, a critic for the San Francisco Classical Voice, a writer of real-time commentary for the Concert Companion, and has taught conducting at the University of California at Davis.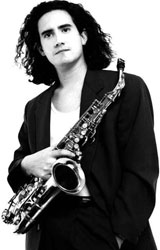 Michael Cooke is the Promotion & Fundraising Director of the San Francisco Composers Chamber Orchestra and a composer of jazz and classical music. This two-time Emmy and Louis Armstrong Jazz Award winner plays a variety of instruments: you can hear him on soprano, alto, and tenor saxophones, flute, soprano and bass clarinets, bassoon and percussion. A cum laude graduate with a music degree from the University of North Texas, he had many different areas of study; jazz, ethnomusicology, music history, theory and of course composition. In 1991 Michael began his professional orchestral career performing in many north Texas area symphonies. Michael has played in Europe, Mexico, and all over the United States. Cimarron Music Press began published many of Michael's compositions in 1994.
After relocating to the San Francisco Bay Area, he has been exploring new paths in improvised and composed music, mixing a variety of styles and techniques that draw upon the creative energy of a multicultural experience, both in and out of America. In 1999, Michael started a jazz label called Black Hat Records. The San Francisco Beacon describes Michael's music as "flowing out color and tone with a feeling I haven't heard in quite a while. Michael plays with such dimension and flavor that it sets (his) sound apart from the rest." Uncompromising, fiery, complex, passionate, and cathartic is how the All Music Guide labeled Michael's playing on Searching by Cooke Quartet, Statements by Michael Cooke and The Is by CKW Trio. His latest release, An Indefinite Suspension of The Possible, is an unusual mixture of woodwinds, trombone, cello, koto and percussion, creating a distinct synergy in improvised music that has previously been untapped. www.michaelkcooke.com
Martha Stoddard, Associate Conductor earned her Bachelor of Arts degree at Humboldt State University and her Master of Music degree from San Francisco State University, where she studied flute, conducting and composition. She was named Program Director for the John Adams Young Composers Program at the Crowden Music Center in 2012 and has held the position of Artistic Director of the Oakland Civic Orchestra since 1997.She is Associate Conductor of the San Francisco Composers' Chamber Orchestra and Director of Instrumental Music at Lick-Wilmerding High School.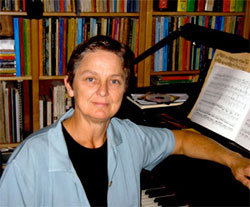 Her most recent commissions include today's premiere and her Trio for Clarinet,Cello and Piano for the 2009 San Francisco Chamber Wind Festival at the San Francisco Conservatory.  She has held the position of Artistic Director of the Oakland Civic Orchestra since 1997. Other recent conducting activities include engagements as Conductor for the John Adams Young Composers' Orchestration Workshops at the Crowden School, Musical Director for the operas Belfagor and Trap Door by Lisa Prosek, Guest Conductor for the San Francisco All City High School String Orchestra and the Santa Rosa Youth Symphony Summer Academy Orchestra. She has also served as an adjudicator for the San Francisco Conservatory of Music and Santa Cruz Youth Symphony Concerto Competitions.  Ms. Stoddard is founding member and director of ChamberMix, and is a featured performer on alto flute in John Bilotta's Shadow Tree (Capstone Records CPS-8787) and in John Thow's Cantico  (Palatino label #1001) Marika Kuzma, conductor, and as conductor for Janis Mercer's, Voices (Centuar Recordings, CPS 2951).