Charya Burt is a graduate and former dance faculty member of the Royal University of Fine Arts in Phnom Penh, Cambodia. Her training began in 1982 under the direction of the foremost dance masters of Cambodia. As a member of Cambodia­s royal dance troupe, Charya toured nationally and internationally. After immigrating to Northern California in 1993, Charya performed throughout the United States, including the Kennedy Center in Washington DC, the Jacob­s Pillow Festival at U.C.L.A., the AsiaFest Monoa in Honolulu, the opening of the new Getty Center in Los Angeles, and eleven times as a featured performer at the San Francisco Ethnic Dance Festival. Charya has also conducted dance workshops at several colleges and universities around the country including the California State University Summer Arts Program at California State University, Long Beach. She received a B. A., Cum Laude, in Liberal Studies from Sonoma State University in Rohnert Park, California. As teacher, performer, and choreographer, Charya has been awarded numerous grants including ones from the Irvine Dance in California Program, (3 times), the Fund for Folk Culture, the Alliance for California Traditional Arts, the Creative Work Fund, and the CCI Investing in Artists grant. She is also a recipient of the Isadora Duncan Award for Outstanding Achievement in Individual Performance. Currently, Charya is the artist-in-residence for the Khmer Arts Academy in Long Beach and the artistic director of Charya Burt Cambodian Dance, based in Windsor, California.
This is the second of a series of endangered forest portraits. The first was California Oaks which was also performed by SFCCO. Cambodia is known for its ancient forests which still harbor some of the last wild elephants and tigers in Asia. I visited the country in April 2007 and saw forests near Phnom Penh and Siem Reap. These included majestic hardwood forests with monkeys, mangoes, cashew trees, palms, coconuts, and even a rare pine forest. Cicadas in the afternoon and Cambodian pop music were background sounds throughout the trip. In this piece there are echoes of those plus layers of instrumental voices that remind me of the web of leaves, birds, light and shadow going up a hundred feet in the air.
This work combines "sound design" with composition. The digital component starts with the sound of a few small high bells (synthesized, not sampled.) In this musical "space", the oboe plays a simple, consonant melodic line. Gradually, over the course of the composition, additional "bells" join in that are louder and lower in pitch, as the oboe climbs upward in range with increasingly large swooping motions. The "meaning" that might be attached to this music is not a settled matter, in my mind. Part of the beauty and mystery of music is the wide-ranging particularity of what it can suggest, like the crazy but inevitable logic of a dream.
This piece was started in 1981 and left unfinished for 25 years sitting in my closet. After a reasonable advance in my computer skills was I able to see and hear what I actually had. The Toccata introduces some of the themes that show up in the entire piece. The use of symmetrical shapes give the piece its uniqe tonality. Three voices working as one in a choral like setting function as the subject of the fugue. All the voices in this mostly 3 part fugue are 3 voice constructs all using symmetrical shape. There are three groups of players representing the voices of the fugue. First, the strings, second , the double reeds, and third, three flutes augmented by the piccolo, french horn. and contrabass- contra bassoon. As the piece goes on the voice groupings start to inter mingle. The piece ends with a grand statement of the subject. D.R., 2008.
A Little Trip to Outer Space is an allegorical piece inspired by how I imagine a trip into space might sound. Leaving the Atmosphere uses klangfarbenmelodie and minimalist devices to allude to sonic events upon leaving the earth. This transitions into episodes of fleeting gestures in strings, piano, marimba, perhaps painting the image of scurrying comets and burning stars, building in intensity as the journey continues. Finally a sense of quiet and spaciousness in deep space permeates and the movement closes with the soft strains of the marimba. Walking in Space is a gently flowing odd-meter melody, punctuated by percussion patterns and pizzicato strings that combine to create a rhythmic ostinato. A second theme features solo trumpet and horn, which is eventually woven into a more complex musical texture with the first theme and the ostinato. A short coda uses short fragments of the original themes to suggest a safe return to the comfort of the ship. In Search of Planet X begins with gentle melody in the strings. This quickly gives way to a sense of foreboding as the klangfarbenmelodie of the first movement is recalled. Tension mounts and persistent rhythms, increasing dissonance and bold utterances by the trumpet and horn lead to a loud tone cluster. Repeated melodic patterns are juxtaposed with a new lyrical theme which works it way back to a tonal center marked by the xylophone entrance. Once again, scurrying strings introduce a pattern that winds the movement to an understated close.
After hearing the first Mordake Suite at the last SFCCO, I decided to make a second, this time focusing on some of the darker and more evil themes from the work. Both pieces are from my latest opera, premiering in just a few months. The opera, Mordake: which talks to me forever of such things as they speak of only in hell, tells of the difficulties of integrating the diverse aspects of ourselves: male and female, the public self and its shadow; and the destruction brought about when we resist this union. The tale, from a book of medical curiosities of the nineteenth century, is the strange case of Edward Mordake and his 'devil twin' ­ a man tormented by a woman's voice coming from a face on the back of his head. The voice taunts him and reveals to him his true nature but, unable to see this, and unable to integrate the masculine and feminine aspects of his personality, Mordake ultimately destroys himself and his family. The libretto for the work was written by Douglas Kearney, a poet and playwright from Los Angeles. This second suite starts with a moment of reflection; Edward listens to I pescatori di perle by Georges Bizet on the gramophone, but is led into a dark place by his twin. The music draws on the works of some youthful idols of mine who died recently, especially Ligeti's Lontano, which is quoted just a bit. The opera will premiere this May in the San Francisco International Arts Festival with John Duykers in the solo role.
Mi par d'udire
ancora, o scosa in mezzo ai fior,
la voce sua talora,
sospirare l'amor!
Dalle stelle del cielo,
Altro menar che da lei,
La veggio d'ogni velo,
Prender li per le ser!


Translation:
Once more
I hear her voice
Where golden lilies always bloom
And hear her softly sing
Her tender voice Rings through the gloom

'Neath the stars
twinkly glowing
I see her bosom unveil
As the glory is showing
Then the moonlight is pale


additional performers/credits
tenor (recorded 1911) Aristodemo Giorgini
additional sound Thom Blum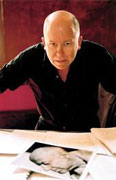 Dr. Mark Alburger is the Music Director, Conductor and founder of the San Francisco Composers Chamber Orchestra. Mark is an eclectic American composer of postminimal, postpopular, and postcomedic sensibilities. He is the Music Director of Goat Hall Productions / San Francisco Cabaret Opera, Editor-Publisher of 21st-Century Music Journal, an award-winning ASCAP composer of concert music published by New Music, Instructor in Music Theory and Literature at Diablo Valley College, Music Critic for Commuter Times, author, musicologist, oboist, pianist, and recording artist.
Dr. Alburger studied oboe with Dorothy Freeman, and played in student orchestras in association with George Crumb and Richard Wernick. He studied composition and musicology with Gerald Levinson, Joan Panetti, and James Freeman at Swarthmore College (B.A.), Karl Kohn at Pomona College, Jules Langert at Dominican College (M.A.), Tom Flaherty and Roland Jackson at Claremont Graduate School (Ph.D.), and Terry Riley.
Since 1987 he has lived in the San Francisco Bay Area, initially producing a great deal of vocal music with assembled texts, including the opera Mice and Men (1992), the crisis-madrigal collection L.A. Stories (1993), the rap sheet For My Brother For My Brother (1997), and the hieratic Passion According to Saint Matthew (1997).
Since 1997, Dr. Alburger has gridded and troped compositions upon pre-existent compositions ranging from world music and medieval sources to contemporaries such as George Crumb and Philip Glass. To date, he has written 16 concerti, 7 masses and oratorios, 12 preludes and fugues, 20 operas, 6 song cycles, 9 symphonies -- a total of 130 opus numbers and more than 800 individual pieces. He is presently at work on Waiting for Godot and Diabolic Variations.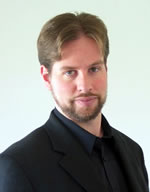 John Kendall Bailey is an Associate Conductor with the San Francisco Composers Chamber Orchestra and is Principal Conductor and Chorus Master of the Trinity Lyric Opera, Music Director and Conductor of Voices of Musica Sacra, and Artistic Director of the San Francisco Song Festival. In 1994, Mr. Bailey founded the Berkeley Lyric Opera and served as its Music Director and Conductor until 2001. Since then he has been a guest conductor with the Oakland East Bay Symphony, Oakland Youth Orchestra, and Oakland Ballet, and music director and conductor for productions with North Bay Opera, Mission City Opera, Goat Hall Productions, Solo Opera, the Crowden School and Dominican University. From 2002-2006 he was the Chorus Master of the Festival Opera of Walnut Creek. Mr. Bailey is also a composer, and his works have been performed and commissioned in the Bay Area and abroad.
Mr. Bailey also maintains a busy performance schedule as a bass-baritone, oboist, and pianist, and has performed with the San Francisco, Santa Rosa, Oakland East Bay, Berkeley, Redding, Napa, Sacramento, and Prometheus symphonies, American Bach Soloists, Philharmonia Baroque Orchestra, the Midsummer Mozart and West Marin music festivals, San Francisco Bach Choir, Coro Hispano de San Francisco, Pacific Mozart Ensemble, California Vocal Academy, San Francisco Concerto Orchestra, Masterworks Chorale of San Mateo, Baroque Arts Ensemble, San Francisco Korean Master Chorale, the Master Sinfonia, the Mark Morris and Merce Cunningham dance companies, Goat Hall Productions, Opera Piccola, the Berkeley, Golden Gate, and Oakland Lyric Opera companies, and many other groups. He has recorded for the Harmonia Mundi, Koch International, Pro Musica, Wildboar, Centaur, and Angelus Music labels.
Mr. Bailey has been a pre-performance lecturer for the Oakland East Bay Symphony and the San Francisco Opera, a critic for the San Francisco Classical Voice, a writer of real-time commentary for the Concert Companion, and has taught conducting at the University of California at Davis.
Martha Stoddard, Associate Conductor earned her Bachelor of Arts degree at Humboldt State University and her Master of Music degree from San Francisco State University, where she studied flute, conducting and composition. She was named Program Director for the John Adams Young Composers Program at the Crowden Music Center in 2012 and has held the position of Artistic Director of the Oakland Civic Orchestra since 1997.She is Associate Conductor of the San Francisco Composers' Chamber Orchestra and Director of Instrumental Music at Lick-Wilmerding High School.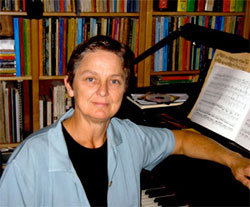 Her most recent commissions include today's premiere and her Trio for Clarinet,Cello and Piano for the 2009 San Francisco Chamber Wind Festival at the San Francisco Conservatory.  She has held the position of Artistic Director of the Oakland Civic Orchestra since 1997. Other recent conducting activities include engagements as Conductor for the John Adams Young Composers' Orchestration Workshops at the Crowden School, Musical Director for the operas Belfagor and Trap Door by Lisa Prosek, Guest Conductor for the San Francisco All City High School String Orchestra and the Santa Rosa Youth Symphony Summer Academy Orchestra. She has also served as an adjudicator for the San Francisco Conservatory of Music and Santa Cruz Youth Symphony Concerto Competitions.  Ms. Stoddard is founding member and director of ChamberMix, and is a featured performer on alto flute in John Bilotta's Shadow Tree (Capstone Records CPS-8787) and in John Thow's Cantico  (Palatino label #1001) Marika Kuzma, conductor, and as conductor for Janis Mercer's, Voices (Centuar Recordings, CPS 2951).