SAN FRANCISCO COMPOSERS CHAMBER ORCHESTRA
Presents "FREE FOR ALL, (but for you $15)" at Old First Concerts
Saturday, February 28, 2009 at 8 pm
Old First Presbyterian Church
1751 Sacramento Street/Van Ness, San Francisco, CA 94109
PROGRAM
Philip Freihofner -- oboist, synthesist & composer, has been a member of the San Francisco Composers Chamber Orchestra since the fall of 2004. He has an A.B. in Music from the University of California in Berkeley, and works variously as a contract programmer, oboe performer, coach & "reed doctor," composer & sound designer, and as a retail clerk on Saturdays at Forrests Music in Berkeley. His diverse musical background includes classwork at the SF Conservatory of Music (Prep Dept), Blue Bear School of Music and the Ali Akbar College of Music, and appearances on a recording each by The Residents & negativland, performance with the groups "Flak" and J Poet's rock band "Young Adults," and scoring (artistic, commercial and experimental) for video, A/V, drama and dance. Credits include title music for the UC Berkeley "The Distinguished Teaching Awards" and the theme music for Harry Kreisler's "Conversations with History" series (over 400 episodes produced). He wrote and served as Music Director for Cheryl Koehler/Zig Zag Theatre's full-length dance theater production: "The Fish and the Fire" (performed at Julia Morgan Center in 1993, and the Cowell Theater in 1994) as well as three UC Berkeley Drama Department productions (with directors George House & Lorne Buckmann). The New Music group EARPLAY workshopped a sketch that has been further developed into a work-in-progress setting of the short story "Carmilla" by Sheridan Le Fanu (performed at SFCCO's December 2008 concert). His "Quartet #1 for Oboe, Clarinet, Horn & Bassoon" has been performed by the UC Santa Cruz Music Department faculty, and excerpts of his silent film score for "Der Golem" were recently released on CD by the double reed consort: "WiZARDS!". Most recent work includes electro-acoustic compositions, including "It's only the Wind" premiered at SFCCO Fall 2009 concert at Chapel-of-the-Chimes, "The Obelisk" performed by Steve Adams (SFCCO June 2009) and "What Are You Going to Dream Tonight?" (SFCCO Feb 2009). He also self-publishes and sells sheet music arrangements and original compositions for chamber music ensembles, with an emphasis on double reed quartets, and invented a tool to assist with oboe reed making, the "Blend-Guide Mandrel," currently being marketed by Forrests Music. As an oboist, in addition to working with SFCCO, he has recently performed with Bay Area Chamber Harmonies, and for Bay Area composers Harry Bernstein, Mark Alburger, Jan Pusina, and in Lisa Schola Prosek's Chamber Opera "Trap Door."

Philip Freihofner
"What Are You Going to Dream Tonight?"


Davide Verotta was born in a boring Italian town close to Milano and moved to the very much more exciting San Francisco in his late twenties. He studied piano at the Milano Conservatory and piano and composition at the San Francisco Conservatory and State University (MA in composition), and at the University of California at Davis (PhD). He is an active solo and ensemble piano recitalist, and he is actively involved in the new music performance and composition scene in the San Francisco Bay Area. Recent compositions include works for orchestra, chamber opera, dance, piano solo, and different chamber ensembles. For more information please visit his web site at http://www.davideverotta.com.

Davide Verotta

John Beeman studied with Peter Fricker and William Bergsma at the University of Washington where he received his Master's degree. His first opera, The Great American Dinner Table was produced on National Public Radio. Orchestral works have been performed by the Fremont-Newark Philharmonic, Santa Rosa Symphony, and the Peninsula Symphony. The composer's second opera, Law Offices, premiered in San Francisco in 1996 and was performed again in 1998 on the steps of the San Mateo County Courthouse. Concerto for Electric Guitar and Orchestra was premiered in January 2001 by Paul Dresher, electric guitar. Mr. Beeman has attended the Ernest Bloch Composers' Symposium, the Bard Composer-Conductor program, the Oxford Summer Institutes, and the Oregon Bach Festival and has received awards through Meet the Composer, the American Music Center and ASCAP. Compositions have been performed by Ensemble Sorelle, the Mission Chamber Orchestra, the Ives Quartet, Fireworks Ensemble, the Oregon Repertory Singers and Schola Cantorum of San Francisco.

John Beeman

Adagio
from Adagio and Dance

Gary Friedman was born in 1934 and raised in University Heights, a suburb of Cleveland, Ohio, Gary Friedman received his higher education at Antioch College, The University of Chicago (B.S. and M.D. degrees), and Harvard University (M.S. degree). His main career has been as a physician-epidemiologist. He worked in the Kaiser Permanente Division of Research for 30 years including 7 years as its Director. Since retiring from Kaiser Permanente in 1999, his current position is Consulting Professor, Stanford University School of Medicine. Dr. Friedman's musical education started with piano at age 5. He also played trumpet in junior high and high school and studied organ and music theory during teen age. Playing and improvising on the piano only occasionally during adulthood, he returned to music seriously at age 54, studying oboe and English horn with Janet Popesco Archibald. He currently plays these instruments in the San Francisco Civic Symphony, the College of Marin Symphony, the Bohemian Club Band and chamber groups. Starting at age 64, he studied composition for four years with Alexis Alrich in the Adult Extension Division of the San Francisco Conservatory of Music. His musical compositions, mostly chamber works, are described in his music web site www.garyfriedmanmusic.net.

Gary Friedman

Lisa Scola Prosek is a graduate of Princeton University in Music Composition. Her teachers include Edward Cone, Milton Babbitt, Lukas Foss, and Gaetano Giani Luporini. Scola Prosek is the recipient of numerous grants, commissions and awards, including The NY Center for Contemporary Opera "Atelier" Award for The Lariat. Scola Prosek has composed and produced eight operas with librettos in Italian and English. In 2012, Daughter of the Red Tzar, written for acclaimed tenor John Duykers, premiered in San Francisco to capacity audiences, and is currently on the outreach season with Long Beach Opera. Lisa serves as General Manager and Director of the San Francisco Composers Chamber Orchestra, since 2001. Other awards have been from Theatre Bay Area, the LEF Foundation, The Argosy Contemporary Music Fund, Meet the Composer, the Hewlett Foundation, the American Composers Forum, The San Francisco Arts Commission, The Center for Cultural Innovation, The California Arts Council, the NEA and the Zellerbach Foundation.

Lisa Scola Prosek

Serenade for Trumpet

Eduard Prosek, trumpet

David Sprung was born in Jersey City, New Jersey and grew up in New York City where he attended Stuyvesant High School and Queens College from which he graduated with a Bachelor of Arts degree with Honors in Music. After military service during the Korean War, he attended Princeton University, receiving a Master of Fine Arts degree in Music Composition. His composition teachers included Vittorio Rieti, Luigi Dallapiccola, Roger Sessions and Milton Babbitt. Boris Schwarz and Seymour Lipkin were his teachers in conducting. Mr. Sprung's career has been divided between education, performance and composition. He has been a professor on the faculties of Wichita State University, Sonoma State University and is Professor Emeritus of Music at California State University, East Bay. He is a well-known French horn performer, having played principal horn with a number of major and regional symphony orchestras, opera companies and festivals. Highlights have been his 35 year tenure as co-principal horn with the San Francisco Opera orchestra and as principal horn with the Pittsburgh Symphony, Wichita Symphony, San Francisco Ballet orchestra, the Chautauqua Symphony and Opera and the Midsummer Mozart Festival. Mr. Sprung was music director and conductor of the Flagler Symphonic Society, Sonoma State Philharmonic and has appeared as guest conductor of the Wichita Community Theatre, Napa Symphony, CSUEB orchestra, and others.Davide Verotta studied piano in Milano (Italy) with Isabella Zielonka Crivelli, Ernesto Esposito, and Giacinto Salvetti. and in San Francisco with Renee Witon, Peggy Salkind, Robert Helps, Julian White; composition at SFSU with Josh Levine, at UC Davis with Kurt Rode, and, this coming year, Laurie San Martin. He performs regularly in the Bay area as a piano soloist, and for the last three years has played with the San Francisco Composers' Chamber Orchestra. He teaches piano in his home studio and at the Community Music Center in San Francisco.

David Sprung
intermission
Dr. Erling Wold is a composer and man-about-town. He recently premiered two large works, his Missa Beati Notkeri Balbuli Sancti Galli Monachi in St Gallen, Switzerland, and his solo opera Mordake for tenor John Duykers as part of the San Francisco International Arts Festival. He is currently working on a personal autobiographical theater piece detailing his corruption and death with the help of James Bisso, which may never be finished, and just finished a more tractable violin sonata for the Denisova-Kornienko duo in Vienna. He is best known for his operas, including Sub Pontio Pilato, an historical fantasy on the death and remembrance of Pontius Pilate, a chamber opera based on William Burroughs' early autobiographical novel Queer, and his critically acclaimed work A Little Girl Dreams of Taking the Veil, based on the Max Ernst collage novel.

Erling Wold

Two Orchestral Waltzes for Lynne Low / High

I. Ludmilla Waltz
II. Empress Waltz


Dr. Mark Alburger (b. 1957, Upper Darby, PA) is a multiple-award-winning ASCAP composer of postminimal, postpopular, and postcomedic sensibilities. His compositions are generally assembled or gridded over pieces ranging from ancient and world music, to postmodern art and vernacular sources -- 174 opus numbers (markalburgerworks.blogspot.com), including 16 concertos, 20 operas, 9 symphonies, and the four-hours-and-counting opera-oratorio work-in-progress, The Bible. He is Music Director of San Francisco Composers Chamber Orchestra (sfcco.org) and San Francisco Cabaret Opera / Goat Hall Productions (goathall.org), Editor-Publisher of 21st-Century Music Journal (21st-centurymusic.blogspot.com and 21st-centurymusic.com), Instructor in Music Literature and Theory at Diablo Valley and St. Mary's Colleges, and Music Critic for Commuter Times. He studied at Swarthmore College (B.A.) with Gerald Levinson and Joan Panetti, Dominican University (M.A., Composition) with Jules Langert, Claremont Graduate University (Ph.D., Musicology) with Roland Jackson, and privately with Terry Riley. Alburger writes daily at markalburger2009.blogspot.com and is in the fifth year of an 11-year project recording his complete works for New Music Publications and Recordings.

Mark Alburger

Sex and the Orchestra, Op. 171

I. Happy Funeral Music (The Little Death)
II. Downfall (Detumescence)


The multi-instrumentalist Michael Cooke is a composer of jazz and classical music. This two-time Emmy, ASCAPLUS Award and Louis Armstrong Jazz Award winner plays a variety of instruments: you can hear him on soprano, alto, and tenor saxophones, flute, soprano and bass clarinets, bassoon and percussion. A cum laude graduate with a music degree from the University of North Texas, he had many different areas of study; jazz, ethnomusicology, music history, theory and of course composition. In 1991 Michael began his professional orchestral career performing in many north Texas area symphonies. Michael has played in Europe, Mexico, and all over the United States. Cimarron Music Press began published many of Michael's compositions in 1994. After relocating to the San Francisco Bay Area, he has been exploring new paths in improvised and composed music, mixing a variety of styles and techniques that draw upon the creative energy of a multicultural experience, both in and out of America. In 1999, Michael started a jazz label called Black Hat Records (blackhatrecords.com) and is currently on the Board of Directors of the San Francisco Composers Chamber Orchestra. The San Francisco Beacon describes Michael's music as "flowing out color and tone with a feeling I haven't heard in quite a while. Michael plays with such dimension and flavor that it sets (his) sound apart from the rest." Uncompromising, fiery, complex, passionate, and cathartic is how the All Music Guide labeled Michael's playing on Searching by Cooke Quartet, Statements by Michael Cooke and The Is by CKW Trio. His latest release, An Indefinite Suspension of The Possible, is an unusual mixture of woodwinds, trombone, cello, koto and percussion, creating a distinct synergy in improvised music that has previously been untapped.

Michael Cooke

David Graves has been writing a variety of musical works since the 1970s, including jazz, pop, electronic and neoclassical pieces for film, theater, studio recordings and orchestra. He has studied at the San Francisco Conservatory of Music and City College of San Francisco. In 2003 and 2005 David was a resident composer with the Djerassi Resident Artist Program where he was awarded the William and Flora Hewlett Foundation Fellowship. He was also a resident composer with the Berkeley Symphony for two consecutive seasons and wrote six pieces that were performed as a part of their Under Construction series. His large-scale ambient works have been installed in a redwood canyon (tree/sigh), The LAB (Deciduous), and the renowned San Francisco AudioBus (Human Street Textures). For many years, he has been the Coordinator for the San Francisco Composers Chamber Orchestra and has had pieces performed annually by that ensemble as well as the Irregular Resolutions composer collective. In the late 2000s he released albums with the prog-rock group ScienceNV, recorded a collection of pop vocal tunes, received grants from the American Composers Forum and Meet the Composer, was sound designer for Miss Julie at the Aurora Theater, and developed a collection of short video dreams (Living in the Village of My Dreams). More recently, he was sound designer for Mary Stuart at Shotgun Theater, performed as AmbientBlack at various venues, created soundscapes for the featurette Alien Worlds at the California Academy of Sciences, and installed Fog and Expectations in the backyard garden of Urban Bazaar.

David Graves &

Clare Twohy is an active performer and composer in the Bay Area and an alumna of The Crowden School and a former violin student of Anne Crowden,. She holds a B.M. in violin performance from the San Francisco Conservatory of Music, where she studied violin with Camilla Wicks and composition with Elinor Armer. Clare is a long-standing member of the SFCCO, which performed her latest composition last November. Clare has attended summer festivals including the Music Academy of the West, Roundtop, and Bowdoin festivals. Currently, she has a private composition studio and is on the Musicianship faculty in the Preparatory division at the San Francisco Conservatory of Music.

Clare Twohy

Loren Jones began experimenting with composition as a child. He spent his early years dividing his time between film-making and music, and some of his film work was periodically broadcast on local San Francisco television. Eventually choosing to pursue music instead of film, Loren formed and was part of several bands performing and creating different genres of original music. To this point largely self-taught, in the 1980's Loren returned to serious study to acquire greater depth musical education in order be able to create the kind of music that he had always been the most passionate about. Loren has studied with Tom Constantine, Alexis Alrich and is currently working with David Conte at the San Francisco Conservatory of Music, where he is also a member of the chorus. 

His music has been performed by his own chamber group, by the San Francisco Composers Chamber Orchestra, and by students and teachers from around the Bay Area. He has produced several recordings, worked in radio and film, including creating the sound track for an animated short which won a special Academy Award. His 2006 release, Woodward's Gardens, features two guitars, piano, flute, oboe, harp, and cello.  He was the recipient of a 2007 Meet the Composer Grant. His project, Dancing on the Brink of the World, a fourteen movement piece for chamber orchestra and period instruments, on the history of San Francisco, has been an ongoing part of the repertoire of the past three seasons of SFCCO concerts. 

Loren Jones

February¬s Children

Loren Jones, Piano
Kit Ruscoe, Guitar
Rich Girard, Electric
Alex Lu, Keyboard
Steve Adams, Soprano Sax


Click on the links to listen to the music.

Click on the links for video.


Microsoft Media Player or for Mac:
VLC Media Player.
PERFORMERS



Flute (Piccolo+ ) (alto flute *)
Bruce Salvisberg +
Harry Bernstein *
Martha Stoddard

Oboe
Phil Freihofner

Clarinet (Bass Clarinet *) (Eb Clarinet **)
Rachel Condry *
Michael Kimbell **

Soprano & Alto Sax
Steve Adams

Bassoon (ContraBassoon**)
Michael Cooke
Cyrle Perry **




French Horn
David Sprung
Brian Holmes

Piano
Davide Verotta
Lisa Scola Prosek
Loren Jones

Keyboards
Alex Lu
Lisa Scola Prosek

Percussion
Victor Flaviani
Anne Szabla
Lisa Scola Prosek
Loren Jones




Electric Guitar
Kit Ruscoe
Chris Andersen

Harp
Esther Lee

Violin & Viola
Clare Twohy

Cello
Ariella Hyman

Bass
John Beeman

Electric Bass
Rich Girard
I was home, in the morning, as I usually am, after everybody leaves the house. Doing my usual little tasks, sipping coffee while looking at the hills. Daydreaming, I guess, I did not notice a light rasping sound until it got to be louder than the radio, tuned to some station, blabbing about some story. The noise seemed to come from the kitchen. Going over there, I had time to see the floor bulging, and then splitting, near the refrigerator, leaving a neat fissure large enough to let a small car pass by. Strange: there is nothing under the house but earth. I came closer and within some smoke I saw two large eyes looking up as if searching for something to see. I asked: 'Who are you?' ... and a long figure, snakelike, started to rise from the earth, and he had folded wings, and blue arms, and golden eyes, and lips of crimson. And she spoke, and he told me what I did not want to hear, and she sang a song of futile love and disappeared.
Yanitl is a short piece for Piano, Viola and Clarinet in A. It was inspired by the idea of not being capable of listening, and the heritage of Debussy, Messiaen, Takemitsu.
"What Are You Going to Dream Tonight?" was originally created in the late 1980's, but shelved due to dissatisfaction with its all-electronic realization. Within a few years, I returned to study of the oboe, in part, as a way to create a more expressive solo voice for this and other pieces written during this time. Today's performance is a chance to revisit the work on oboe, but also, an opportunity for me to experience sharing improvisational space with two very talented and musical members of SFCCO. The work starts with a dulcimer-like synthesizer voice and eighth-note echo playing an ostinato in a moderate, five-beat meter. It's main rhythmic motif (1+2+2) cycles on and off a quarter-note pulse. After a few introductory long tones by the soloists, a short melody appears in the treble with the same synthesizer voice and echo, using a 6-note minor scale. This melody functions as a ritornello and separates two-minutes segments in which each soloist is given a turn to improvise. During the solo, a quarter-note echo effect is made available to the soloists, but it's use is not manditory. A faster-moving coda with scored tone clusters, a swell, and a fade to silence, end the piece.
Adagio is the first movement of a proposed two movement composition, Adagio And Dance For Woodwinds. Living near the ocean has inspired me to include a great deal of ocean imagery in this work. Rolling rhythms in 6/8 meter are reminiscent of the flowing movements of the sea. Shimmering sun on water is imitated by high-pitched woodwind figures. The ebb and flow of the ocean is brought to mind by rising and falling musical phrases. In the second section the tempo and mood brightens, perhaps suggestive of midday at the seashore. Rhythms of twos are set against patterns of threes. This section gradually returns to the original rhythmic figures. The movement winds down and ends softly in anticipation of the Dance to follow.
Romance- Sextet for Winds and Piano Those who attended the last SFCCO concert on November 8, 2008 may remember my two wind octets that were on the program. As I am now playing regularly in one of these ensembles, I have been in an octet-writing phase and Romance was originally scored for this group. However, I realized that the descending arpeggios and chords would work very well on piano, so I arranged the piece also for a sextet consisting of flute, oboe, clarinet, horn, bassoon, and piano. This arrangement also involves a lot of interchange and trading back and forth of melodies and harmonies between piano and winds. This is one of the most romantic and perhaps sentimental of all my compositions and will most likely contrast with most or all of the rest of the concert.
Serenade for trumpet and orchestra While I was spending the year watching "noir" films, Mario Guarnieri of the SF Conservatory told my son Eduard to "get your mother to write you a concerto". Ed picked up his trumpet and played a 10 note riff, commanding me: "...and it should go like this", and so I obeyed. After an introduction, Ed's riff appears 3 times in various guises, reminding me each time of the "noir" mood of a gin Martini with Angostura bitters.
Serendipities was written between November, 2008 and the middle of January of 2009 for the San Francisco Composers Chamber Orchestra. Its title is based on the fact that, among other things, it is the result of a coming together (in other words, serendipities) of a variety of circumstances: the desire to write a piece for a larger group, but with limitations on the instrumentation available, limited available time, and most importantly, an opportunity for performance. Being a relatively traditional composer, I have cast this work in the time-honored form of three contrasting sections, fast, slow, fast, played without pause. The style is fairly eclectic, with moods ranging from energetic, to atmospheric to dance-like. Harmonically, it is not atonal, but neither is it particularly tonal. Dissonances are freely employed, along with a variety of instrumental colors. It is scored for two flutes, (one doubling piccolo, the other doubling alto flute), oboe, two clarinets, (one doubling bass clarinet), one bassoon, (doubling contrabassoon), horn, harp, piano, (doubling celesta), percussion, timpani, and one each of violin (doubling viola), cello, and double bass.
Two Orchestral Waltzes for Lynne
1. Ludmilla Waltz
2. Empress Waltz
"The waltz, in fact, is magnificently improper - the art of tone turned bawdy. I venture to say that the compositions of one man alone, Johann Strauss II, have lured more fair young creatures to lamentable complaisance than all the hypodermic syringes of all the white slave scouts since the fall of the Western Empire. There is something about a waltz that is simply irresistible. Try it on the fattest and sedatest or even upon the thinnest and most acidulous of women and she will be ready, in ten minutes, for a stealthy kiss behind the door - nay, she will forthwith impart the embarrassing news that her husband misunderstands her, and drinks too much, and cannot appreciate Maeterlinck, and is going to Cleveland, 0., on business to-morrow..." from H.L. Mencken, Prejudices, Second Series.
The two waltzes here are written for my inamorata, and reflect two of her most beguiling facets, the first: as the fallen Russian aristocrat, the woman of a certain expectation lacking the allowance that would sanction it; the second: as the haughty and dominating sovereign, unwilling to brook any usurpation of her ultimate and crushing authority. Popularly, waltzes are thought of as dances in 3/4 time, but the word waltz merely means a revolving dance, as both words come from the same root, and many dances named waltzes over the last few centuries have been in a variety of meters: 2/4, 3/4, 6/8, 5/4. But in the end, composers get to call their works whatever they want, so, while the first soi-disant waltz is in 3/4, it is hardly a dance at all, more a concert statement of unbridled passion, discords and all, and the second, while primarily in a fast 3/4 with shifts to 2/4, carries us away in a whirl, a flash of ankle as the ball gown spins up, bodies pressed against each other, a fevered head falling to a shoulder in a swoon of sweet and utter surrender.
Sex and the Orchestra is a diptych in preparation for the mounting of Sex and the Bible, in the spring of 2010, as part of San Francisco Cabaret Opera's Fresh Voices X season. The two pieces are new orchestrations of Happy Funeral Music from Diocletian: A Pagan Opera, Op. 90 (2000, depicting a Christian massacre), and Downfall from Samson and Delilah, Op. 65 (1998, Abimelech's death by the hand of a woman in the Book of Judges). The music is troped respectively on titular compositions by Henry Purcell and Camille Saint-Saens.
String Theory is inspired by the theoretical physics theory of the same name. String Theory is the revolutionary and shocking branch of theoretical physics that combines quantum mechanics and general relativity into a quantum theory of gravity. According to string theory, absolutely everything in the universe—all of the particles that make up matter and forces—is comprised of tiny vibrating fundamental strings. The Strings of string theory are one-dimensional oscillating lines, but they are no longer considered fundamental to the theory, which can be formulated in terms of points or surfaces too. In this composition, I have used graphical notation representing strings, points and surfaces to guide the orchestra in improvisation. Since String Theory may prove Einstein's unified field theory at the very end of the composition the orchestra unites. If String Theory proves to be true it creates an elegant universe composed entirely of the music of strings.
Fireproof Winds During the June 2008 SFCCO concert, six composers wrote variations on John Phillip Sousa's Stars and Stripes Forever. It really got David thinking about collaborating with another classical composer, in the true sense of jointly writing the entire piece. (The Stars and Stripes concert was six thematically-linked but independent pieces.) Clare was crazy and adventurous enough to volunteer when David approached her about writing something together for February. During December and January, the composers sent Sibelius program files back and forth, adding and modifying the score until themes and ideas began to gel. All modifications were open for discussion, and the editing was extensive. As their styles are not very similar, the resultant work is not really representative of either; instead, the amalgam is quirky and genuinely fresh. Perhaps a little schizophrenic too, but that's to be expected... Fireproof Winds was primarily inspired by February's unusual ensemble, which looks like a supercharged wind quintet. There are multiple incendiary metaphors in the score!
February's Children This piece was written for the San Francisco Composers Chamber Orchestra for the February 2009 concert. The music shifts between jazz, blues and classical, and features guitar, keyboard, bass and trumpet solos. The Children are the players in the orchestra. This was one of the last pieces written on my beloved 110 year old Bluthner piano, which after blessing me with it's presence for over 30 years has gone on to a new owner.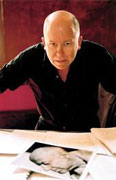 Dr. Mark Alburger is the Music Director, Conductor and founder of the San Francisco Composers Chamber Orchestra. Mark is an eclectic American composer of postminimal, postpopular, and postcomedic sensibilities. He is the Music Director of Goat Hall Productions / San Francisco Cabaret Opera, Editor-Publisher of 21st-Century Music Journal, an award-winning ASCAP composer of concert music published by New Music, Instructor in Music Theory and Literature at Diablo Valley College, Music Critic for Commuter Times, author, musicologist, oboist, pianist, and recording artist.
Dr. Alburger studied oboe with Dorothy Freeman, and played in student orchestras in association with George Crumb and Richard Wernick. He studied composition and musicology with Gerald Levinson, Joan Panetti, and James Freeman at Swarthmore College (B.A.), Karl Kohn at Pomona College, Jules Langert at Dominican College (M.A.), Tom Flaherty and Roland Jackson at Claremont Graduate School (Ph.D.), and Terry Riley.
Since 1987 he has lived in the San Francisco Bay Area, initially producing a great deal of vocal music with assembled texts, including the opera Mice and Men (1992), the crisis-madrigal collection L.A. Stories (1993), the rap sheet For My Brother For My Brother (1997), and the hieratic Passion According to Saint Matthew (1997).
Since 1997, Dr. Alburger has gridded and troped compositions upon pre-existent compositions ranging from world music and medieval sources to contemporaries such as George Crumb and Philip Glass. To date, he has written 16 concerti, 7 masses and oratorios, 12 preludes and fugues, 20 operas, 6 song cycles, 9 symphonies -- a total of 130 opus numbers and more than 800 individual pieces. He is presently at work on Waiting for Godot and Diabolic Variations.
Martha Stoddard, Associate Conductor earned her Bachelor of Arts degree at Humboldt State University and her Master of Music degree from San Francisco State University, where she studied flute, conducting and composition. She was named Program Director for the John Adams Young Composers Program at the Crowden Music Center in 2012 and has held the position of Artistic Director of the Oakland Civic Orchestra since 1997.She is Associate Conductor of the San Francisco Composers' Chamber Orchestra and Director of Instrumental Music at Lick-Wilmerding High School.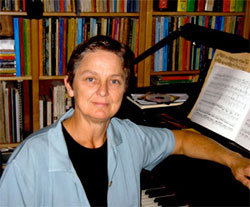 Her most recent commissions include today's premiere and her Trio for Clarinet,Cello and Piano for the 2009 San Francisco Chamber Wind Festival at the San Francisco Conservatory.  She has held the position of Artistic Director of the Oakland Civic Orchestra since 1997. Other recent conducting activities include engagements as Conductor for the John Adams Young Composers' Orchestration Workshops at the Crowden School, Musical Director for the operas Belfagor and Trap Door by Lisa Prosek, Guest Conductor for the San Francisco All City High School String Orchestra and the Santa Rosa Youth Symphony Summer Academy Orchestra. She has also served as an adjudicator for the San Francisco Conservatory of Music and Santa Cruz Youth Symphony Concerto Competitions.  Ms. Stoddard is founding member and director of ChamberMix, and is a featured performer on alto flute in John Bilotta's Shadow Tree (Capstone Records CPS-8787) and in John Thow's Cantico  (Palatino label #1001) Marika Kuzma, conductor, and as conductor for Janis Mercer's, Voices (Centuar Recordings, CPS 2951).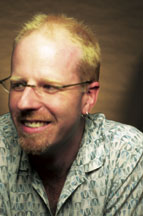 Dr. Erling Wold is the Executive Director of the San Francisco Composers Chamber Orchestra and a prolific composer versed in a variety of musical styles and media. Recent performances include a Mass for the Dom Cathedral in St Gallen, Switzerland and a solo opera for tenor John Duykers. His opera Queer will be remounted next year, and he is working on a new secret theatrical project. While artist-in-residence at ODC Theater, he premiered his opera Sub Pontio Pilato, the Burroughs' opera Queer, and a restaging of his critically acclaimed work A Little Girl Dreams of Taking the Veil, based on the Max Ernst collage novel. He is an eclectic composer whose teachers include Gerard Grisey, Robert Gross, Andrew Imbrie and John Chowning, but who has been called "the Eric Satie of Berkeley surrealist/minimalist electro-artrock" by the Village Voice. He composed the soundtracks for a number of Jon Jost films.
He has published technical and artistic articles in many publications, including IEEE MultiMedia, Proceedings of the ICMC, SIGGRAPH, the JI Journal 1/1, and the IEEE Transactions on Computers. He has five patents in musical signal processing, holds a doctorate from the University of California at Berkeley and was a researcher in signal processing and music synthesis at Yamaha Music Technologies before cofounding Muscle Fish LLC, an audio and music software company.
Alex Lu, keyboards is an emerging composer and pianist living in San Francisco, California. His wide scopeof compositions includes music for the concert hall, theatre, dance stage, as well as music forfilm, incorporating styles ranging from classical and jazz to pop and rock. Alex¬s music has beenperformed by the San Francisco Conservatory Chorus, San Francisco Conservatory New Music Ensemble, China¬s Dalian University Youth Symphony, Pasadena Young Musicians Orchestra,South Bay Children¬s Choir, West Hollywood Chorale, among others. Alex received a master of music degree from the San Francisco Conservatory of Music, where he studied composition with David Conte and orchestration with Conrad Susa. During his time at the conservatory, Alex received the Composition Honors Award and was the winner of the 2006 SFCM Choral Composition Competition. He holds two bachelors of music degrees in piano performance and composition from the Biola University Conservatory of Music. Currently, Alex is music assistant to Academy Award-winning Sound Designer and EmmyAward-winning film composer, Todd Boekelheide. His many responsibilities include composing, orchestrating, score preparation, conducting, recording, editing, and mixing. Under Mr.Boekelheide, he has assisted on scores for HBO, PBS, and various independent films. Since 2006, Alex has served as Assistant Director and Principal Accompanist of the Golden Gate Men¬s Chorus, under director Joseph Jennings.
Eduard Prosek, trumpet is currently a Freshman at the SF Conservatory where he studies with Mario Guarnieri. Ed is the two time winner of the Phil Collin's Little Dreams Foundation award in Geneva, Switzerland, and played principal trumpet for the Berlioz Festival in Lyon, France, Interlochen Arts Academy class of 2008 (where he was also twice winner of the Fine Artist Award), Idyllwild Arts Academy and the Youth Orchestra of Lausanne. Ed is also a composer who has written for the SFCCO, and you can find Ed's lyrics and folk songs on MySpace.
Kit Ruscoe, guitar is originally from Louisville KY. He studied Classical Composition at the University of Louisville and Jazz Performance and Improvisation at the University of North Texas. He has over 25 years of experience in composing, performing, recording, and teaching music and guitar. Kit is currently working on film scoring.
Steve Adams is a graduate of the School of Contemporary Music in Boston, Adams has appeared on over 40 recordings, including four with Boston's Your Neighborhood Saxophone Quartet and three as a leader for the Nine Winds label. Adams joined Rova in 1988. He has written the music for seven productions of the annual California Shakespeare Festival, contributed compositions to the repertoires of the Empire Brass Quintet and the violin/marimba duo Marimolin and performed as a sideman with such artists as Anthony Braxton, Sam Rivers, Dave Holland, Donald Byrd, Jaki Byard, Vinny Golia and Ted Nugent. Adams received a Reader's Digest/Meet the Composer commissioning grant in 1993.
Rich Girard has played, toured, and recorded with such groups and people as Mose Allison, Gerry Mulligan, David Byrne from the Talking Heads, Mel Torme, Andy Narell, Steward Copland from the Police, John Sebastian, The San Francisco Pops Orchestra, Nasville Symphony Orchestra, The Los Angeles Pops Orchestra, The Philadelphia Pops Orchestra, Cleo Laine and many others. Music has also given him the opportunity to travel and perform in such places as South America, Canada, Singapore, New Zealand, Australia, Europe, Monterey Jazz Festival, Montreux Jazz Festival, Montreal Jazz Festival, JVC Jazz Festival, Finger Lakes Jazz Festival, Toronto Jazz Festival, San Francisco Jazz and Blues Festivals, Carnigie Hall, Hollywood Bowl, and many other countries and places.