PROGRAM
Philip Freihofner -- oboist, synthesist & composer, has been a member of the San Francisco Composers Chamber Orchestra since the fall of 2004. He has an A.B. in Music from the University of California in Berkeley, and works variously as a contract programmer, oboe performer, coach & "reed doctor," composer & sound designer, and as a retail clerk on Saturdays at Forrests Music in Berkeley. His diverse musical background includes classwork at the SF Conservatory of Music (Prep Dept), Blue Bear School of Music and the Ali Akbar College of Music, and appearances on a recording each by The Residents & negativland, performance with the groups "Flak" and J Poet's rock band "Young Adults," and scoring (artistic, commercial and experimental) for video, A/V, drama and dance. Credits include title music for the UC Berkeley "The Distinguished Teaching Awards" and the theme music for Harry Kreisler's "Conversations with History" series (over 400 episodes produced). He wrote and served as Music Director for Cheryl Koehler/Zig Zag Theatre's full-length dance theater production: "The Fish and the Fire" (performed at Julia Morgan Center in 1993, and the Cowell Theater in 1994) as well as three UC Berkeley Drama Department productions (with directors George House & Lorne Buckmann). The New Music group EARPLAY workshopped a sketch that has been further developed into a work-in-progress setting of the short story "Carmilla" by Sheridan Le Fanu (performed at SFCCO's December 2008 concert). His "Quartet #1 for Oboe, Clarinet, Horn & Bassoon" has been performed by the UC Santa Cruz Music Department faculty, and excerpts of his silent film score for "Der Golem" were recently released on CD by the double reed consort: "WiZARDS!". Most recent work includes electro-acoustic compositions, including "It's only the Wind" premiered at SFCCO Fall 2009 concert at Chapel-of-the-Chimes, "The Obelisk" performed by Steve Adams (SFCCO June 2009) and "What Are You Going to Dream Tonight?" (SFCCO Feb 2009). He also self-publishes and sells sheet music arrangements and original compositions for chamber music ensembles, with an emphasis on double reed quartets, and invented a tool to assist with oboe reed making, the "Blend-Guide Mandrel," currently being marketed by Forrests Music. As an oboist, in addition to working with SFCCO, he has recently performed with Bay Area Chamber Harmonies, and for Bay Area composers Harry Bernstein, Mark Alburger, Jan Pusina, and in Lisa Schola Prosek's Chamber Opera "Trap Door."

Philip Freihofner
Obelisk

Steve Adams, soprano sax


Lisa Scola Prosek is a graduate of Princeton University in Music Composition. Her teachers include Edward Cone, Milton Babbitt, Lukas Foss, and Gaetano Giani Luporini. Scola Prosek is the recipient of numerous grants, commissions and awards, including The NY Center for Contemporary Opera "Atelier" Award for The Lariat. Scola Prosek has composed and produced eight operas with librettos in Italian and English. In 2012, Daughter of the Red Tzar, written for acclaimed tenor John Duykers, premiered in San Francisco to capacity audiences, and is currently on the outreach season with Long Beach Opera. Lisa serves as General Manager and Director of the San Francisco Composers Chamber Orchestra, since 2001. Other awards have been from Theatre Bay Area, the LEF Foundation, The Argosy Contemporary Music Fund, Meet the Composer, the Hewlett Foundation, the American Composers Forum, The San Francisco Arts Commission, The Center for Cultural Innovation, The California Arts Council, the NEA and the Zellerbach Foundation.

Lisa Scola Prosek

Voodoo Storm

Rachel Condry, clarinet

Davide Verotta was born in a boring Italian town close to Milano and moved to the very much more exciting San Francisco in his late twenties. He studied piano at the Milano Conservatory and piano and composition at the San Francisco Conservatory and State University (MA in composition), and at the University of California at Davis (PhD). He is an active solo and ensemble piano recitalist, and he is actively involved in the new music performance and composition scene in the San Francisco Bay Area. Recent compositions include works for orchestra, chamber opera, dance, piano solo, and different chamber ensembles. For more information please visit his web site at http://www.davideverotta.com.

Davide Verotta

Allan Crossman has written for many soloists and ensemble. The North/South Consonance (NYC) recording of Millennium Overture Dance received a GRAMMY nomination in 2003; Music for Human Choir (SATB) shared Top Honors at the Waging Peace through Singing Festival; North/South recently recorded his FLYER (cello and string orchestra, with soloist Nina Flyer); and a recent commission is the piano trio Icarus, for the New Pacific Trio (San Francisco).

One of his many theatre scores, The Log of the Skipper's Wife, was produced by the Royal Shakespeare Company at Stratford and the Kennedy Center, with Crossman's music drawn from Irish/English shanties and dances. His music is the soundtrack for the award-winning animated short, X man, by Christopher Hinton (National Film Board of Canada). His work has been supported by such organizations as Canada Council for the Arts, American Composers Forum, and Meet the Composer (NY). Professor Emeritus, Concordia University (Montreal), he has also taught at Wheaton College, the Pacific Conservatory, and is presently on the faculty of the San Francisco Conservatory of Music. His doctoral studies were with George Rochberg, George Crumb, and Hugo Weisgall at the University of Pennsylvania.

Allan Crossman

Plasticity, for Sonoglyph and Chamber Orchestra

Tom Nunn, sonoglyph
intermission
Loren Jones began experimenting with composition as a child. He spent his early years dividing his time between film-making and music, and some of his film work was periodically broadcast on local San Francisco television. Eventually choosing to pursue music instead of film, Loren formed and was part of several bands performing and creating different genres of original music. To this point largely self-taught, in the 1980's Loren returned to serious study to acquire greater depth musical education in order be able to create the kind of music that he had always been the most passionate about. Loren has studied with Tom Constantine, Alexis Alrich and is currently working with David Conte at the San Francisco Conservatory of Music, where he is also a member of the chorus. 

His music has been performed by his own chamber group, by the San Francisco Composers Chamber Orchestra, and by students and teachers from around the Bay Area. He has produced several recordings, worked in radio and film, including creating the sound track for an animated short which won a special Academy Award. His 2006 release, Woodward's Gardens, features two guitars, piano, flute, oboe, harp, and cello.  He was the recipient of a 2007 Meet the Composer Grant. His project, Dancing on the Brink of the World, a fourteen movement piece for chamber orchestra and period instruments, on the history of San Francisco, has been an ongoing part of the repertoire of the past three seasons of SFCCO concerts. 

Loren Jones

The multi-instrumentalist Michael Cooke is a composer of jazz and classical music. This two-time Emmy, ASCAPLUS Award and Louis Armstrong Jazz Award winner plays a variety of instruments: you can hear him on soprano, alto, and tenor saxophones, flute, soprano and bass clarinets, bassoon and percussion. A cum laude graduate with a music degree from the University of North Texas, he had many different areas of study; jazz, ethnomusicology, music history, theory and of course composition. In 1991 Michael began his professional orchestral career performing in many north Texas area symphonies. Michael has played in Europe, Mexico, and all over the United States. Cimarron Music Press began published many of Michael's compositions in 1994. After relocating to the San Francisco Bay Area, he has been exploring new paths in improvised and composed music, mixing a variety of styles and techniques that draw upon the creative energy of a multicultural experience, both in and out of America. In 1999, Michael started a jazz label called Black Hat Records (blackhatrecords.com) and is currently on the Board of Directors of the San Francisco Composers Chamber Orchestra. The San Francisco Beacon describes Michael's music as "flowing out color and tone with a feeling I haven't heard in quite a while. Michael plays with such dimension and flavor that it sets (his) sound apart from the rest." Uncompromising, fiery, complex, passionate, and cathartic is how the All Music Guide labeled Michael's playing on Searching by Cooke Quartet, Statements by Michael Cooke and The Is by CKW Trio. His latest release, An Indefinite Suspension of The Possible, is an unusual mixture of woodwinds, trombone, cello, koto and percussion, creating a distinct synergy in improvised music that has previously been untapped.

Michael Cooke

A Baby Sleeps (for Isabella) Low / High
Theme & Variations on "搖嬰仔歌" by 呂泉生

Gangqin Zhao, 古箏 (gŭzhēng)
Michael Cooke, 笙 (shēng)


Dr. Mark Alburger (b. 1957, Upper Darby, PA) is a multiple-award-winning ASCAP composer of postminimal, postpopular, and postcomedic sensibilities. His compositions are generally assembled or gridded over pieces ranging from ancient and world music, to postmodern art and vernacular sources -- 174 opus numbers (markalburgerworks.blogspot.com), including 16 concertos, 20 operas, 9 symphonies, and the four-hours-and-counting opera-oratorio work-in-progress, The Bible. He is Music Director of San Francisco Composers Chamber Orchestra (sfcco.org) and San Francisco Cabaret Opera / Goat Hall Productions (goathall.org), Editor-Publisher of 21st-Century Music Journal (21st-centurymusic.blogspot.com and 21st-centurymusic.com), Instructor in Music Literature and Theory at Diablo Valley and St. Mary's Colleges, and Music Critic for Commuter Times. He studied at Swarthmore College (B.A.) with Gerald Levinson and Joan Panetti, Dominican University (M.A., Composition) with Jules Langert, Claremont Graduate University (Ph.D., Musicology) with Roland Jackson, and privately with Terry Riley. Alburger writes daily at markalburger2009.blogspot.com and is in the fifth year of an 11-year project recording his complete works for New Music Publications and Recordings.

Mark Alburger

King David Suite (The Young and the Restless)

I. O for the Wings of a Dove (Psalm 55)
II. Incantation (The Witch of Endor)
III. Song in the Forest of Ephraim (The Death of Absalom)


Dr. Erling Wold is a composer and man-about-town. He recently premiered two large works, his Missa Beati Notkeri Balbuli Sancti Galli Monachi in St Gallen, Switzerland, and his solo opera Mordake for tenor John Duykers as part of the San Francisco International Arts Festival. He is currently working on a personal autobiographical theater piece detailing his corruption and death with the help of James Bisso, which may never be finished, and just finished a more tractable violin sonata for the Denisova-Kornienko duo in Vienna. He is best known for his operas, including Sub Pontio Pilato, an historical fantasy on the death and remembrance of Pontius Pilate, a chamber opera based on William Burroughs' early autobiographical novel Queer, and his critically acclaimed work A Little Girl Dreams of Taking the Veil, based on the Max Ernst collage novel.

Erling Wold and fognozzle

In the Stomachs of Fleas Low / High

fognozzle, electronics


Click on the links to listen to the music.

Click on the links for video.


Microsoft Media Player or for Mac:
VLC Media Player.
PERFORMERS



Flute (Piccolo+ ) (alto flute *)
Bruce Salvisberg *+
Martha Stoddard

Oboe
Phil Freihofner

Clarinet (Bass Clarinet *)
Rachel Condry *

Soprano Sax
Michael Cooke

Bassoon (ContraBassoon**)
Michael Cooke
Michael Garvey
Lori Garvey**




French Horn
David Sprung

Trumpet
Eduard Prosek

Piano
Davide Verotta
Lisa Scola Prosek

Keyboards
Lisa Scola Prosek

Percussion
Anne Szabla
Jonathan Goldstein
Loren Jones




Harp
Naomi Hoffmeyer

Violin I
Monika Gruber

Violin II
Hande Erdem

Viola
Charith Premawardhana

Cello
Ariella Hyman
Juan Meija

Bass
John Beeman
In terms of form, Obelisk can be thought of as something analogous to a character study or a monologue. In it, a developing melodic line, played on a soprano saxophone, is contrasted to a repeating figure played by a synthesizer patch modeled as a large metalophone. Both parts make motivic use of the interval of a fourth, the first interval heard in each, but are otherwise quite different in character. The absolute steadiness of the prerecorded synthesizer conveys solidity and its four-octave range considerable mass and height. The saxophone line consists mostly of short, energetic bursts using a six-note scale. I think a five-note scale would have been too sing-songy, but seven or more (e.g., using chromatics) would have been too fussy, offering too many choices for the "protagonist," who in this piece would just as soon slice your head off with his sword as look at you. This character also seems to have more disdain than patience for beats and barlines--which led to considerable notational problems, finally solved, after many years, in the score created for this concert.
Voodoo Storm, for Clarinet. In February of this year there was a terrible storm that raged with high winds all night. I had moved my bed next to the front door, and watched the wind whiplash the tall trees close to the house. In the middle of the night I awoke from a too vivid dream: The Earth had opened up and tall jangly skeletons were collecting in my front yard, laughing and dancing. With their music ringing loudly in my head, I was compelled, in the cold and dark, to get up and write it down at the piano. This version, for Clarinet, was written for Rachel Condry.
Verso L'immagine Feroce (Toward the ferocious Image) is a short piece for Chamber Orchestra. The piece depicts a rather complex emotional state. The idea is that of approaching, and then being in the presence of, something so large, and so outside of our experience and comprehension that it is completely beyond our grasp. This object is not only massive and overwhelming, it is ferocious (feroce), in the sense that it so completely oblivious of our presence that, to us, it seems completely beyond compassion. What is it?  The stars in the night sky, the sun at midday, the waves of a far away ocean … a tender piece of grass.
Plasticity, for Sonoglyph and Chamber Orchestra, was written for and features Tom Nunn playing his Sonoglyph. The piece is a concerto movement, with virtuosic passages for soloist, including 2 solo cadenzas and a "duo-denza" for Sonoglyph and percussionist. Traditional keys/scales, modern modes, improvisation, folk-like melodies/variations, alternative playing techniques – all add to the continual pliability and mercurial nature of the piece - plasticity of both time and design. The Sonoglyph, featured tonight, was built in 1992 and is an EPB with a "modern art" format (versus symmetric used in other instruments). Its materials include finishing nails, threaded steel rods, bronze brazing rods, strings, a spring, a comb, a found-object metal disk, and textured surface materials. It is played tonight with fingers/fingernails and with combs which can be used as picks, mallets and scraping/skatching devices, as well as a small bow and knitting needles. Like most of his instruments, the Sonoglyph is amplified using contact microphones.
Eagle Bear Woman flies across the land. Her eyes are sharp and bright, her heart is strong and true. This piece was written for my wife Catherine in 1985, and recently orchestrated for this concert. 
Two Islands This is a Westernized interpretation of Javanese and Balinese Gamelan music. The first half of the piece is in the older, softer Javanese style, the second half in the faster and more complex Balinese style. One major difference between the two is that the Javanese places greater emphasis on the performers improvising while the Balinese music is strictly composed, with very little space for improvisation. The only traditional instruments included are a pair of Indonesian gongs tuned to A flat and B flat, which ultimately determined the key of the piece. 
The genesis of A Baby Sleeps came after my daughter was born and my grandfather told me I need to write her a piece. For a few months I struggled for inspiration, then one night I realized my wife was singing a beautiful lullaby to her every night. I decided to write a "Theme & Variations" on this Taiwanese lullaby, 搖嬰仔歌 (Rocking the baby lullaby). It was written by the famous Taiwanese composer, 呂泉生 (Lu Chuan-sheng). Professor Lu was known as the Father of Taiwan Children's Choir because he was dedicated to promoting Children's choir for 50 years as well as writing over 200 compositions. I have found many variations in the translation of this melody's title, "Cradle Song", "Voice for the Formosan Parents – the Lullaby" or simply "the Lullaby".  My wife calls it "Rocking the baby" and my daughter just calls it, "sleep song." 
This composition adds two traditional Chinese instruments to the orchestra, the 笙 (shēng) and 古箏 (gŭzhēng). The sheng is a 3000-year-old Chinese free-reed bamboo mouth organ. In the Ming and Qing dynasty (1368-1911) it was used extensively both in folk instrumental ensembles and in the accompaniment to local theaters and popular narratives. It reached Europe around 1777 with Pere Amiot, and its influence was so strong that it resulted in the invention of the reed organ, concertina, harmonica and accordion. The guzheng is ancient plucked string instrument that is part of the zither family. It is built with a special wooden sound body with strings arched across movable bridges along the length of the instrument for the purpose of tuning.

Rocking the baby lullaby:

A baby Sleeps
Growing one inch a night
Sweet baby
growing one foot a night
Rock the baby until sunset
staring at the baby in my arm
you are my sweetheart
worry you'll get cold
cherish the baby like gold
It's a great responsibility to bring up a baby
If only you get married, my duty will be relieved.
King David Suite (The Young and The Restless), Op. 174 (2009) consists of three newly-instrumentalized sections from King David, Op. 70, for the San Francisco Composers Chamber Orchestra's May 2009 Dreams of the Restless concert.  The work is troped on Arthur Honegger's Le Roi David -- in multi-metric, minimalist, and modal distortions -- and highlights three stages of youth and restlessness: the young David's fleeing before a jealous King Saul (O for the Wings of a Dove / Psalm 55), the old king and his son Jonathan's angst-ridden consultation with a medium and the dead Prophet Samuel (Incantation / The Witch of Endor), and King David's son's rebellion and hair-raising impaling (Song in the Forest of Endor / The Death of Absalom).
In the Stomachs of Fleas
We, that is, fognozzle and Erling Wold, present for you a tale of fear, horror, xenophobia, political posturing and denial, all contained within a musical program piece of sorts, a savage delight for the senses and an allegory for today, this and that and the other thrown into the pot of narrative and boiled up into the scenario as follows: The Australia steamed into San Francisco in 1899, carrying corpses and rats infected with the plague. Between 1900 and 1904, one hundred twenty-six people contracted the disease in San Francisco and environs. One hundred twenty-two of them died while the governor denied the very existence of the plague and the press blamed the Chinese for spreading it. The plague was brought under control in 1904, only to resurface in 1906 as the great earthquake displaced the human and rat population. The response to this second outbreak was dealt with more efficiently as the causes were better understood, but one hundred eighty people died of the plague in San Francisco between 1906 and 1909. Fortunately, Xenopsylla cheopis (the Oriental rat flea) never secured a foothold in San Francisco, and our dominant flea remained Ceratophyllus fasciatus, which lacked the deep stomach required for effective plague transmission. Many more people would have died if the reverse had been true. Unfortunately, the rat-eradication efforts during the San Francisco plague outbreaks did not extend to the squirrels of the East Bay. Through them, the bubonic plague established a permanent foothold in the Pacific Northwest, where it lives on today - in the stomachs of fleas.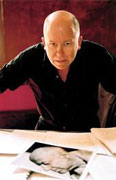 Dr. Mark Alburger is the Music Director, Conductor and founder of the San Francisco Composers Chamber Orchestra. Mark is an eclectic American composer of postminimal, postpopular, and postcomedic sensibilities. He is the Music Director of Goat Hall Productions / San Francisco Cabaret Opera, Editor-Publisher of 21st-Century Music Journal, an award-winning ASCAP composer of concert music published by New Music, Instructor in Music Theory and Literature at Diablo Valley College, Music Critic for Commuter Times, author, musicologist, oboist, pianist, and recording artist.
Dr. Alburger studied oboe with Dorothy Freeman, and played in student orchestras in association with George Crumb and Richard Wernick. He studied composition and musicology with Gerald Levinson, Joan Panetti, and James Freeman at Swarthmore College (B.A.), Karl Kohn at Pomona College, Jules Langert at Dominican College (M.A.), Tom Flaherty and Roland Jackson at Claremont Graduate School (Ph.D.), and Terry Riley.
Since 1987 he has lived in the San Francisco Bay Area, initially producing a great deal of vocal music with assembled texts, including the opera Mice and Men (1992), the crisis-madrigal collection L.A. Stories (1993), the rap sheet For My Brother For My Brother (1997), and the hieratic Passion According to Saint Matthew (1997).
Since 1997, Dr. Alburger has gridded and troped compositions upon pre-existent compositions ranging from world music and medieval sources to contemporaries such as George Crumb and Philip Glass. To date, he has written 16 concerti, 7 masses and oratorios, 12 preludes and fugues, 20 operas, 6 song cycles, 9 symphonies -- a total of 130 opus numbers and more than 800 individual pieces. He is presently at work on Waiting for Godot and Diabolic Variations.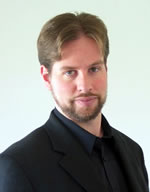 John Kendall Bailey is an Associate Conductor with the San Francisco Composers Chamber Orchestra and is Principal Conductor and Chorus Master of the Trinity Lyric Opera, Music Director and Conductor of Voices of Musica Sacra, and Artistic Director of the San Francisco Song Festival. In 1994, Mr. Bailey founded the Berkeley Lyric Opera and served as its Music Director and Conductor until 2001. Since then he has been a guest conductor with the Oakland East Bay Symphony, Oakland Youth Orchestra, and Oakland Ballet, and music director and conductor for productions with North Bay Opera, Mission City Opera, Goat Hall Productions, Solo Opera, the Crowden School and Dominican University. From 2002-2006 he was the Chorus Master of the Festival Opera of Walnut Creek. Mr. Bailey is also a composer, and his works have been performed and commissioned in the Bay Area and abroad.
Mr. Bailey also maintains a busy performance schedule as a bass-baritone, oboist, and pianist, and has performed with the San Francisco, Santa Rosa, Oakland East Bay, Berkeley, Redding, Napa, Sacramento, and Prometheus symphonies, American Bach Soloists, Philharmonia Baroque Orchestra, the Midsummer Mozart and West Marin music festivals, San Francisco Bach Choir, Coro Hispano de San Francisco, Pacific Mozart Ensemble, California Vocal Academy, San Francisco Concerto Orchestra, Masterworks Chorale of San Mateo, Baroque Arts Ensemble, San Francisco Korean Master Chorale, the Master Sinfonia, the Mark Morris and Merce Cunningham dance companies, Goat Hall Productions, Opera Piccola, the Berkeley, Golden Gate, and Oakland Lyric Opera companies, and many other groups. He has recorded for the Harmonia Mundi, Koch International, Pro Musica, Wildboar, Centaur, and Angelus Music labels.
Mr. Bailey has been a pre-performance lecturer for the Oakland East Bay Symphony and the San Francisco Opera, a critic for the San Francisco Classical Voice, a writer of real-time commentary for the Concert Companion, and has taught conducting at the University of California at Davis.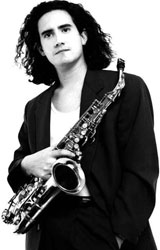 Michael Cooke is the Promotion & Fundraising Director of the San Francisco Composers Chamber Orchestra and a composer of jazz and classical music. This two-time Emmy and Louis Armstrong Jazz Award winner plays a variety of instruments: you can hear him on soprano, alto, and tenor saxophones, flute, soprano and bass clarinets, bassoon and percussion. A cum laude graduate with a music degree from the University of North Texas, he had many different areas of study; jazz, ethnomusicology, music history, theory and of course composition. In 1991 Michael began his professional orchestral career performing in many north Texas area symphonies. Michael has played in Europe, Mexico, and all over the United States. Cimarron Music Press began published many of Michael's compositions in 1994.
After relocating to the San Francisco Bay Area, he has been exploring new paths in improvised and composed music, mixing a variety of styles and techniques that draw upon the creative energy of a multicultural experience, both in and out of America. In 1999, Michael started a jazz label called Black Hat Records. The San Francisco Beacon describes Michael's music as "flowing out color and tone with a feeling I haven't heard in quite a while. Michael plays with such dimension and flavor that it sets (his) sound apart from the rest." Uncompromising, fiery, complex, passionate, and cathartic is how the All Music Guide labeled Michael's playing on Searching by Cooke Quartet, Statements by Michael Cooke and The Is by CKW Trio. His latest release, An Indefinite Suspension of The Possible, is an unusual mixture of woodwinds, trombone, cello, koto and percussion, creating a distinct synergy in improvised music that has previously been untapped. www.michaelkcooke.com
Martha Stoddard, Associate Conductor earned her Bachelor of Arts degree at Humboldt State University and her Master of Music degree from San Francisco State University, where she studied flute, conducting and composition. She was named Program Director for the John Adams Young Composers Program at the Crowden Music Center in 2012 and has held the position of Artistic Director of the Oakland Civic Orchestra since 1997.She is Associate Conductor of the San Francisco Composers' Chamber Orchestra and Director of Instrumental Music at Lick-Wilmerding High School.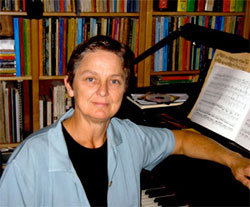 Her most recent commissions include today's premiere and her Trio for Clarinet,Cello and Piano for the 2009 San Francisco Chamber Wind Festival at the San Francisco Conservatory.  She has held the position of Artistic Director of the Oakland Civic Orchestra since 1997. Other recent conducting activities include engagements as Conductor for the John Adams Young Composers' Orchestration Workshops at the Crowden School, Musical Director for the operas Belfagor and Trap Door by Lisa Prosek, Guest Conductor for the San Francisco All City High School String Orchestra and the Santa Rosa Youth Symphony Summer Academy Orchestra. She has also served as an adjudicator for the San Francisco Conservatory of Music and Santa Cruz Youth Symphony Concerto Competitions.  Ms. Stoddard is founding member and director of ChamberMix, and is a featured performer on alto flute in John Bilotta's Shadow Tree (Capstone Records CPS-8787) and in John Thow's Cantico  (Palatino label #1001) Marika Kuzma, conductor, and as conductor for Janis Mercer's, Voices (Centuar Recordings, CPS 2951).
fognozzle is an obscure entity from the bowels of the San Francisco experimental music world. Last year saw the release of Keep on Whispering, a CDr on a label from Bosnia-Herzegovina that was only available in trade for a personal publication or recording. In July, fognozzle will be releasing Temple Woods, a noise autobiography detailing the experience of growing up in Greenfield, Massachusetts - the recording of which began in 1986. It will be available only on cassette. Future plans include a performance in an alley off of San Jose Street, and a recording of erotic dancing.
Rachel Condry, clarinet/bass clarinet, is an advocate of new music who has commissioned and premiered many new works by both established and emerging composers. In 2007 she was featured in Lisa Scola Prosek's Opera Belfagor based on the story by Machiavelli, in which the bass clarinet portrays the character of the devil. In 2005 she made her Carnegie Hall debut as a member of The Matt Small Chamber Ensemble, a group that seamlessly blends jazz, improvised music and classical genres. As a performing member of the San Francisco Composer's Chamber Orchestra Rachel has been featured as soloist with the orchestra in works by Erling Wold, Lisa Prosek and Thomas Goss. Rachel continues to independently produce concerts comprised of recent and newly commissioned work for clarinet and bass clarinet by Bay Area composers such as Earl Zindars, Erling Wold, Mitch Marcus Andrew Shapiro, Lisa Prosek, Janis Mercer, Jono Kornfeld, Melissa Hui, Alexis Alrich and others. Rachel received a Bachelor of Music degree from Oberlin Conservatory where she was a finalist of the Oberlin Concerto Competition and was a soloist with the Oberlin Contemporary Music Ensemble.
Tom Nunn, B.Mus., M.A., has designed, built and performed with instruments of his own invention for over 30 years. As a composer-turned-improviser, Tom has designed his instrumentsspecifically for improvisation, with elements of complexity, randomness and unpredictability to stimulate the improviser. He has made over 100 instruments, including space plates, various electroacoustic percussion boards (EPBs) , T-rodimbas, Mothics, Zitherods, and Skatchboxes. Tom greatly appreciates this rare opportunity to hear the Sonoglyph in concert with an orchestra of traditional instruments.
Steve Adams is active both as a composer and as a performer on saxophones, flutes and electronics. Steve is best known as a member of the Rova Saxophone Quartet, with whom he has played for twenty years and released over twenty-five recordings. Rova has been called "one of the most daring ensembles of any instrumentation to emerge in recent years" by Downbeat magazine. He has been a member of Composers in Red Sneakers, a Boston composer's collective, and the bands Birdsongs of the Mesozoic and Your Neighborhood Saxophone Quartet. He has performed with Anthony Braxton, Sam Rivers, Dave Holland, Cecil Taylor, Roscoe Mitchell, John Zorn, Steve Lacy, Mark Dresser, Joan Jeanrenaud, Fred Frith, Tin Hat Trio, Willie "Loco" Alexander, Yo! Miles with Henry Kaiser and Wadada Leo Smith, Donald Byrd, Jaki Byard and Ted Nugent as well as many other jazz, rock, dance and theater groups. Steve has appeared on more than fifty recordings, and has five recordings as leader or co-leader on the 9 Winds and Clean Feed labels, the latest of them being Surface Tension. Steve has performed the premieres of numerous classical compositions, including Prisoner of Love by Robert Aldridge, Thomas Oboe Lee's Saxxologie... A Sextet, and Passing Time by Jon Nelson. He performed Edmund Campion?s Corail with the Berkeley Symphony and at the Ojai Music Festival, and was a member of the 25th Anniversary performance of Terry Riley's In C, which was released on New Albion. Steve has written more than fifty compositions for saxophone quartet, as well as many others for varied instrumentations. His piece Cage (for John Cage) was performed at the 1993 Bang on a Can festival, and his piece The Gene Pool was commissioned by Meet the Composer and performed at their festival "The Works" in Minneapolis in 2002. He received a California Arts Council Fellowship in 2000 and a Meet the Composer grant in 1993, and teaches at Mills College. Steve is a graduate of the School of Contemporary Music in Brookline, MA and studied composition with Alan Crossman, Christopher Yavelov and Thomas Oboe Lee, saxophone with David Birkin and Indian music with Peter Row and Steve Gorn.
Gangqin Zhao, Chinese multi-instrumentalist, studied Yangqin under her father in her childhood. She began her stage career at the age of 8. She had learned Guzheng and other Chinese percussion instruments from several well-known music educators in China. After attending the Music Department of Nanjing Normal University in her Bachelor?s Degree, she has been active in performing, educating and publishing. Her music activities have been throughout California since she came to U.S. She has performed at Cal Performances(UC Berkeley), the Music Center of L.A. County, Yerba Buena Center for the Performing Arts ( San Francisco), San Jose Center for the Performing Arts, Flint Center (Cupertino), UC, Sacramento, CSU, Chico, and Petalume Summer Festival, Sonomo Folk Fesitival, Asian American Jazz Festival etc.