SAN FRANCISCO COMPOSERS CHAMBER ORCHESTRA
Presents "Haunted House Science Fiction Quiz Show" at Chapel of the Chimes
Saturday, November 7, 2009 at 8 pm
Chapel of the Chimes
4499 Piedmont Ave, Oakland, CA 94611

Webcast
PROGRAM
Philip Freihofner -- oboist, synthesist & composer, has been a member of the San Francisco Composers Chamber Orchestra since the fall of 2004. He has an A.B. in Music from the University of California in Berkeley, and works variously as a contract programmer, oboe performer, coach & "reed doctor," composer & sound designer, and as a retail clerk on Saturdays at Forrests Music in Berkeley. His diverse musical background includes classwork at the SF Conservatory of Music (Prep Dept), Blue Bear School of Music and the Ali Akbar College of Music, and appearances on a recording each by The Residents & negativland, performance with the groups "Flak" and J Poet's rock band "Young Adults," and scoring (artistic, commercial and experimental) for video, A/V, drama and dance. Credits include title music for the UC Berkeley "The Distinguished Teaching Awards" and the theme music for Harry Kreisler's "Conversations with History" series (over 400 episodes produced). He wrote and served as Music Director for Cheryl Koehler/Zig Zag Theatre's full-length dance theater production: "The Fish and the Fire" (performed at Julia Morgan Center in 1993, and the Cowell Theater in 1994) as well as three UC Berkeley Drama Department productions (with directors George House & Lorne Buckmann). The New Music group EARPLAY workshopped a sketch that has been further developed into a work-in-progress setting of the short story "Carmilla" by Sheridan Le Fanu (performed at SFCCO's December 2008 concert). His "Quartet #1 for Oboe, Clarinet, Horn & Bassoon" has been performed by the UC Santa Cruz Music Department faculty, and excerpts of his silent film score for "Der Golem" were recently released on CD by the double reed consort: "WiZARDS!". Most recent work includes electro-acoustic compositions, including "It's only the Wind" premiered at SFCCO Fall 2009 concert at Chapel-of-the-Chimes, "The Obelisk" performed by Steve Adams (SFCCO June 2009) and "What Are You Going to Dream Tonight?" (SFCCO Feb 2009). He also self-publishes and sells sheet music arrangements and original compositions for chamber music ensembles, with an emphasis on double reed quartets, and invented a tool to assist with oboe reed making, the "Blend-Guide Mandrel," currently being marketed by Forrests Music. As an oboist, in addition to working with SFCCO, he has recently performed with Bay Area Chamber Harmonies, and for Bay Area composers Harry Bernstein, Mark Alburger, Jan Pusina, and in Lisa Schola Prosek's Chamber Opera "Trap Door."

Philip Freihofner
It's Only the Wind Low / High

Loren Jones began experimenting with composition as a child. He spent his early years dividing his time between film-making and music, and some of his film work was periodically broadcast on local San Francisco television. Eventually choosing to pursue music instead of film, Loren formed and was part of several bands performing and creating different genres of original music. To this point largely self-taught, in the 1980's Loren returned to serious study to acquire greater depth musical education in order be able to create the kind of music that he had always been the most passionate about. Loren has studied with Tom Constantine, Alexis Alrich and is currently working with David Conte at the San Francisco Conservatory of Music, where he is also a member of the chorus. 

His music has been performed by his own chamber group, by the San Francisco Composers Chamber Orchestra, and by students and teachers from around the Bay Area. He has produced several recordings, worked in radio and film, including creating the sound track for an animated short which won a special Academy Award. His 2006 release, Woodward's Gardens, features two guitars, piano, flute, oboe, harp, and cello.  He was the recipient of a 2007 Meet the Composer Grant. His project, Dancing on the Brink of the World, a fourteen movement piece for chamber orchestra and period instruments, on the history of San Francisco, has been an ongoing part of the repertoire of the past three seasons of SFCCO concerts. 

Loren Jones

The Secret Door

Libretto by Michael McDonagh

Rachel Condry, clarinet
Maria Mikheyenko, soprano

Lisa Scola Prosek is a graduate of Princeton University in Music Composition. Her teachers include Edward Cone, Milton Babbitt, Lukas Foss, and Gaetano Giani Luporini. Scola Prosek is the recipient of numerous grants, commissions and awards, including The NY Center for Contemporary Opera "Atelier" Award for The Lariat. Scola Prosek has composed and produced eight operas with librettos in Italian and English. In 2012, Daughter of the Red Tzar, written for acclaimed tenor John Duykers, premiered in San Francisco to capacity audiences, and is currently on the outreach season with Long Beach Opera. Lisa serves as General Manager and Director of the San Francisco Composers Chamber Orchestra, since 2001. Other awards have been from Theatre Bay Area, the LEF Foundation, The Argosy Contemporary Music Fund, Meet the Composer, the Hewlett Foundation, the American Composers Forum, The San Francisco Arts Commission, The Center for Cultural Innovation, The California Arts Council, the NEA and the Zellerbach Foundation.

Lisa Scola Prosek

Roma

Maria Mikheyenko, soprano


Lisa Scola Prosek is a graduate of Princeton University in Music Composition. Her teachers include Edward Cone, Milton Babbitt, Lukas Foss, and Gaetano Giani Luporini. Scola Prosek is the recipient of numerous grants, commissions and awards, including The NY Center for Contemporary Opera "Atelier" Award for The Lariat. Scola Prosek has composed and produced eight operas with librettos in Italian and English. In 2012, Daughter of the Red Tzar, written for acclaimed tenor John Duykers, premiered in San Francisco to capacity audiences, and is currently on the outreach season with Long Beach Opera. Lisa serves as General Manager and Director of the San Francisco Composers Chamber Orchestra, since 2001. Other awards have been from Theatre Bay Area, the LEF Foundation, The Argosy Contemporary Music Fund, Meet the Composer, the Hewlett Foundation, the American Composers Forum, The San Francisco Arts Commission, The Center for Cultural Innovation, The California Arts Council, the NEA and the Zellerbach Foundation.

Lisa Scola Prosek, soprano

Davide Verotta was born in a boring Italian town close to Milano and moved to the very much more exciting San Francisco in his late twenties. He studied piano at the Milano Conservatory and piano and composition at the San Francisco Conservatory and State University (MA in composition), and at the University of California at Davis (PhD). He is an active solo and ensemble piano recitalist, and he is actively involved in the new music performance and composition scene in the San Francisco Bay Area. Recent compositions include works for orchestra, chamber opera, dance, piano solo, and different chamber ensembles. For more information please visit his web site at http://www.davideverotta.com.

Davide Verotta

Verrà la Morte e Avrà i Tuoi Occhi Low / High

Maria Mikheyenko, soprano


Lisa Scola Prosek is a graduate of Princeton University in Music Composition. Her teachers include Edward Cone, Milton Babbitt, Lukas Foss, and Gaetano Giani Luporini. Scola Prosek is the recipient of numerous grants, commissions and awards, including The NY Center for Contemporary Opera "Atelier" Award for The Lariat. Scola Prosek has composed and produced eight operas with librettos in Italian and English. In 2012, Daughter of the Red Tzar, written for acclaimed tenor John Duykers, premiered in San Francisco to capacity audiences, and is currently on the outreach season with Long Beach Opera. Lisa serves as General Manager and Director of the San Francisco Composers Chamber Orchestra, since 2001. Other awards have been from Theatre Bay Area, the LEF Foundation, The Argosy Contemporary Music Fund, Meet the Composer, the Hewlett Foundation, the American Composers Forum, The San Francisco Arts Commission, The Center for Cultural Innovation, The California Arts Council, the NEA and the Zellerbach Foundation.

Lisa Scola Prosek, soprano
intermission
Dr. Erling Wold is a composer and man-about-town. He recently premiered two large works, his Missa Beati Notkeri Balbuli Sancti Galli Monachi in St Gallen, Switzerland, and his solo opera Mordake for tenor John Duykers as part of the San Francisco International Arts Festival. He is currently working on a personal autobiographical theater piece detailing his corruption and death with the help of James Bisso, which may never be finished, and just finished a more tractable violin sonata for the Denisova-Kornienko duo in Vienna. He is best known for his operas, including Sub Pontio Pilato, an historical fantasy on the death and remembrance of Pontius Pilate, a chamber opera based on William Burroughs' early autobiographical novel Queer, and his critically acclaimed work A Little Girl Dreams of Taking the Veil, based on the Max Ernst collage novel.

Erling Wold

Dr. Mark Alburger (b. 1957, Upper Darby, PA) is a multiple-award-winning ASCAP composer of postminimal, postpopular, and postcomedic sensibilities. His compositions are generally assembled or gridded over pieces ranging from ancient and world music, to postmodern art and vernacular sources -- 174 opus numbers (markalburgerworks.blogspot.com), including 16 concertos, 20 operas, 9 symphonies, and the four-hours-and-counting opera-oratorio work-in-progress, The Bible. He is Music Director of San Francisco Composers Chamber Orchestra (sfcco.org) and San Francisco Cabaret Opera / Goat Hall Productions (goathall.org), Editor-Publisher of 21st-Century Music Journal (21st-centurymusic.blogspot.com and 21st-centurymusic.com), Instructor in Music Literature and Theory at Diablo Valley and St. Mary's Colleges, and Music Critic for Commuter Times. He studied at Swarthmore College (B.A.) with Gerald Levinson and Joan Panetti, Dominican University (M.A., Composition) with Jules Langert, Claremont Graduate University (Ph.D., Musicology) with Roland Jackson, and privately with Terry Riley. Alburger writes daily at markalburger2009.blogspot.com and is in the fifth year of an 11-year project recording his complete works for New Music Publications and Recordings.

Mark Alburger

Elijah Ghost (Suite from "Elijah Rock")

I. Ouverture (Rehoboam and Jeroboam)
II. Aria - May (Jezebel and Elijah)
III. Recitativo - Elijah (God and Elisha)
IV. Quartetto - King (Benhadad and Ahab)
V. Quartetto - Still (Ahab & a Member of a Group of Prophets)
VI. Duetto - Let (Ahab and Naboth)
XII. Aria - Jehoshaphat (Call and Chronology)


The multi-instrumentalist Michael Cooke is a composer of jazz and classical music. This two-time Emmy, ASCAPLUS Award and Louis Armstrong Jazz Award winner plays a variety of instruments: you can hear him on soprano, alto, and tenor saxophones, flute, soprano and bass clarinets, bassoon and percussion. A cum laude graduate with a music degree from the University of North Texas, he had many different areas of study; jazz, ethnomusicology, music history, theory and of course composition. In 1991 Michael began his professional orchestral career performing in many north Texas area symphonies. Michael has played in Europe, Mexico, and all over the United States. Cimarron Music Press began published many of Michael's compositions in 1994. After relocating to the San Francisco Bay Area, he has been exploring new paths in improvised and composed music, mixing a variety of styles and techniques that draw upon the creative energy of a multicultural experience, both in and out of America. In 1999, Michael started a jazz label called Black Hat Records (blackhatrecords.com) and is currently on the Board of Directors of the San Francisco Composers Chamber Orchestra. The San Francisco Beacon describes Michael's music as "flowing out color and tone with a feeling I haven't heard in quite a while. Michael plays with such dimension and flavor that it sets (his) sound apart from the rest." Uncompromising, fiery, complex, passionate, and cathartic is how the All Music Guide labeled Michael's playing on Searching by Cooke Quartet, Statements by Michael Cooke and The Is by CKW Trio. His latest release, An Indefinite Suspension of The Possible, is an unusual mixture of woodwinds, trombone, cello, koto and percussion, creating a distinct synergy in improvised music that has previously been untapped.

Michael Cooke

Open Ended (take two) Low / High


Click on the links to listen to the music.

Click on the links for video.


Microsoft Media Player or for Mac:
VLC Media Player.
PERFORMERS



Flute (Piccolo+ ) (alto flute *)
Martha Stoddard +
Harry Bernstein *

Oboe
Phil Freihofner

Clarinet (Bass Clarinet *)
Rachel Condry *

Tenor Sax
Michael Cooke

Bassoon (ContraBassoon**)
Michael Cooke
Michael Garvey
Lori Garvey**




Trumpet
Cindy Collins

Piano
Davide Verotta
Lisa Scola Prosek

Keyboards
Lisa Scola Prosek

Percussion
Victor Flaviani
Anne Szabla
Loren Jones
Mark Alburger




Accordion
Erling Wold

Violin
Mike Russo

Viola
Clare Twohy

Cello
Ariella Hyman

Voice
Mark Alburger
It's Only the Wind, for oboe and electronics, is dedicated to Jared Diamond, in appreciation for his tremendous work: Collapse, How Societies Choose to Fail or Succeed. I've been particularly haunted by the story of Easter Island, a lush island when first settled, treeless half a century later. It's Only the Wind is partly an exploration of what could yet happen, here in the United States. The oboe is a grim protagonist, making melodic use of one of the darker modes, the phrygian, and various extended techniques such as multiphonics and combination tones, in a desolate and dangerous sonic landscape.
The Secret Door

In San Francisco, near a place called Baker Beach, out over the water
about a hundred meters up in the sky, there is a secret door.
It is invisible to humans, and only large enough for a crow or raven to fly through.

If you are lucky enough to be able to fly and also to make yourself small,
then a friendly bird may show you the exact location.

This small opening in the fabric of our time leads into another world.
The land and its contours are much the same as San Francisco,
but there is no city, and the plants and animals are different.

In a small valley near a beach there lives a wise and powerful magician
and his wife, who, being the only humans in this place,
are happy to receive a visitor.......
Roma
Flying back from Rome in August, I settled into my seat after taking a Tylenol PM to endure the trip. Soon a bizarre dream-like state overtook me, the low droning bass of the airplane engine became an ostinato, people walking by in the aisle were like woodwinds chattering past incoherently. Suddenly in the middle of this pleasant haze, the image of the chariots on the Vittorio Emanuele monument appeared before me, and I heard the melody and words of this song. Roma, for two sopranos and orchestra, is a loving tribute to the Eternal City.
night and trees is a three-stanza poem originally titled 3, which dates from my stripped-down 'minimalist' period when I was concerned with problems of rhythmic structure, and used lots of syncopation and sometimes regular straight-ahead rhythms in place of conventional anecdotal content, which is the common practice in most 'mainstream' American poetry. night and trees is Gerhard Samuel's setting of this short lyric which he chose from among 20 or so poems I sent him as possible candidates. The collaboration was as hands-off as could be, as I think that composers should, in the song form at least, be allowed to follow their own instincts. Poems in particular, and art in general, are, after all, as poet Tristan Tzara once said "a private bell for inexplicable needs." Everyone hears differently and Samuel heard night and trees with acute sensitivity. I owe my encouragement to being 'set' to two people: New York friend of many years, Peter Klein, and pianist Melissa Smith, who suggested I contact The American Music Center, New York, when she worked for Kronos Quartet -- which is how I met Samuel, whose work I'd admired for years. Gerhard dedicated night and trees to his composer friend of many years, Pia Gilbert. I would like to dedicate this performance to Pia Gilbert, as well as to the memory of Gerhard Samuel and his surviving companion and dear friend Achim Nicklis.
Continuing with the treacly investigation of romance and its elations, its euphoric pleasures, begun with Two Orchestral Waltzes for Lynne, the current work, Sweet Encumbrance, makes manifest, in sound, the joyous warmth, the sweet iron fetters and the small panics which flow from hog-tying oneself together with one's chosen helpmeet and companion. In this piece, it is demonstrated in some detail how much one can gain in life simply by giving up one's philandering, and -- while still given license to strut and flirt and still authorized to play the dandy -- one must now, for the foreseeable future, festoon one's costume with the leash and collar and electronic ankle bracelet, sometimes visible but most often invisible, like the line that one might be enticed to cross save for the memories of the previous attempts' resultant truncheoning and electric shocks. But let us not dwell on such past pains, but please to look to that bright future world illumined by the brightest and whitest of most pure light where, joined in glory and set upon one's throne just to the right of the Empress, in a new Sagrada Familia, happily holding court, happily holding the hand of the one most-beloved.
Open Ended is a very versatile work that will be composed before your eyes and ears. This work has no set instrumentation and can be played by any number of performers. It also has no set length; the piece could last 5 minutes or 24 hours. Based on Rova's Radar techniques, Open Ended is less of a composition and more of a color or tool palette. It is an ever-growing collection of rules and games for the performers that are triggered by hand signals by the conductor/composer. The conductor / composer then composes the piece live using these hand signals to guide the performers. Open Ended has been performed several times, including a performance four years ago by the SFCCO, but every time it is a world première and unique performance that can never be repeated.
Elijah Ghost, Op. 176, is a suite derived from Elijah Rock, Op. 71, an opera-oratorio on I Kings:12 through II Kings -- pertaining to the establishment and fall of the Divided Kingdom of Israel and Judah. The music is a prophetic re-utterance of Felix Mendelssohn's Elijah, with minor revelations drawn from atonal fugue, swing, Alban Berg's Three Pieces for Orchestra (III) and Wozzeck (Act II:1 and Act III:4), rock'n'roll, minimalism, and 12-bar blues. The characters herein include the rival pretenders to the throne Jeroboam and Rehoboam, Queen Jezebel, Elijah, King Ahab and his nemesis/pseudo-brother Syrian Behadad, a slap-happy Member of a Group of Prophets and another eaten by a lion, the anti-developer Naboth, and a hit-list Reciter of Dead Rulers.
Verrà la Morte e Avrà i Tuoi Occhi is a piece for chamber orchestra and two soprani about the acceptance, or awareness, of death, life passing by, and the longing for the beautiful days we must leave behind. The two sopranos sing:
Verrà la morte e avrà i tuoi occhi belli,
e le tue labbra
e il cuore.
Verrà la morte
ma ricorda i miei baci
e il mare
il verde
e le giornate nel sole

(Death will come and will have your beautiful eyes,
and your lips,
and the heart.
Death will come
but remember my kisses,
and the sea,
the green,
and the days in the sun.)

The inspiration for the piece comes from the location for its premiere (the Chapel of the Chimes in Oakland, a beautiful building by Julia Morgan); a memory: the song La Morte by Fabrizio de André, a popular Italian songwriter active in the 70's-90's; and a recent find (thank you, Google): a rather dark poem with the same title published by the Italian poet Cesare Pavese in 1960. My text tries to deliver a happier overtone: somewhere around the somberly playful de André, and well to the left of the dark poem by Pavese.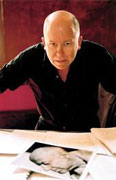 Dr. Mark Alburger is the Music Director, Conductor and founder of the San Francisco Composers Chamber Orchestra. Mark is an eclectic American composer of postminimal, postpopular, and postcomedic sensibilities. He is the Music Director of Goat Hall Productions / San Francisco Cabaret Opera, Editor-Publisher of 21st-Century Music Journal, an award-winning ASCAP composer of concert music published by New Music, Instructor in Music Theory and Literature at Diablo Valley College, Music Critic for Commuter Times, author, musicologist, oboist, pianist, and recording artist.
Dr. Alburger studied oboe with Dorothy Freeman, and played in student orchestras in association with George Crumb and Richard Wernick. He studied composition and musicology with Gerald Levinson, Joan Panetti, and James Freeman at Swarthmore College (B.A.), Karl Kohn at Pomona College, Jules Langert at Dominican College (M.A.), Tom Flaherty and Roland Jackson at Claremont Graduate School (Ph.D.), and Terry Riley.
Since 1987 he has lived in the San Francisco Bay Area, initially producing a great deal of vocal music with assembled texts, including the opera Mice and Men (1992), the crisis-madrigal collection L.A. Stories (1993), the rap sheet For My Brother For My Brother (1997), and the hieratic Passion According to Saint Matthew (1997).
Since 1997, Dr. Alburger has gridded and troped compositions upon pre-existent compositions ranging from world music and medieval sources to contemporaries such as George Crumb and Philip Glass. To date, he has written 16 concerti, 7 masses and oratorios, 12 preludes and fugues, 20 operas, 6 song cycles, 9 symphonies -- a total of 130 opus numbers and more than 800 individual pieces. He is presently at work on Waiting for Godot and Diabolic Variations.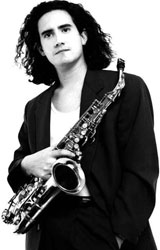 Michael Cooke is the Promotion & Fundraising Director of the San Francisco Composers Chamber Orchestra and a composer of jazz and classical music. This two-time Emmy and Louis Armstrong Jazz Award winner plays a variety of instruments: you can hear him on soprano, alto, and tenor saxophones, flute, soprano and bass clarinets, bassoon and percussion. A cum laude graduate with a music degree from the University of North Texas, he had many different areas of study; jazz, ethnomusicology, music history, theory and of course composition. In 1991 Michael began his professional orchestral career performing in many north Texas area symphonies. Michael has played in Europe, Mexico, and all over the United States. Cimarron Music Press began published many of Michael's compositions in 1994.
After relocating to the San Francisco Bay Area, he has been exploring new paths in improvised and composed music, mixing a variety of styles and techniques that draw upon the creative energy of a multicultural experience, both in and out of America. In 1999, Michael started a jazz label called Black Hat Records. The San Francisco Beacon describes Michael's music as "flowing out color and tone with a feeling I haven't heard in quite a while. Michael plays with such dimension and flavor that it sets (his) sound apart from the rest." Uncompromising, fiery, complex, passionate, and cathartic is how the All Music Guide labeled Michael's playing on Searching by Cooke Quartet, Statements by Michael Cooke and The Is by CKW Trio. His latest release, An Indefinite Suspension of The Possible, is an unusual mixture of woodwinds, trombone, cello, koto and percussion, creating a distinct synergy in improvised music that has previously been untapped. www.michaelkcooke.com
Martha Stoddard, Associate Conductor earned her Bachelor of Arts degree at Humboldt State University and her Master of Music degree from San Francisco State University, where she studied flute, conducting and composition. She was named Program Director for the John Adams Young Composers Program at the Crowden Music Center in 2012 and has held the position of Artistic Director of the Oakland Civic Orchestra since 1997.She is Associate Conductor of the San Francisco Composers' Chamber Orchestra and Director of Instrumental Music at Lick-Wilmerding High School.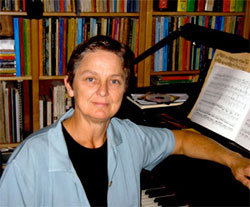 Her most recent commissions include today's premiere and her Trio for Clarinet,Cello and Piano for the 2009 San Francisco Chamber Wind Festival at the San Francisco Conservatory.  She has held the position of Artistic Director of the Oakland Civic Orchestra since 1997. Other recent conducting activities include engagements as Conductor for the John Adams Young Composers' Orchestration Workshops at the Crowden School, Musical Director for the operas Belfagor and Trap Door by Lisa Prosek, Guest Conductor for the San Francisco All City High School String Orchestra and the Santa Rosa Youth Symphony Summer Academy Orchestra. She has also served as an adjudicator for the San Francisco Conservatory of Music and Santa Cruz Youth Symphony Concerto Competitions.  Ms. Stoddard is founding member and director of ChamberMix, and is a featured performer on alto flute in John Bilotta's Shadow Tree (Capstone Records CPS-8787) and in John Thow's Cantico  (Palatino label #1001) Marika Kuzma, conductor, and as conductor for Janis Mercer's, Voices (Centuar Recordings, CPS 2951).
Librettist Michael McDonagh (b. May 20, 1951, Fresno, California) attended grade school in Fresno, San Jose, Livermore, Concord (CA), Mt Prospect, and Arlington Height (IL). He studied English literature at Loyola University, Chicago, spent a year abroad at its Rome Center, and graduated from Loyola-Marymount University, Los Angeles. McDonagh has written many critical pieces and profiles on the arts for The Los Angeles Times, The San Francisco Chronicle, The San Francisco Review of Books, The Advocate, Stagebill, In Tune, The Three Penny Review, Keyboard, Antiques and Fine Art, and many other publications. He currently serves as staff arts critic for San Francisco's Bay Area Reporter www.eBAR.com -- and also writes for www.alexnorthmusic.com, www.culturevulture.net, www.sequenza21.com, www.classical-music-review.org, and 21st-Century Music. His poetry has been published in El Playano, Anemone, Mouth of The Dragon, Mirage, and Stanford's poetry journal, Mantis, and he continues to at work on many poems, which have been published singly and as related cycles. McDonagh has done two poem-picture books with San Francisco-based painter Gary Bukovnik -- Before I Forget (1991) and Once (1997), and has written two pieces for the stage -- Touch and Go, for three voices, staged by Zack's Common Cultural Practice at San Francisco's Venue 9, in 1998, and Sight Unseen (1999-2000) -- a theatre piece for performer Jennifer Taggart.
Rachel Condry, clarinet/bass clarinet, is an advocate of new music who has commissioned and premiered many new works by both established and emerging composers. In 2007 she was featured in Lisa Scola Prosek's Opera Belfagor based on the story by Machiavelli, in which the bass clarinet portrays the character of the devil. In 2005 she made her Carnegie Hall debut as a member of The Matt Small Chamber Ensemble, a group that seamlessly blends jazz, improvised music and classical genres. As a performing member of the San Francisco Composer's Chamber Orchestra Rachel has been featured as soloist with the orchestra in works by Erling Wold, Lisa Prosek and Thomas Goss. Rachel continues to independently produce concerts comprised of recent and newly commissioned work for clarinet and bass clarinet by Bay Area composers such as Earl Zindars, Erling Wold, Mitch Marcus Andrew Shapiro, Lisa Prosek, Janis Mercer, Jono Kornfeld, Melissa Hui, Alexis Alrich and others. Rachel received a Bachelor of Music degree from Oberlin Conservatory where she was a finalist of the Oberlin Concerto Competition and was a soloist with the Oberlin Contemporary Music Ensemble.
German-Jewish composer Gerhard Samuel (April 20, 1924, Bonn - March 25, 2008, Seattle, WA) emigrated to the United States in 1939 with his parents and his sister Erika. He attended Eastman School, and Yale where he took composition classes with Paul Hindemith. Samuel studied conducting with Koussevitzky at Tanglewood, and served as violinist and associate conductor, under Minneapolis Symphony head Antal Dorati. He was one of the co-founders of the Cabrillo Festival, serving as its first music director (1962-1968), and revolutionized programming at the Oakland Symphony when he was its conductor from 1959-1971. He then became Zubin Mehta's assistant conductor at the Los Angeles Philharmonic (1970-1973). Samuel headed Cincinatti's College-Conservatory of Music from 1976-1997, where he transformed its orchestra, taking it on international tours and recording several CD's ranging from Schubert to Ives. He composed many striking pieces in all media, including two string quartets (for the La Salle and Essex); Transformations, for solo violin and string orchestra; a large orchestra piece, Requiem for Survivors "and suddenly it's evening..." (in memory of the Oakland Symphony's late conductor, Calvin Simmons); Looking at Orpheus Looking; Nocturne on an Impossible Dream; Auguri (conducted for his friend Lou Harrison, in a birthday tribute at the San Jose Symphony); and a series of chamber works with texts by Los Angeles-based poet Jack Larson.
A native of St. Petersburg, Maria Mikheyenko has sung with the Russian Chamber Orchestra, San Francisco Russian Festival, and presents recitals of Russian Romances throughout the Bay Area. Opera credits include Berkeley Opera, Pocket Opera, Capitol Opera Sacramento, Bay Shore Lyric Opera, Opera Lafayette, Oakland Opera Theater, and the Austrian American Mozart Academy of Salzburg. In the world of contemporary music, she is a frequent collaborator with Bay Area composers. She has performed in three world premiere works by Lisa Scola Prosek: Leonardo's Notebooks, Belfagor, and Trap Door. With San Francisco Cabaret Opera, she has multiple San Francisco and world premiere roles in Mark Alburger's operas (including Lennie Small in Mice and Men, Delilah in Sex and Delilah, and Edward Gibbon in Diocletian: A Pagan Opera), as well as portraying The Prophetess in Henry Purcell's Dioclesian and a Quark Sister in John Bilotta's Quantum Mechanic. Ms. Mikheyenko has been a guest artist on the national radio show West Coast Live! and is a member of the award-winning Pacific Mozart Ensemble, collaborating with artists such as Meredith Monk and Dave Brubeck.