Cowgirl Rondo for string orchestra, is a series of episodes in the style of a fiddle tune from my Orchestral Suite for the Young of All Ages(2009), which was commissioned by the Community Women's Orchestra in honor of its 25th Anniversary Season. A few familiar musical turns of phrase are woven into the fabric of the rondo, and a singularly odd variation in 3/8 interrupts the otherwise traditional flavor of the movement, as if to say, "it IS the 21st Century, after all".
Three Songs from Ten Days for soprano and orchestra, from the opera 'Ten Days' (Dieci Giorni) premiering September at Thick House Theater. Based on the Decameron of Boccaccio. The songs are: one tragic, one romantic, and one comic. 1. Simona's aria Simona eats the leaf of the poison sage that killed her lover, and so dies. 2. Lisetta's Canzonetta Lisetta's lover, disguised as the Archangel Gabriel, has dropped his wings and fled out her window, leaping into the Grand Canal of Venice to escape her in laws. Lisetta mourns his loss. 2. Leftover Love, Filippa's aria. Fillippa is on trial for cheating on her husband. She sings this song as her defense, for, just as her husband leaves her with too much uneaten food, he has left her with a surfeit of unsatisfied love. "What should I do with it," she asks the jury," feed it to the dogs as well?"
Fancy Free is a musical exploration of emotional transformation. We all experience dark times and good times in life. The first movement, Shadows, conveys a pathway through difficult emotions. Musically, it uses an unusual minor mode and dark harmonies. There is much contrast between soft and loud sounds with the music rising and falling between both extremes. Overlapping textures of sound are also quite prominent. Artificial harmonics in the strings are utilized to create a mysterious texture. The second movement, Fancy Free, breaks through the dark shadings of the first movement. It begins softly with flowing melodic lines in the violins and clarinet. Gradually, the music intertwines and builds up in a forceful crescendo. A carefree theme is heard in the clarinet accompanied by syncopated strings. Soon violins play this soaring melody that is now set against driving rhythms in the lower strings. The cello picks up the melodic line with clarinet playing a canon. Suddenly the texture lightens as a new fugue-like section begins. This evolves into a return of the main theme that gradually builds to a joyful ending.
An Enticement of Silence is structured around the idea of unfolding, a process in which immanent structures slowly manifest themselves. The unfolding, by its nature, also looks back to, remembers, or is somewhat aware of the silent place from which it originates. To represent this idea, chords, rhythms, textures, and the main motives in the piece slowly emerge to acquire their identity, and then dissipate, losing their identity. Despite its slow-going, pensive nature, An Enticement of Silence manages to deliver strong impulses and manifest its inner driving motion. The motions progressively accumulate energy, to blossom into triumphant affirmations of vitality and a final rejection of the allure of quiet and repose.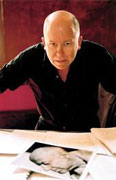 Dr. Mark Alburger is the Music Director, Conductor and founder of the San Francisco Composers Chamber Orchestra. Mark is an eclectic American composer of postminimal, postpopular, and postcomedic sensibilities. He is the Music Director of Goat Hall Productions / San Francisco Cabaret Opera, Editor-Publisher of 21st-Century Music Journal, an award-winning ASCAP composer of concert music published by New Music, Instructor in Music Theory and Literature at Diablo Valley College, Music Critic for Commuter Times, author, musicologist, oboist, pianist, and recording artist.
Dr. Alburger studied oboe with Dorothy Freeman, and played in student orchestras in association with George Crumb and Richard Wernick. He studied composition and musicology with Gerald Levinson, Joan Panetti, and James Freeman at Swarthmore College (B.A.), Karl Kohn at Pomona College, Jules Langert at Dominican College (M.A.), Tom Flaherty and Roland Jackson at Claremont Graduate School (Ph.D.), and Terry Riley.
Since 1987 he has lived in the San Francisco Bay Area, initially producing a great deal of vocal music with assembled texts, including the opera Mice and Men (1992), the crisis-madrigal collection L.A. Stories (1993), the rap sheet For My Brother For My Brother (1997), and the hieratic Passion According to Saint Matthew (1997).
Since 1997, Dr. Alburger has gridded and troped compositions upon pre-existent compositions ranging from world music and medieval sources to contemporaries such as George Crumb and Philip Glass. To date, he has written 16 concerti, 7 masses and oratorios, 12 preludes and fugues, 20 operas, 6 song cycles, 9 symphonies -- a total of 130 opus numbers and more than 800 individual pieces. He is presently at work on Waiting for Godot and Diabolic Variations.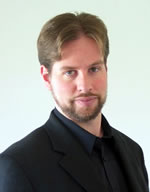 John Kendall Bailey is an Associate Conductor with the San Francisco Composers Chamber Orchestra and is Principal Conductor and Chorus Master of the Trinity Lyric Opera, Music Director and Conductor of Voices of Musica Sacra, and Artistic Director of the San Francisco Song Festival. In 1994, Mr. Bailey founded the Berkeley Lyric Opera and served as its Music Director and Conductor until 2001. Since then he has been a guest conductor with the Oakland East Bay Symphony, Oakland Youth Orchestra, and Oakland Ballet, and music director and conductor for productions with North Bay Opera, Mission City Opera, Goat Hall Productions, Solo Opera, the Crowden School and Dominican University. From 2002-2006 he was the Chorus Master of the Festival Opera of Walnut Creek. Mr. Bailey is also a composer, and his works have been performed and commissioned in the Bay Area and abroad.
Mr. Bailey also maintains a busy performance schedule as a bass-baritone, oboist, and pianist, and has performed with the San Francisco, Santa Rosa, Oakland East Bay, Berkeley, Redding, Napa, Sacramento, and Prometheus symphonies, American Bach Soloists, Philharmonia Baroque Orchestra, the Midsummer Mozart and West Marin music festivals, San Francisco Bach Choir, Coro Hispano de San Francisco, Pacific Mozart Ensemble, California Vocal Academy, San Francisco Concerto Orchestra, Masterworks Chorale of San Mateo, Baroque Arts Ensemble, San Francisco Korean Master Chorale, the Master Sinfonia, the Mark Morris and Merce Cunningham dance companies, Goat Hall Productions, Opera Piccola, the Berkeley, Golden Gate, and Oakland Lyric Opera companies, and many other groups. He has recorded for the Harmonia Mundi, Koch International, Pro Musica, Wildboar, Centaur, and Angelus Music labels.
Mr. Bailey has been a pre-performance lecturer for the Oakland East Bay Symphony and the San Francisco Opera, a critic for the San Francisco Classical Voice, a writer of real-time commentary for the Concert Companion, and has taught conducting at the University of California at Davis.
Martha Stoddard, Associate Conductor earned her Bachelor of Arts degree at Humboldt State University and her Master of Music degree from San Francisco State University, where she studied flute, conducting and composition. She was named Program Director for the John Adams Young Composers Program at the Crowden Music Center in 2012 and has held the position of Artistic Director of the Oakland Civic Orchestra since 1997.She is Associate Conductor of the San Francisco Composers' Chamber Orchestra and Director of Instrumental Music at Lick-Wilmerding High School.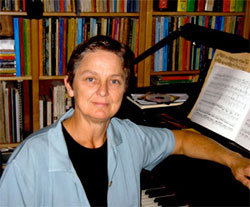 Her most recent commissions include today's premiere and her Trio for Clarinet,Cello and Piano for the 2009 San Francisco Chamber Wind Festival at the San Francisco Conservatory.  She has held the position of Artistic Director of the Oakland Civic Orchestra since 1997. Other recent conducting activities include engagements as Conductor for the John Adams Young Composers' Orchestration Workshops at the Crowden School, Musical Director for the operas Belfagor and Trap Door by Lisa Prosek, Guest Conductor for the San Francisco All City High School String Orchestra and the Santa Rosa Youth Symphony Summer Academy Orchestra. She has also served as an adjudicator for the San Francisco Conservatory of Music and Santa Cruz Youth Symphony Concerto Competitions.  Ms. Stoddard is founding member and director of ChamberMix, and is a featured performer on alto flute in John Bilotta's Shadow Tree (Capstone Records CPS-8787) and in John Thow's Cantico  (Palatino label #1001) Marika Kuzma, conductor, and as conductor for Janis Mercer's, Voices (Centuar Recordings, CPS 2951).