SAN FRANCISCO COMPOSERS CHAMBER ORCHESTRA
Presents "Lost Things Found" at Old First Concerts
Saturday, June 25, 2011 at 8 pm
Old First Presbyterian Church
1751 Sacramento Street/Van Ness, San Francisco, CA 94109

Examiner Review
PROGRAM
Loren Jones began experimenting with composition as a child. He spent his early years dividing his time between film-making and music, and some of his film work was periodically broadcast on local San Francisco television. Eventually choosing to pursue music instead of film, Loren formed and was part of several bands performing and creating different genres of original music. To this point largely self-taught, in the 1980's Loren returned to serious study to acquire greater depth musical education in order be able to create the kind of music that he had always been the most passionate about. Loren has studied with Tom Constantine, Alexis Alrich and is currently working with David Conte at the San Francisco Conservatory of Music, where he is also a member of the chorus. 

His music has been performed by his own chamber group, by the San Francisco Composers Chamber Orchestra, and by students and teachers from around the Bay Area. He has produced several recordings, worked in radio and film, including creating the sound track for an animated short which won a special Academy Award. His 2006 release, Woodward's Gardens, features two guitars, piano, flute, oboe, harp, and cello.  He was the recipient of a 2007 Meet the Composer Grant. His project, Dancing on the Brink of the World, a fourteen movement piece for chamber orchestra and period instruments, on the history of San Francisco, has been an ongoing part of the repertoire of the past three seasons of SFCCO concerts. 

Loren Jones

Eytan and Gabriel Schillinger-Hyman, Piano

William Severson (b. 1941), at age eight, negotiated piano lessons before informing his parents in a small mountain town in California, but waited until he was 27 to begin vocal lessons in Hawaii when singing with the Honolulu Chorale. This latter instruction was somewhat successful as he sang 1976-7 season with the Tanglewood Festival Chorus, which is a volunteer professional chorus associated with the Boston Symphony in Massachussetts. His parents insisted that he have a livelihood so he has a degree in Electrical Engineering from the University of California at Berkeley, and worked in the computer field for 40 years. He has not mixed computers with music except to be one of the partners of Micro Pro Musica Press. It uses computers to engrave music including his own compositions and arrangements and offer them over the internet. Severson performs around the greater Bay Area with the Golden Age Ensemble. He has had permanent singing positions in churches for 20 years. Severson begain composing in 1979 and was a founding member of the Society of Gay and Lesbian Composers, which performed several of his works. He is a member of the Irregular Resolutions, based in San Francisco. Severson studiedwith Rebeca Mauleon-Santana at CCSF, and Janis Mercer at CMC.

William Severson

A Simple Trifle

I. A Trifle Crazy
II. A Trifle Sad and Wistful
III. A Trifle Dancey


John Beeman studied with Peter Fricker and William Bergsma at the University of Washington where he received his Master's degree. His first opera, The Great American Dinner Table was produced on National Public Radio. Orchestral works have been performed by the Fremont-Newark Philharmonic, Santa Rosa Symphony, and the Peninsula Symphony. The composer's second opera, Law Offices, premiered in San Francisco in 1996 and was performed again in 1998 on the steps of the San Mateo County Courthouse. Concerto for Electric Guitar and Orchestra was premiered in January 2001 by Paul Dresher, electric guitar. Mr. Beeman has attended the Ernest Bloch Composers' Symposium, the Bard Composer-Conductor program, the Oxford Summer Institutes, and the Oregon Bach Festival and has received awards through Meet the Composer, the American Music Center and ASCAP. Compositions have been performed by Ensemble Sorelle, the Mission Chamber Orchestra, the Ives Quartet, Fireworks Ensemble, the Oregon Repertory Singers and Schola Cantorum of San Francisco.

John Beeman

Collage

I. Phoenix
II. Other Side

Maria Mikheyenko, Soprano

Bernard Herrmann (1911-1975) was one of the most famous and influential film composers of the 20th Century, and is best known for his scores for Citizen Kane, The Ghost and Mrs. Muir, The Day the Earth Stood Still, Taxi Driver, and for his collaborations with filmmakers Ray Harryhausen (The Seventh Voyage of Sinbad and Jason and the Argonauts) and Alfred Hitchcock (Vertigo, Psycho, and North By Northwest). Herrmann aspired to be a composer of works for the concert hall and wrote a handful of excellent works: an opera on Emily Brontë\'s Wuthering Heights, a cantata version of Melville\'s Moby Dick, and a superb symphony, among others. Though his concert works are rarely performed now, they were initially premiered by some of the top orchestras including the New York Philharmonic, Philadelphia Orchestra, BBC Symphony, and Hallé Symphony and championed by conductors Sir John Barbirolli, Sir Thomas Beecham, Eugene Ormandy, and Leopold Stokowski. One area of Herrmann\'s work which has received the least amount of attention is his work for television and radio. Herrmann collaborated with Orson Welles and Norman Corwin in the 1930\'s, writing innovative music for radio dramas. When the focus of the world turned to television, Herrmann wrote marvelous music for The Twilight Zone, The Alfred Hitchcock Hour, Have Gun-Will Travel, and others.

Bernard Herrmann

The Twilight Zone: Little Girl Lost

Roland Kato, Viola d'Amore


intermission
Davide Verotta was born in a boring Italian town close to Milano and moved to the very much more exciting San Francisco in his late twenties. He studied piano at the Milano Conservatory and piano and composition at the San Francisco Conservatory and State University (MA in composition), and at the University of California at Davis (PhD). He is an active solo and ensemble piano recitalist, and he is actively involved in the new music performance and composition scene in the San Francisco Bay Area. Recent compositions include works for orchestra, chamber opera, dance, piano solo, and different chamber ensembles. For more information please visit his web site at http://www.davideverotta.com.

Davide Verotta

Samuel Ostroff is a Bay Area composer. His debut work Before You Read, was performed last year by the San Francisco Composers Chamber Orchestra. His ventures into other forms of music include his role as singer songwriter in The Lysdexics, and attending Stanford Jazz Workshop. Samuel currently studies classical piano and composition with Lisa Scola Prosek.

Samuel Ostroff

Before You Read

Martha Stoddard earned her Bachelor of Arts degree at Humboldt State University and Master of Music from San Francisco State University, where she studied flute, conducting, and composition. She was recently named Program Director of the John Adams Young Composers Program at the Crowden Music Center and has held the position of Artistic Director of the Oakland Civic Orchestra since 1997. Stoddard is Associate Conductor of the San Francisco Composers Chamber Orchestra and Director of Instrumental Music at Lick-Wilmerding High School. Other activities include engagements as Musical Director for Lisa Scola Prosek's Belfagor and Trap Door, John Bilotta's Trifles, Mark Alburger's Job: A Masque, and the Erling Wold / Davide Verotta / Scola Prosek / Stoddard Dieci Giorni, premiered in San Francisco in 2010. In October 2012, she conducted the premiere of Scola Prosek's The Daughter o the Red Tsar, featuring tenor John Duykers. A 2009 and 2010 recipient of AscapPlus Awards, her music has been performed in San Francisco through the American Composer's Forum, by the Sierra Ensemble, Avenue Winds and in the UK by flutists Carla Rees and Lisa Bost. She has had performances by the San Francisco Choral Artists, Schwungvoll!, the Community Women's Orchestra, Oakland Civic Orchestra, Womensing, Bakersfield Symphony New Directions Series, in the Trinity Chamber Concert Series and the New Music Forum Festival of Contemporary Music. Recent commissions include Points of Reference, Outbursts: an Homage to Brahms, Orchestral Suite for the Young of all Ages, and the Trio for Clarinet, Cello, and Piano.

Martha Stoddard

Orchestral Suite for the Young of All Ages

Windsong Variations
Hop-Skip-Jump

Lisa Scola Prosek is a graduate of Princeton University in Music Composition. Her teachers include Edward Cone, Milton Babbitt, Lukas Foss, and Gaetano Giani Luporini. Scola Prosek is the recipient of numerous grants, commissions and awards, including The NY Center for Contemporary Opera "Atelier" Award for The Lariat. Scola Prosek has composed and produced eight operas with librettos in Italian and English. In 2012, Daughter of the Red Tzar, written for acclaimed tenor John Duykers, premiered in San Francisco to capacity audiences, and is currently on the outreach season with Long Beach Opera. Lisa serves as General Manager and Director of the San Francisco Composers Chamber Orchestra, since 2001. Other awards have been from Theatre Bay Area, the LEF Foundation, The Argosy Contemporary Music Fund, Meet the Composer, the Hewlett Foundation, the American Composers Forum, The San Francisco Arts Commission, The Center for Cultural Innovation, The California Arts Council, the NEA and the Zellerbach Foundation.

Lisa Scola Prosek
John Duykers, Tenor


Allan Crossman has written for many soloists and ensemble. The North/South Consonance (NYC) recording of Millennium Overture Dance received a GRAMMY nomination in 2003; Music for Human Choir (SATB) shared Top Honors at the Waging Peace through Singing Festival; North/South recently recorded his FLYER (cello and string orchestra, with soloist Nina Flyer); and a recent commission is the piano trio Icarus, for the New Pacific Trio (San Francisco).

One of his many theatre scores, The Log of the Skipper's Wife, was produced by the Royal Shakespeare Company at Stratford and the Kennedy Center, with Crossman's music drawn from Irish/English shanties and dances. His music is the soundtrack for the award-winning animated short, X man, by Christopher Hinton (National Film Board of Canada). His work has been supported by such organizations as Canada Council for the Arts, American Composers Forum, and Meet the Composer (NY). Professor Emeritus, Concordia University (Montreal), he has also taught at Wheaton College, the Pacific Conservatory, and is presently on the faculty of the San Francisco Conservatory of Music. His doctoral studies were with George Rochberg, George Crumb, and Hugo Weisgall at the University of Pennsylvania.

Allan Crossman

Click on the links to listen to the music.

Click on the links for video.


Microsoft Media Player or for Mac:
VLC Media Player.
PERFORMERS



Flute (* piccolo, ** Alto Flute, *** Bass Flute )
Bruce Salvisberg *, **
Harry Bernstein *, **
Martha Stoddard *, **
David Latulippe **, ***
Kris Palmer *, ***

Oboe
Philip Freihofner

Clarinet
Michael Kimbell

Bass Clarinet
Michael Cooke

Bassoon (ContraBassoon**)
Michael Cooke
Michael Garvey
Lori Garvey**




Harp
Christina Kopriva
Esther Lee
Stephen Main
Jieyin Wu

Piano/Keyboards
Lisa Scola Prosek
Davide Verotta

Percussion
Victor Flaviano
Anne Szabla
Mark Alburger





Violin
Monika Gruber

Viola
Nansamba Ssensalo

Cello
Ariella Hyman

Bass
John Beeman
Mt. Eytan Gabriel Caves was written for Eytan and Gabriel Hyman, who were playing some Chopin after one of our concerts last year and I asked them if they'd like to play a piano four-hands piece in a future concert. They agreed and requested something jazzy. This is my third piano four-hands piece. Such pieces are challenging and fun to write. Now that these two fine up-and-coming pianists are here with us, I'm encouraged to compose more music for them.
A Simple Trifle was Severson's premiere work, originally written as three short pieces for piano, and then arranged for string trio. The goal was to write very dissonant music that was at the same time quite listenable. The composition is an exercise in three simple musical forms: ternary, sonata, and rondo.
Imaginations is a set of three piano pieces, corresponding to a traditional sequence of Allegro, Adagio, Presto movements. The first and last piece are structured around a variation of the simple ABA form: a first set of material is presented, followed by a second set, and then the opening set is repeated. The middle one is in the form of a Passacaglia: it is composed of three variations over a long ostinato pattern in the bass. The pieces share much thematic and harmonic material, although this fact is quite hidden below the foreground surface. They are dedicated to Julian White, one of my piano teachers.
Before You Read was composed at the piano and orchestrated originally as a string trio.
Churchill In The Bath: Upon his arrival in Moscow, Churchill is led into a luxurious villa, with a splendid bath and discovers a novel invention, hot and cold running water faucets. Famous for taking long and numerous baths, Churchill sits in the tub and rehearses his imminent meeting with Stalin, where he will present his plan to invade Africa and enter Europe first from Italy, something he knows will enrage Stalin, as indeed, it does.
Collage is a set of poems written by Carla Brooke, transformed into a song cycle for soprano, clarinet, violin, and cello -- two of the which (Phoenix and Other Side) will be performed here. Brooke writes: Poems often come to me through visual images that I cut and paste into collage artwork. The first poem, Phoenix, describes a journey of transformation from the fiery depths of emotional isolation to a sense of universal belonging and rebirth. Other Side opens up to the possibility of transcendence and freedom beyond our wildest dreams.
Little Girl Lost was a memorable episode of The Twilight Zone, aired in 1962, which tells the story of a couple, Chris and Ruth, who awake in the middle of the night to the sound of their little girl, Tina, calling for them. When they enter her room, they find that although they can hear her voice, she cannot be found. Chris calls a physicist friend of his, Bill, to come help and together they discover, in the wall behind Tina's bed, a portal to another dimension. After unsuccessfully sending the family dog through the portal to bring Tina back, Chris himself enters this fourth dimension to attempt to find the girl and the dog... and finds himself in a strange, distorted landscape of shapes and lights. Bill urges Chris to bring them back quickly; and father, daughter, and dog finally return safely; but find that the portal now has closed. Bill reveals that after a few more seconds, Tina and the dog would have been stuck in the other dimension along with half of Chris, as only his upper half had entered through the portal and Bill had been holding onto the rest of him.
Arriving At Loch Lomond is based on the familiar Scottish folksong, and only after writing the first few pages was it revealed to the composer that this song had been lurking behind the sketches. There was then a choice either to deny it or embrace it, so tonight you will hear the result, which includes you, the audience... so, please keep an eye on the conductor toward the end of the piece -- and join us for our season's finale!
Oh, you'll take the high road and I'll take the low road,
And I'll be in Scotland before you.
And me and my true love will ever meet again,
On the bonnie bonnie banks of Loch Lomond.
Windsong Varations / Hop-Skip-Jump are taken from my recently commissioned Orchestral Suite For The Young Of All Ages (2009). The suite is comprised of five movements, two of which will be performed tonight. The individual movements are designed to display the uniqueness of each section of the orchestra, as well as to unite its full instrumental forces. Windsong Variations introduces the woodwinds one section at a time in a simple chorale melody, weaving them together in a rich texture with simple variations. A contrasting middle section rejoins the winds, strings and percussion, in an energetic, but somewhat dark and mysterious interlude. This segues into Hop-Skip-Jump, a playful modal tune in triple meter juxtaposed with a 6/8 accompaniment (heard first in the clarinets), then passed around the entire ensemble. A second theme featuring the strings offers melodic and textural variety. The return of the first theme is pronounced and dramatic, building to a driving rhythmic cadence for the full orchestra.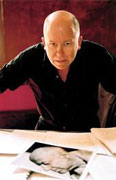 Dr. Mark Alburger is the Music Director, Conductor and founder of the San Francisco Composers Chamber Orchestra. Mark is an eclectic American composer of postminimal, postpopular, and postcomedic sensibilities. He is the Music Director of Goat Hall Productions / San Francisco Cabaret Opera, Editor-Publisher of 21st-Century Music Journal, an award-winning ASCAP composer of concert music published by New Music, Instructor in Music Theory and Literature at Diablo Valley College, Music Critic for Commuter Times, author, musicologist, oboist, pianist, and recording artist.
Dr. Alburger studied oboe with Dorothy Freeman, and played in student orchestras in association with George Crumb and Richard Wernick. He studied composition and musicology with Gerald Levinson, Joan Panetti, and James Freeman at Swarthmore College (B.A.), Karl Kohn at Pomona College, Jules Langert at Dominican College (M.A.), Tom Flaherty and Roland Jackson at Claremont Graduate School (Ph.D.), and Terry Riley.
Since 1987 he has lived in the San Francisco Bay Area, initially producing a great deal of vocal music with assembled texts, including the opera Mice and Men (1992), the crisis-madrigal collection L.A. Stories (1993), the rap sheet For My Brother For My Brother (1997), and the hieratic Passion According to Saint Matthew (1997).
Since 1997, Dr. Alburger has gridded and troped compositions upon pre-existent compositions ranging from world music and medieval sources to contemporaries such as George Crumb and Philip Glass. To date, he has written 16 concerti, 7 masses and oratorios, 12 preludes and fugues, 20 operas, 6 song cycles, 9 symphonies -- a total of 130 opus numbers and more than 800 individual pieces. He is presently at work on Waiting for Godot and Diabolic Variations.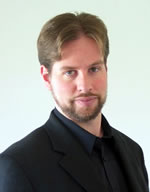 John Kendall Bailey is an Associate Conductor with the San Francisco Composers Chamber Orchestra and is Principal Conductor and Chorus Master of the Trinity Lyric Opera, Music Director and Conductor of Voices of Musica Sacra, and Artistic Director of the San Francisco Song Festival. In 1994, Mr. Bailey founded the Berkeley Lyric Opera and served as its Music Director and Conductor until 2001. Since then he has been a guest conductor with the Oakland East Bay Symphony, Oakland Youth Orchestra, and Oakland Ballet, and music director and conductor for productions with North Bay Opera, Mission City Opera, Goat Hall Productions, Solo Opera, the Crowden School and Dominican University. From 2002-2006 he was the Chorus Master of the Festival Opera of Walnut Creek. Mr. Bailey is also a composer, and his works have been performed and commissioned in the Bay Area and abroad.
Mr. Bailey also maintains a busy performance schedule as a bass-baritone, oboist, and pianist, and has performed with the San Francisco, Santa Rosa, Oakland East Bay, Berkeley, Redding, Napa, Sacramento, and Prometheus symphonies, American Bach Soloists, Philharmonia Baroque Orchestra, the Midsummer Mozart and West Marin music festivals, San Francisco Bach Choir, Coro Hispano de San Francisco, Pacific Mozart Ensemble, California Vocal Academy, San Francisco Concerto Orchestra, Masterworks Chorale of San Mateo, Baroque Arts Ensemble, San Francisco Korean Master Chorale, the Master Sinfonia, the Mark Morris and Merce Cunningham dance companies, Goat Hall Productions, Opera Piccola, the Berkeley, Golden Gate, and Oakland Lyric Opera companies, and many other groups. He has recorded for the Harmonia Mundi, Koch International, Pro Musica, Wildboar, Centaur, and Angelus Music labels.
Mr. Bailey has been a pre-performance lecturer for the Oakland East Bay Symphony and the San Francisco Opera, a critic for the San Francisco Classical Voice, a writer of real-time commentary for the Concert Companion, and has taught conducting at the University of California at Davis.
Martha Stoddard, Associate Conductor earned her Bachelor of Arts degree at Humboldt State University and her Master of Music degree from San Francisco State University, where she studied flute, conducting and composition. She was named Program Director for the John Adams Young Composers Program at the Crowden Music Center in 2012 and has held the position of Artistic Director of the Oakland Civic Orchestra since 1997.She is Associate Conductor of the San Francisco Composers' Chamber Orchestra and Director of Instrumental Music at Lick-Wilmerding High School.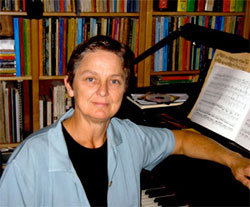 Her most recent commissions include today's premiere and her Trio for Clarinet,Cello and Piano for the 2009 San Francisco Chamber Wind Festival at the San Francisco Conservatory.  She has held the position of Artistic Director of the Oakland Civic Orchestra since 1997. Other recent conducting activities include engagements as Conductor for the John Adams Young Composers' Orchestration Workshops at the Crowden School, Musical Director for the operas Belfagor and Trap Door by Lisa Prosek, Guest Conductor for the San Francisco All City High School String Orchestra and the Santa Rosa Youth Symphony Summer Academy Orchestra. She has also served as an adjudicator for the San Francisco Conservatory of Music and Santa Cruz Youth Symphony Concerto Competitions.  Ms. Stoddard is founding member and director of ChamberMix, and is a featured performer on alto flute in John Bilotta's Shadow Tree (Capstone Records CPS-8787) and in John Thow's Cantico  (Palatino label #1001) Marika Kuzma, conductor, and as conductor for Janis Mercer's, Voices (Centuar Recordings, CPS 2951).
John Duykers Tenor, made his professional operatic debut with Seattle Opera in 1966. Since then he has appeared with many of the leading opera companies of the world including The Lyric Opera of Chicago, San Francisco Opera, Houston Grand Opera, Royal Opera Covent Garden, Netherlands Opera, the Grand Theatre of Geneva, Teatro Carlo Felice in Genoa, Frankfurt Opera, Opera de Marseille, Canadian Opera, Santa Fe Opera, Los Angeles Opera, San Diego Opera and the Opera Company of Philadelphia. His repertoire currently encompasses both standard works as well as contemporary. He is particularly well known for his performances of contemporary music, having sung in 100 contemporary operas including 67 world premieres. Among these, in 1987 he created the role of Mao Tse Tung in John Adams' Nixon in China which was premiered with Houston Grand Opera and he has performed throughout the world. Nixon in China was telecast over PBS' "Great Performances" winning an Emmy and recorded for Nonesuch, winning a Grammy.
Described by the Los Angeles Times as "a brilliant virtuoso, playing with the perfect combination of energy and eloquence," internationally acclaimed viola recitalist and soloist Roland Kato has been a member of the Los Angeles Chamber Orchestra since 1978 with Sir Neville Marriner. He was appointed principal viola by lona Brown in 1987. He has also held the principal position in many orchestras including the LA Music Center Opera Orchestra (Placido Domingo, director) the California Chamber Symphony (Henri Temianka, director). A sought-after chamber musician, Roland participates in many of the chamber series in the Los Angeles area. He plays with the Santa Clarita Chamber Players and performed with Pacific Serenades in that ensemble's Carnegie Hall debut. He was recently invited to appear as guest artist with the Chamber Music Society of Lincoln Center and has also performed with the New York New Music Ensemble. He was honored to join Yo-Yo Ma in a chamber music concert benefiting cancer research.
Gabriel Schillinger-Hyman studies piano with Sima Kouyoumdjian at the San Francisco Conservatory of Music, preparatory division. He is 12 years old and also plays clarinet and drums. Gabriel enjoys playing classical, jazz and pop music, and is especially drawn to the music of Chopin and Khatchaturian. He has studied at Camp Cazadero and at the Jazz School in Berkeley. He just finished seventh grade at the San Francisco School. Gabriel is bilingual in Spanish/English, and enjoys playing soccer, tennis and basketball. Gabriel hopes to compose jazz and familiarize himself with more instruments.
Eytan Schillinger-Hyman is 12 years old and is studying piano with Alla Gladysheva at the San Francisco Conservatory of music, preparatory division. Besides Eytan's musical talent for piano, he plays the flute and electric bass, and enjoys song writing. Eytan just finished seventh grade at the San Francisco School, where he loves science, history, and especially creative writing. He is bilingual in Spanish and English and enjoys playing sports with his friends. Eytan comes from a family of musicians, loves being a musician and hopes to have a great musical future.
A native of St. Petersburg, Maria Mikheyenko has sung with the Russian Chamber Orchestra, San Francisco Russian Festival, and presents recitals of Russian Romances throughout the Bay Area. Opera credits include Berkeley Opera, Pocket Opera, Capitol Opera Sacramento, Bay Shore Lyric Opera, Opera Lafayette, Oakland Opera Theater, and the Austrian American Mozart Academy of Salzburg. In the world of contemporary music, she is a frequent collaborator with Bay Area composers. She has performed in three world premiere works by Lisa Scola Prosek: Leonardo's Notebooks, Belfagor, and Trap Door. With San Francisco Cabaret Opera, she has multiple San Francisco and world premiere roles in Mark Alburger's operas (including Lennie Small in Mice and Men, Delilah in Sex and Delilah, and Edward Gibbon in Diocletian: A Pagan Opera), as well as portraying The Prophetess in Henry Purcell's Dioclesian and a Quark Sister in John Bilotta's Quantum Mechanic. Ms. Mikheyenko has been a guest artist on the national radio show West Coast Live! and is a member of the award-winning Pacific Mozart Ensemble, collaborating with artists such as Meredith Monk and Dave Brubeck.