Carmilla From Dr. Hesselius' files comes the narrative account of Laura, a half-English, half-Austrian young woman who lives with her retired father in a lonely "schloss" in Styria. Her mysterious friend, CARMILLA, turns out to be the vampire Countess Mircalla! Three of a projected seven songs are presented here, with text extracted from Irish writer Sheridan Le Fanu's short story Carmilla, first published in 1872, predating Bram Stoker's Dracula by 25 years.
Facing Chaos is an orchestral piece inspired by a passage from the tragedy Thyestes (62 C.E.) by Seneca the Younger: "Trembling are our hearts, lest all things fall shattered in fatal ruin and once more gods and men be overwhelmed by formless Chaos; lest the lands, the encircling sea, and the stars that wander in the spangled sky, nature blot out once more." Chaos: in the cosmogony of Hesiod and Democritus, the initial state of the universe, a dark void, a primordial condition where out of nothing tiny atoms are formed and churn incoherently until they collide together to form larger units, including the earth. The passage inspires Facing Chaos with a sort of existential malaise that, as probably was the case for Seneca, is generated by our discomfort with the apparent contradiction between the presence of us, our relationships, our civilization, earth, and the much larger overwhelming dimension of space and time that surrounds it. Structure is one way we face this discomfort, and a complex form characterizes the piece. In juxtaposition with rather aggressive rhythmic sections (inspired by Indian talas), the main motives of the piece take shape, metamorphosing all the way to the end of the piece. In addition, two highly recognizable slow sections (played in a low register by the bassoons) serve as stopping points: they represent question marks expressing our wonder in the face of the gigantic structure that sprouted from the original chaos to form the universe.
Amaranthine Silence is a novel piece that uses electronics derived from field recordings of presumed silence (a garden, an empty restaurant, a parking garage, and so on). Between intense orchestral gestures, these apparent silences will cause the audience to focus on what is rarely given attention: the "silence" between the notes.
The Goldfish Pond : Emerging from his room in Villa #7, Churchill, in the opera Night at the Kremlin, is looking at The Goldfish Pond, when the spy assigned to his surveillance brings him a message: Stalin will meet him at midnight in the Kremlin. At first surprised by this odd schedule, he is distressed to wait all day for a meeting. Churchill then decides he would much rather watch the fish anyway, and spends a happy day in the Moscow garden.
Regime Change, Op. 196, is excerpted from the opera-oratorio Solomon, Op. 70, detailing the reign transition from David to his son in Ancient Israel. The work references G.F. Handel's like-named oratorio, Ralph Vaughan Williams's Sinfonia Antartica (David's inability to keep warm late in life without the comfort of a young warm body in his bed), polytonality, and George Crumb's Ancient Voices of Children (and his allusions to Gustav Mahler's Das Lied von der Erde).
Graveyard is a celebration of Halloween, an homage to the great Universal monster movies of the 1930's and 1940's and a spiritual celebration of death and it's mystical aspects, with lighting effects, black light, fog and a surprise ending. it was written by an unseen hand, holding a feather pen, floating by a lone candle in the middle of the night, scribbling away by itself. The work is dedicated to Edward Valentine.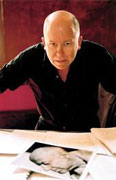 Dr. Mark Alburger is the Music Director, Conductor and founder of the San Francisco Composers Chamber Orchestra. Mark is an eclectic American composer of postminimal, postpopular, and postcomedic sensibilities. He is the Music Director of Goat Hall Productions / San Francisco Cabaret Opera, Editor-Publisher of 21st-Century Music Journal, an award-winning ASCAP composer of concert music published by New Music, Instructor in Music Theory and Literature at Diablo Valley College, Music Critic for Commuter Times, author, musicologist, oboist, pianist, and recording artist.
Dr. Alburger studied oboe with Dorothy Freeman, and played in student orchestras in association with George Crumb and Richard Wernick. He studied composition and musicology with Gerald Levinson, Joan Panetti, and James Freeman at Swarthmore College (B.A.), Karl Kohn at Pomona College, Jules Langert at Dominican College (M.A.), Tom Flaherty and Roland Jackson at Claremont Graduate School (Ph.D.), and Terry Riley.
Since 1987 he has lived in the San Francisco Bay Area, initially producing a great deal of vocal music with assembled texts, including the opera Mice and Men (1992), the crisis-madrigal collection L.A. Stories (1993), the rap sheet For My Brother For My Brother (1997), and the hieratic Passion According to Saint Matthew (1997).
Since 1997, Dr. Alburger has gridded and troped compositions upon pre-existent compositions ranging from world music and medieval sources to contemporaries such as George Crumb and Philip Glass. To date, he has written 16 concerti, 7 masses and oratorios, 12 preludes and fugues, 20 operas, 6 song cycles, 9 symphonies -- a total of 130 opus numbers and more than 800 individual pieces. He is presently at work on Waiting for Godot and Diabolic Variations.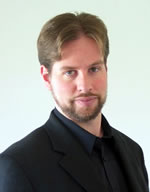 John Kendall Bailey is an Associate Conductor with the San Francisco Composers Chamber Orchestra and is Principal Conductor and Chorus Master of the Trinity Lyric Opera, Music Director and Conductor of Voices of Musica Sacra, and Artistic Director of the San Francisco Song Festival. In 1994, Mr. Bailey founded the Berkeley Lyric Opera and served as its Music Director and Conductor until 2001. Since then he has been a guest conductor with the Oakland East Bay Symphony, Oakland Youth Orchestra, and Oakland Ballet, and music director and conductor for productions with North Bay Opera, Mission City Opera, Goat Hall Productions, Solo Opera, the Crowden School and Dominican University. From 2002-2006 he was the Chorus Master of the Festival Opera of Walnut Creek. Mr. Bailey is also a composer, and his works have been performed and commissioned in the Bay Area and abroad.
Mr. Bailey also maintains a busy performance schedule as a bass-baritone, oboist, and pianist, and has performed with the San Francisco, Santa Rosa, Oakland East Bay, Berkeley, Redding, Napa, Sacramento, and Prometheus symphonies, American Bach Soloists, Philharmonia Baroque Orchestra, the Midsummer Mozart and West Marin music festivals, San Francisco Bach Choir, Coro Hispano de San Francisco, Pacific Mozart Ensemble, California Vocal Academy, San Francisco Concerto Orchestra, Masterworks Chorale of San Mateo, Baroque Arts Ensemble, San Francisco Korean Master Chorale, the Master Sinfonia, the Mark Morris and Merce Cunningham dance companies, Goat Hall Productions, Opera Piccola, the Berkeley, Golden Gate, and Oakland Lyric Opera companies, and many other groups. He has recorded for the Harmonia Mundi, Koch International, Pro Musica, Wildboar, Centaur, and Angelus Music labels.
Mr. Bailey has been a pre-performance lecturer for the Oakland East Bay Symphony and the San Francisco Opera, a critic for the San Francisco Classical Voice, a writer of real-time commentary for the Concert Companion, and has taught conducting at the University of California at Davis.
Martha Stoddard, Associate Conductor earned her Bachelor of Arts degree at Humboldt State University and her Master of Music degree from San Francisco State University, where she studied flute, conducting and composition. She was named Program Director for the John Adams Young Composers Program at the Crowden Music Center in 2012 and has held the position of Artistic Director of the Oakland Civic Orchestra since 1997.She is Associate Conductor of the San Francisco Composers' Chamber Orchestra and Director of Instrumental Music at Lick-Wilmerding High School.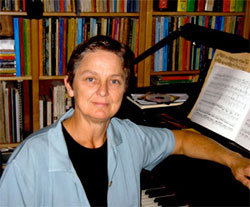 Her most recent commissions include today's premiere and her Trio for Clarinet,Cello and Piano for the 2009 San Francisco Chamber Wind Festival at the San Francisco Conservatory.  She has held the position of Artistic Director of the Oakland Civic Orchestra since 1997. Other recent conducting activities include engagements as Conductor for the John Adams Young Composers' Orchestration Workshops at the Crowden School, Musical Director for the operas Belfagor and Trap Door by Lisa Prosek, Guest Conductor for the San Francisco All City High School String Orchestra and the Santa Rosa Youth Symphony Summer Academy Orchestra. She has also served as an adjudicator for the San Francisco Conservatory of Music and Santa Cruz Youth Symphony Concerto Competitions.  Ms. Stoddard is founding member and director of ChamberMix, and is a featured performer on alto flute in John Bilotta's Shadow Tree (Capstone Records CPS-8787) and in John Thow's Cantico  (Palatino label #1001) Marika Kuzma, conductor, and as conductor for Janis Mercer's, Voices (Centuar Recordings, CPS 2951).
John Duykers Tenor, made his professional operatic debut with Seattle Opera in 1966. Since then he has appeared with many of the leading opera companies of the world including The Lyric Opera of Chicago, San Francisco Opera, Houston Grand Opera, Royal Opera Covent Garden, Netherlands Opera, the Grand Theatre of Geneva, Teatro Carlo Felice in Genoa, Frankfurt Opera, Opera de Marseille, Canadian Opera, Santa Fe Opera, Los Angeles Opera, San Diego Opera and the Opera Company of Philadelphia. His repertoire currently encompasses both standard works as well as contemporary. He is particularly well known for his performances of contemporary music, having sung in 100 contemporary operas including 67 world premieres. Among these, in 1987 he created the role of Mao Tse Tung in John Adams' Nixon in China which was premiered with Houston Grand Opera and he has performed throughout the world. Nixon in China was telecast over PBS' "Great Performances" winning an Emmy and recorded for Nonesuch, winning a Grammy.
Lisa Scola Prosek was raised in Rome, Italy, and graduated from Princeton University, where she studied with Edward Cone and Milton Babbitt. Scola Prosek studied singing with Margherita Kalil of the Met, and in Italy she attended the Conservatorio Luigi Cherubini, and studied with composer Gaetano Giani-Luporini. To date, she has composed six operas, with librettos in Italian and English, and was recently commissioned by Thick House Theater for a new opera, Night at the Kremlin, a darkly comedic account of Churchill's all night drunken tête-à-tête with Stalin. John Duykers creates the role of Churchill, directed by Melissa Weaver, premiering at Thick House Theater in San Francisco for six performances in October 2012. In 2008 Scola Prosek premiered Trap Door, an opera commissioned by The Lab based on one soldier's experience in Iraq, and inspired by Camus' The Stranger. Belfagor, which premiered in 2007 at Thick House, the comic tale of self-destructive materialism by Machiavelli, was reviewed as "an impressive debut by … a gifted local composer" in the San Francisco Bay Guardian. Scola Prosek is the recipient of numerous commissions, grants and awards, including from the Argosy Foundation Contemporary Music Fund, from the LEF Foundation, Meet The Composer, The Hewlett Foundation, the Zellerbach Foundation, and the American Composers Forum.