SAN FRANCISCO COMPOSERS CHAMBER ORCHESTRA
Presents "Tenth Anniversary Gala" at Old First Concerts
Saturday, June 9, 2012 at 8 pm
Old First Presbyterian Church
1751 Sacramento Street/Van Ness, San Francisco, CA 94109


PROGRAM
John Beeman studied with Peter Fricker and William Bergsma at the University of Washington where he received his Master's degree. His first opera, The Great American Dinner Table was produced on National Public Radio. Orchestral works have been performed by the Fremont-Newark Philharmonic, Santa Rosa Symphony, and the Peninsula Symphony. The composer's second opera, Law Offices, premiered in San Francisco in 1996 and was performed again in 1998 on the steps of the San Mateo County Courthouse. Concerto for Electric Guitar and Orchestra was premiered in January 2001 by Paul Dresher, electric guitar. Mr. Beeman has attended the Ernest Bloch Composers' Symposium, the Bard Composer-Conductor program, the Oxford Summer Institutes, and the Oregon Bach Festival and has received awards through Meet the Composer, the American Music Center and ASCAP. Compositions have been performed by Ensemble Sorelle, the Mission Chamber Orchestra, the Ives Quartet, Fireworks Ensemble, the Oregon Repertory Singers and Schola Cantorum of San Francisco.

John Beeman

Collage (2011) (Carla Brooke)

I. Garden
II. Fire Ribbon


Maria Mikheyenko, Soprano

Sheli Nan is a Berkeley composer, musician, arts educator, and performer whose life's work focuses on the creation, performance, distribution, and teaching of music. She has been professionally involved in the musical landscape of the San Francisco Bay Area for more than three decades. The Music Studio is an umbrella for her various musicals enterprises, including composition, performance, recording and teaching, privately and in school programs, as well as written publications. Sheli is the author of two books, many articles on music and has had 20 editions of music published and performed including her symphony, Signatures in Time and Place. Her latest large scale musical work is Saga: Portrait of a 21st Century Child, an opera for our time, with a libretto by the composer. She is a member of ASCAP and the consistent recipient of the Standard Awards Panel. She is also a member of the New York Composers Circle, The Western Early Keyboard Society, Early Music America, The San Francisco Early Music Society, The Society of Composers International, and the American Composers Forum.

Sheli Nan

Dr. Michael A. Kimbell is composer-in-residence and principal clarinettist of the San Francisco Community Music Center Orchestra directed by Urs Leonhardt Steiner. He studied composition with Robert Palmer and Karel Husa at Cornell University where he received his D.M.A. in 1973. He has written works for orchestra, piano, chamber ensembles, chorus and theatre. His orchestral works, which were premiered by the CMC Orchestra, include Rondino Capriccioso, Kritik des Herzens (also performed by SFCCO), Taklamakán, Night Songs, and Arcadian Symphony (which was also performed by the Mission Chamber Orchestra and won the Southern Arizona Symphony Orchestra Competition in 1998).Kimbell's Poème for Violin and Harp has been performed in Austria and Germany and at the 2011 World Harp Congress in Vancouver.

Michael Kimbell

Concertino for C Clarinet and Chamber Orchestra

I. Moderato lirico
II. Andante un poco adagio
III. Allegretto grazioso


Michael A. Kimbell, C Clarinet
intermission
William Severson (b. 1941), at age eight, negotiated piano lessons before informing his parents in a small mountain town in California, but waited until he was 27 to begin vocal lessons in Hawaii when singing with the Honolulu Chorale. This latter instruction was somewhat successful as he sang 1976-7 season with the Tanglewood Festival Chorus, which is a volunteer professional chorus associated with the Boston Symphony in Massachussetts. His parents insisted that he have a livelihood so he has a degree in Electrical Engineering from the University of California at Berkeley, and worked in the computer field for 40 years. He has not mixed computers with music except to be one of the partners of Micro Pro Musica Press. It uses computers to engrave music including his own compositions and arrangements and offer them over the internet. Severson performs around the greater Bay Area with the Golden Age Ensemble. He has had permanent singing positions in churches for 20 years. Severson begain composing in 1979 and was a founding member of the Society of Gay and Lesbian Composers, which performed several of his works. He is a member of the Irregular Resolutions, based in San Francisco. Severson studiedwith Rebeca Mauleon-Santana at CCSF, and Janis Mercer at CMC.

William Severson

The Mystic Trumpeter (2009) (Walt Whitman)

II.

Megan Stetson, Soprano

Martha Stoddard earned her Bachelor of Arts degree at Humboldt State University and Master of Music from San Francisco State University, where she studied flute, conducting, and composition. She was recently named Program Director of the John Adams Young Composers Program at the Crowden Music Center and has held the position of Artistic Director of the Oakland Civic Orchestra since 1997. Stoddard is Associate Conductor of the San Francisco Composers Chamber Orchestra and Director of Instrumental Music at Lick-Wilmerding High School. Other activities include engagements as Musical Director for Lisa Scola Prosek's Belfagor and Trap Door, John Bilotta's Trifles, Mark Alburger's Job: A Masque, and the Erling Wold / Davide Verotta / Scola Prosek / Stoddard Dieci Giorni, premiered in San Francisco in 2010. In October 2012, she conducted the premiere of Scola Prosek's The Daughter o the Red Tsar, featuring tenor John Duykers. A 2009 and 2010 recipient of AscapPlus Awards, her music has been performed in San Francisco through the American Composer's Forum, by the Sierra Ensemble, Avenue Winds and in the UK by flutists Carla Rees and Lisa Bost. She has had performances by the San Francisco Choral Artists, Schwungvoll!, the Community Women's Orchestra, Oakland Civic Orchestra, Womensing, Bakersfield Symphony New Directions Series, in the Trinity Chamber Concert Series and the New Music Forum Festival of Contemporary Music. Recent commissions include Points of Reference, Outbursts: an Homage to Brahms, Orchestral Suite for the Young of all Ages, and the Trio for Clarinet, Cello, and Piano.

Martha Stoddard

Samuel Ostroff is a Bay Area composer. His debut work Before You Read, was performed last year by the San Francisco Composers Chamber Orchestra. His ventures into other forms of music include his role as singer songwriter in The Lysdexics, and attending Stanford Jazz Workshop. Samuel currently studies classical piano and composition with Lisa Scola Prosek.

Samuel Ostroff

John Cage (September 5, 1912 - August 12, 1992) was an American composer, music theorist, writer, and artist. A pioneer of indeterminacy in music, electroacoustic music, and non-standard use of musical instruments, Cage was one of the leading figures of the post-war avant-garde. Critics have lauded him as one of the most influential American composers of the 20th century. He was also instrumental in the development of modern dance, mostly through his association with choreographer Merce Cunningham, who was Cage\'s partner for most of their lives.

John Cage

4'33"

I. 30"


Igor Stravinsky (June 17 [O.S. June 5] 1882 - April 6, 1971) was a Russian, and later French and American composer, pianist, and conductor. He is acknowledged by many as one of [and by some as] the most important and influential composer[s] of the 20th Century.

Igor Stravinsky

Dr. Mark Alburger (b. 1957, Upper Darby, PA) is a multiple-award-winning ASCAP composer of postminimal, postpopular, and postcomedic sensibilities. His compositions are generally assembled or gridded over pieces ranging from ancient and world music, to postmodern art and vernacular sources -- 174 opus numbers (markalburgerworks.blogspot.com), including 16 concertos, 20 operas, 9 symphonies, and the four-hours-and-counting opera-oratorio work-in-progress, The Bible. He is Music Director of San Francisco Composers Chamber Orchestra (sfcco.org) and San Francisco Cabaret Opera / Goat Hall Productions (goathall.org), Editor-Publisher of 21st-Century Music Journal (21st-centurymusic.blogspot.com and 21st-centurymusic.com), Instructor in Music Literature and Theory at Diablo Valley and St. Mary's Colleges, and Music Critic for Commuter Times. He studied at Swarthmore College (B.A.) with Gerald Levinson and Joan Panetti, Dominican University (M.A., Composition) with Jules Langert, Claremont Graduate University (Ph.D., Musicology) with Roland Jackson, and privately with Terry Riley. Alburger writes daily at markalburger2009.blogspot.com and is in the fifth year of an 11-year project recording his complete works for New Music Publications and Recordings.

Mark Alburger

Triple Concerto for Bassoon, Contrabassoon, and Harp ("Family"), Op. 201

I. Allegro


Davide Verotta was born in a boring Italian town close to Milano and moved to the very much more exciting San Francisco in his late twenties. He studied piano at the Milano Conservatory and piano and composition at the San Francisco Conservatory and State University (MA in composition), and at the University of California at Davis (PhD). He is an active solo and ensemble piano recitalist, and he is actively involved in the new music performance and composition scene in the San Francisco Bay Area. Recent compositions include works for orchestra, chamber opera, dance, piano solo, and different chamber ensembles. For more information please visit his web site at http://www.davideverotta.com.

Davide Verotta

Click on the links to listen to the music.

Click on the links for video.


Microsoft Media Player or for Mac:
VLC Media Player.
PERFORMERS



Flute
Bruce Salvisberg
Harry Bernstein

Oboe
Philip Freihofner

Clarinet
Michael Kimbell
Ron Kerst

Bassoon (ContraBassoon**)
Michael Garvey
Lori Garvey**




Horn
Brian Holmes

Trombone
Don Howe

Tuba
Nathan Riebli

Harp
Samantha Garvey

Piano/Keyboards
Davide Verotta
Sheli Nan

Percussion
Victor Flaviani
Anne Szabla





Violin I
Monika Gruber

Violin II
Hande Erdem

Viola
Nansamba Ssensalo

Cello
Ariella Hyman

Bass
John Beeman
Triple Concerto for Bassoon, Contrabassoon, and Harp ("Family"), Op. 201 (2012), was written for and is dedicated to Michael, Lori, and Samantha Garvey -- in thanks for their wonderful work with San Francisco Composers Chamber Orchestra and the Diablo Valley College Philharmonic over many years. The work is modally mapped over Ludwig van Beethoven's Triple Concerto for Violin, Cello, and Piano, and takes its angular and contrapuntal sensibilities from Igor Stravinsky, Anton Webern, Dmitri Shostakovich, and Steve Reich.
Concertino for C Clarinet and Chamber Orchestra , based on the composer's Sonatina for Clarinet and Piano, explores classical forms and means of expression with a modern sensibility. The three movements of the original version have been combined into a continuous whole with additional material. Although equally performable on the standard Bb instrument, the work was written to exploit the youthful and lyrical character of the slightly smaller C clarinet, which is rarely encountered today and has a very limited solo repertory.
Cage is perhaps best known for his 1952 composition 4'33", which is performed in the absence of deliberate sound; musicians who present the work do nothing aside from being present for the duration specified by the title. The content of the composition is not "four minutes and 33 seconds of silence," as is sometimes assumed, but rather the sounds of the environment heard by the audience during performance. The work's challenge to assumed definitions about musicianship and musical experience made it a popular and controversial topic both in musicology and the broader aesthetics of art and performance... San Francisco Composers Chamber Orchestra presents the first movement of 4'33'' in this the centenary year of the Cage's birth.
In the spirit of Kurt Weill and Bertolt Brecht's The Threepenny Opera, Saga: Portrait Of A 21ST-Century Child, is social commentary through a musical lens. In this tragedy our heroine becomes the sacrifice that society demands. No-one needs her, wants her, has time for her. As a result, she is energy run wild, with no moral compass, bereft of compassion except for herself. The music is achingly beautiful and allows the listener to digest the harsh truth of the underbelly of the very greedy who pursue their own ends to the detriment of their offspring and society. She sings,... "How did I find myself alone, so full of toys without a home..." and we travel with her on her tortuous journey toward self definition and violence both coming toward her and emanating from her. The Overture is a combination of themes from the opera that at once disarm and place the listener on guard. For reviews and more information please visit www.shelinan.com
Academy was originally written at the piano with the intention of creating a piece that could be related to by many. It is meant to describe the emotion that we as humans feel during our moments of malaise. To a child, it might be reminiscent of the dark: not an evil thing, but strange and unlikable. To a teenager, it might represent the feeling that school often evokes, hence the name.
Points of Reference was commissioned by violist Ayako English for members of the Oakland Civic Orchestra and premiered on June 3, 2012. The work focuses on the development and variation of motific material in a series of melodic episodes derived from a simple chorale. At the heart of the work is the conversational interplay between instruments and the spinning out of thematic material. Scant musical references may suggest strains of Debussy and Copland, the irony of Shostakovich, the wit of Stravinsky and jazz harmony. The composer would like to thank Allan Crossman for his remarkable insights on multiple drafts of the work.
Solar Wind II is an orchestral version of Solar Wind I (a quintet) and Solar Wind (a trio originally written as a dance piece). The composition takes inspiration from a YouTube video of the Sichuan Dance Academy and the movie Sunshine. The YouTube video provides the theme of the piece, and Sunshine the idea of the solar wind, an overwhelming force of nature that wipes you away. These elements are put together in a dream like narrative, where we wake up into an alternate reality and proceed to an encounter with the Sun. This is necessarily more imagined than real, and we re-enter ordinary reality at the end of the piece by falling back asleep. Compositionally the piece is inspired by Igor Stravinsky, with an oblique reference to The Rite of Spring, and the consistent use of a compositional technique (rotational sequencing of a series of pitches, in this case the pitches making up the theme of the piece) that can be found in his late works. Different from Solar Wind and Solar Wind I, orchestral harmonies are derived using a number of spectral techniques. In addition Solar Wind II has grown in length due to the presence of the full orchestra.
Stravinsky relates, "I gave the downbeat to begin a rehearsal of Tchaikovsky's Second Symphony in Aspen one day in the summer of 1950, when instead of the doleful opening chord, out came this ridiculously gay little tune. I was very surprised, of course, and quite failed to 'get it,' as Americans say -- the 'it' being that one of the orchestra players had just become a father. I confess that the shock of the substituted music and the change of emotions piqued me, and that for some time I considered myself the victim of a practical joke." Pursuing the jest, however, the composer worked out a series of canons on Mildred J. Hill's Happy Birthday to You in 1951, then laid the tune aside as he began experimenting with serialism in the Cantata (1952), Septet (1953), and Three Songs from Shakespeare (1953). By the time he returned to the melody in 1955, the first of his truly serial (In Memoriam Dylan Thomas, 1954) and 12-tone works (a movement from Canticum Sacrum) had appeared. With this background, GREETING PRELUDE bursts forth, as an ingenious little energetic trope for the 80th birthday of Pierre Monteux, who conducted The Rite of Spring premiere in 1913. The theme is subjected to offbeat accentuation, octave displacements, contrary articulations (simultaneous staccatos and legatos, a Stravinskian decades-old technique), free counterpoint, augmentation, diminution, inversion, and retrograde. And through 1991 (assuming death in 1916 + 75), the estate of Mildred Hill received a royalty cut for each performance... San Francisco Composers Chamber Orchestra performs this work on the occasion of its tenth anniversary, and Stravinsky's 130th. If the reader has perused these notes during the performance, the brevity of the piece (c. 52'') is such that it is now over.
Severson writes, "I've been working on setting Walt Whitman's The Mystic Trumpeter for several years, having completed five sections of the eight-section 87-line poem. The text for the second movement is the third section, as the initial two were combined in the first setting, which was premiered on October 3, 2009, at San Francisco Community Music Center. While the forces required for the complete work are clarinet, piano, and a solo quartet (SATB), the second movement is an alto solo. I use a clarinet as a mystic trumpet, and this is the world premiere."
Blow trumpeter free and clear, I follow thee,
While at thy liquid prelude, glad, serene,
The fretting world, the streets, the noisy hours of day withdraw,
A holy calm descends like dew upon me,
I walk in cool refreshing night the walks of Paradise,
I scent the grass, the moist air and the roses;
Thy song expands my numb'd imbonded spirit, thou freest, launchest me,
Floating and basking upon heaven's lake.

Collage is a set of poems written by Carla Brooke that has been transformed into a song cycle for soprano, clarinet, violin, and cello. In 2011 the San Francisco Composers Chamber Orchestra premiered the first two songs, Phoenix and The Other Side. Brooke notes, "Poems often come to me through visual images that I cut and paste into collage artwork. The two poems performed tonight embrace elements of air and fire. Garden offers a delicate floating perspective from a butterfly or bird's eye view. Finally, a full circle reunion with creation's fiery origins is expressed in Fire Ribbon.
GARDEN


I float with silver wings
glistening each time a flower opens.
One and another cradled inside fallen petals
reaching out, no longer alone.
Leaves become rose petals,
cocoons grow wings,
all of us joined in a seamless sky full of freedom.

Moon-sized flowers grow from teardrops
no longer held back.
Fear dissolves with my first step
along this well lit path

Nothing left to do but open
wide as the sun
above my bowed head.


FIRE RIBBON


I trace a steamy map with my fingertips,
so long ago before there were names for life.
Just one fiery ribbon,
we felt or way through.
From clouds to rain, to flowers
that grew from snow melt.

So long ago there was no me,
there was no you between the spaces,
only nature's endless melody.

Heartache comes when I pretend
I am anything more than this.
Just one fiery ribbon of life
dissolves into the next.
One more teardrop fades
into the endless tide of creation.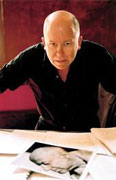 Dr. Mark Alburger is the Music Director, Conductor and founder of the San Francisco Composers Chamber Orchestra. Mark is an eclectic American composer of postminimal, postpopular, and postcomedic sensibilities. He is the Music Director of Goat Hall Productions / San Francisco Cabaret Opera, Editor-Publisher of 21st-Century Music Journal, an award-winning ASCAP composer of concert music published by New Music, Instructor in Music Theory and Literature at Diablo Valley College, Music Critic for Commuter Times, author, musicologist, oboist, pianist, and recording artist.
Dr. Alburger studied oboe with Dorothy Freeman, and played in student orchestras in association with George Crumb and Richard Wernick. He studied composition and musicology with Gerald Levinson, Joan Panetti, and James Freeman at Swarthmore College (B.A.), Karl Kohn at Pomona College, Jules Langert at Dominican College (M.A.), Tom Flaherty and Roland Jackson at Claremont Graduate School (Ph.D.), and Terry Riley.
Since 1987 he has lived in the San Francisco Bay Area, initially producing a great deal of vocal music with assembled texts, including the opera Mice and Men (1992), the crisis-madrigal collection L.A. Stories (1993), the rap sheet For My Brother For My Brother (1997), and the hieratic Passion According to Saint Matthew (1997).
Since 1997, Dr. Alburger has gridded and troped compositions upon pre-existent compositions ranging from world music and medieval sources to contemporaries such as George Crumb and Philip Glass. To date, he has written 16 concerti, 7 masses and oratorios, 12 preludes and fugues, 20 operas, 6 song cycles, 9 symphonies -- a total of 130 opus numbers and more than 800 individual pieces. He is presently at work on Waiting for Godot and Diabolic Variations.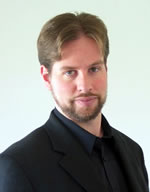 John Kendall Bailey is an Associate Conductor with the San Francisco Composers Chamber Orchestra and is Principal Conductor and Chorus Master of the Trinity Lyric Opera, Music Director and Conductor of Voices of Musica Sacra, and Artistic Director of the San Francisco Song Festival. In 1994, Mr. Bailey founded the Berkeley Lyric Opera and served as its Music Director and Conductor until 2001. Since then he has been a guest conductor with the Oakland East Bay Symphony, Oakland Youth Orchestra, and Oakland Ballet, and music director and conductor for productions with North Bay Opera, Mission City Opera, Goat Hall Productions, Solo Opera, the Crowden School and Dominican University. From 2002-2006 he was the Chorus Master of the Festival Opera of Walnut Creek. Mr. Bailey is also a composer, and his works have been performed and commissioned in the Bay Area and abroad.
Mr. Bailey also maintains a busy performance schedule as a bass-baritone, oboist, and pianist, and has performed with the San Francisco, Santa Rosa, Oakland East Bay, Berkeley, Redding, Napa, Sacramento, and Prometheus symphonies, American Bach Soloists, Philharmonia Baroque Orchestra, the Midsummer Mozart and West Marin music festivals, San Francisco Bach Choir, Coro Hispano de San Francisco, Pacific Mozart Ensemble, California Vocal Academy, San Francisco Concerto Orchestra, Masterworks Chorale of San Mateo, Baroque Arts Ensemble, San Francisco Korean Master Chorale, the Master Sinfonia, the Mark Morris and Merce Cunningham dance companies, Goat Hall Productions, Opera Piccola, the Berkeley, Golden Gate, and Oakland Lyric Opera companies, and many other groups. He has recorded for the Harmonia Mundi, Koch International, Pro Musica, Wildboar, Centaur, and Angelus Music labels.
Mr. Bailey has been a pre-performance lecturer for the Oakland East Bay Symphony and the San Francisco Opera, a critic for the San Francisco Classical Voice, a writer of real-time commentary for the Concert Companion, and has taught conducting at the University of California at Davis.
Martha Stoddard, Associate Conductor earned her Bachelor of Arts degree at Humboldt State University and her Master of Music degree from San Francisco State University, where she studied flute, conducting and composition. She was named Program Director for the John Adams Young Composers Program at the Crowden Music Center in 2012 and has held the position of Artistic Director of the Oakland Civic Orchestra since 1997.She is Associate Conductor of the San Francisco Composers' Chamber Orchestra and Director of Instrumental Music at Lick-Wilmerding High School.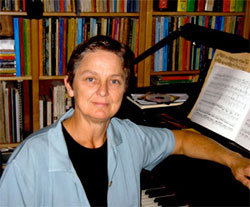 Her most recent commissions include today's premiere and her Trio for Clarinet,Cello and Piano for the 2009 San Francisco Chamber Wind Festival at the San Francisco Conservatory.  She has held the position of Artistic Director of the Oakland Civic Orchestra since 1997. Other recent conducting activities include engagements as Conductor for the John Adams Young Composers' Orchestration Workshops at the Crowden School, Musical Director for the operas Belfagor and Trap Door by Lisa Prosek, Guest Conductor for the San Francisco All City High School String Orchestra and the Santa Rosa Youth Symphony Summer Academy Orchestra. She has also served as an adjudicator for the San Francisco Conservatory of Music and Santa Cruz Youth Symphony Concerto Competitions.  Ms. Stoddard is founding member and director of ChamberMix, and is a featured performer on alto flute in John Bilotta's Shadow Tree (Capstone Records CPS-8787) and in John Thow's Cantico  (Palatino label #1001) Marika Kuzma, conductor, and as conductor for Janis Mercer's, Voices (Centuar Recordings, CPS 2951).
A native of St. Petersburg, Maria Mikheyenko has sung with the Russian Chamber Orchestra, San Francisco Russian Festival, and presents recitals of Russian Romances throughout the Bay Area. Opera credits include Berkeley Opera, Pocket Opera, Capitol Opera Sacramento, Bay Shore Lyric Opera, Opera Lafayette, Oakland Opera Theater, and the Austrian American Mozart Academy of Salzburg. In the world of contemporary music, she is a frequent collaborator with Bay Area composers. She has performed in three world premiere works by Lisa Scola Prosek: Leonardo's Notebooks, Belfagor, and Trap Door. With San Francisco Cabaret Opera, she has multiple San Francisco and world premiere roles in Mark Alburger's operas (including Lennie Small in Mice and Men, Delilah in Sex and Delilah, and Edward Gibbon in Diocletian: A Pagan Opera), as well as portraying The Prophetess in Henry Purcell's Dioclesian and a Quark Sister in John Bilotta's Quantum Mechanic. Ms. Mikheyenko has been a guest artist on the national radio show West Coast Live! and is a member of the award-winning Pacific Mozart Ensemble, collaborating with artists such as Meredith Monk and Dave Brubeck.