SAN FRANCISCO COMPOSERS CHAMBER ORCHESTRA
Presents "Adventures Around the Lake with a Unicorn" at Old First Concerts
Saturday, October 20, 2012 at 8 pm
Old First Presbyterian Church
1751 Sacramento Street/Van Ness, San Francisco, CA 94109

bachtrack Review
PROGRAM
Davide Verotta was born in a boring Italian town close to Milano and moved to the very much more exciting San Francisco in his late twenties. He studied piano at the Milano Conservatory and piano and composition at the San Francisco Conservatory and State University (MA in composition), and at the University of California at Davis (PhD). He is an active solo and ensemble piano recitalist, and he is actively involved in the new music performance and composition scene in the San Francisco Bay Area. Recent compositions include works for orchestra, chamber opera, dance, piano solo, and different chamber ensembles. For more information please visit his web site at http://www.davideverotta.com.

Davide Verotta

Dances to Mytilini (2011)

Lullaby dance
Paidushko
Pyrrixios
Syxnyse
Halay Halaylar


Although his complete surviving works only last about three hours, Edgar [d Victor Achille Charles] Varese (December 22, 1883, Paris - November 6, 1965, New York) has been recognized as a major influence in 20th-century music and beyond. He grew up in Le Villars, Burgundy, and Turin, before returning to his birthplace in 1904 to study with Albert Roussel, Vincent d'Indy, and Charles-Marie Widor. From 1907 to 1915 became acquainted with Claude Debussy, Ferruccio Busoni, and Arnold Schoenberg. After moving to New York in December of 1915, virtually all his European compositions were either lost or destroyed in a Berlin warehouse fire. With Carlos Salzedo, he founded the International Composers' Guild, whose 1922 manifesto declared that, "The present day composers refuse to die." Varese composed many of his ensemble pieces under the auspices of the ICG during its six year existence, including Offrandes, Hyperprism, OCTANDRE, and Integrales. He became an American citizen in 1926, and four years later composed Ionisation, the first stand-alone composition to feature only percussion instruments. Le Corbusier was commissioned by Philips to present a pavilion at the 1958 World Fair and insisted (against the sponsors' resistance) on working with Varese, who developed his Poème électronique for the venue, where it was heard by an estimated two million people.

Edgar Varese

Octandre (1923)

I. Assez Lent, Lourd et sauvage, Tempo I
II. Tres vif et nerveux
III. Grave, Anime et jubilatoire, Subitement tres vif et nerveux, Anime
et jubilatoire

Allan Crossman has written for many soloists and ensemble. The North/South Consonance (NYC) recording of Millennium Overture Dance received a GRAMMY nomination in 2003; Music for Human Choir (SATB) shared Top Honors at the Waging Peace through Singing Festival; North/South recently recorded his FLYER (cello and string orchestra, with soloist Nina Flyer); and a recent commission is the piano trio Icarus, for the New Pacific Trio (San Francisco).

One of his many theatre scores, The Log of the Skipper's Wife, was produced by the Royal Shakespeare Company at Stratford and the Kennedy Center, with Crossman's music drawn from Irish/English shanties and dances. His music is the soundtrack for the award-winning animated short, X man, by Christopher Hinton (National Film Board of Canada). His work has been supported by such organizations as Canada Council for the Arts, American Composers Forum, and Meet the Composer (NY). Professor Emeritus, Concordia University (Montreal), he has also taught at Wheaton College, the Pacific Conservatory, and is presently on the faculty of the San Francisco Conservatory of Music. His doctoral studies were with George Rochberg, George Crumb, and Hugo Weisgall at the University of Pennsylvania.

Allan Crossman

Two Walks (2012)
intermission
John G. Bilotta was born in Waterbury, Connecticut, but has spent most his life in the San Francisco Bay Area where he studied composition with Frederick Saunders. His works have been performed by Rarescale, Earplay, Chamber Mix, Oakland Civic Orchestra, Washington Square Contemporary Music Society, Kiev Philharmonic, North/South Consonance, Boston Metro Opera, Talea Ensemble, Avenue Winds, San Francisco Cabaret Opera, Musica Nova, VocalWorks, Boston String Quartet, and the Blue Grass Opera. Quantum Mechanic won the 2007 Opera-in-a-Month Competition and has received nearly a dozen performances around the country since then. His newest opera Trifles, based on the 1916 play by Susan Glaspell, will receive its premiere in a San Francisco Cabaret Opera production in June, 2010. His works have been released on several labels including Capstone Records, New Music North, Beauport Classical Music, Navona Records, Vox Novus, and ERM Media. John is Director of the San Francisco Chamber Wind Festival, and co-directs with Brian Bice the Festival of Contemporary Music. He is a member of the Executive Committee of the Society of Composers, Inc., and is editor of SCION, the organization's opportunities newsletter.

John Bilotta

Thurber Country (2012)

Amused by its presumption
Scene with rabbits
A mythical beast
The damp hand of melancholy
Let your mind alone

Lisa Scola Prosek is a graduate of Princeton University in Music Composition. Her teachers include Edward Cone, Milton Babbitt, Lukas Foss, and Gaetano Giani Luporini. Scola Prosek is the recipient of numerous grants, commissions and awards, including The NY Center for Contemporary Opera "Atelier" Award for The Lariat. Scola Prosek has composed and produced eight operas with librettos in Italian and English. In 2012, Daughter of the Red Tzar, written for acclaimed tenor John Duykers, premiered in San Francisco to capacity audiences, and is currently on the outreach season with Long Beach Opera. Lisa serves as General Manager and Director of the San Francisco Composers Chamber Orchestra, since 2001. Other awards have been from Theatre Bay Area, the LEF Foundation, The Argosy Contemporary Music Fund, Meet the Composer, the Hewlett Foundation, the American Composers Forum, The San Francisco Arts Commission, The Center for Cultural Innovation, The California Arts Council, the NEA and the Zellerbach Foundation.

Lisa Scola Prosek

Overture to "L'Avventura" (2012)

I. Si, che sono triste, perche' mi mancano le stelle
II. Bocca baciata

Maria Mikheyenko, Soprano
Lisa Scola Prosek, Soprano

Dr. Mark Alburger (b. 1957, Upper Darby, PA) is a multiple-award-winning ASCAP composer of postminimal, postpopular, and postcomedic sensibilities. His compositions are generally assembled or gridded over pieces ranging from ancient and world music, to postmodern art and vernacular sources -- 174 opus numbers (markalburgerworks.blogspot.com), including 16 concertos, 20 operas, 9 symphonies, and the four-hours-and-counting opera-oratorio work-in-progress, The Bible. He is Music Director of San Francisco Composers Chamber Orchestra (sfcco.org) and San Francisco Cabaret Opera / Goat Hall Productions (goathall.org), Editor-Publisher of 21st-Century Music Journal (21st-centurymusic.blogspot.com and 21st-centurymusic.com), Instructor in Music Literature and Theory at Diablo Valley and St. Mary's Colleges, and Music Critic for Commuter Times. He studied at Swarthmore College (B.A.) with Gerald Levinson and Joan Panetti, Dominican University (M.A., Composition) with Jules Langert, Claremont Graduate University (Ph.D., Musicology) with Roland Jackson, and privately with Terry Riley. Alburger writes daily at markalburger2009.blogspot.com and is in the fifth year of an 11-year project recording his complete works for New Music Publications and Recordings.

Mark Alburger

Triple Concerto for Bassoon, Contrabassoon, and Harp ("Family"), Op. 201 (2012)

I. Allegro
II. Largo
III. Rondo a la Pole Dance


Click on the links to listen to the music.

Click on the links for video.


Microsoft Media Player or for Mac:
VLC Media Player.
PERFORMERS



Flute (Piccolo**)
Bruce Salvisberg**
Harry Bernstein

Oboe
Philip Freihofner

Clarinet (Eb Clarinet**)
Michael Kimbell**
Rachel Condry

Bassoon (ContraBassoon**)
Michael Cooke
Michael Garvey
Lori Garvey**




Trumpet
Cindy Collins

Horn
Monika Warchol

Trombone
Don Howe

Harp
Samantha Garvey

Piano/Keyboards
Davide Verotta
Lisa Scola Prosek

Percussion
Victor Flaviani
Anne Szabla
Colin Boltz




Violin I
Hande Erdem

Violin II
Christina Wong

Viola
Nansamba Ssensalo

Cello
Ariella Hyman

Bass
John Beeman
Triple Concerto for Bassoon, Contrabassoon, and Harp ("Family"), Op. 201 (2012),was written for and is dedicated to Michael, Lori, and Samantha Garvey -- in thanks for their wonderful work with the San Francisco Composers Chamber Orchestra and Diablo Valley College Philiharmonic over many years. The work is mapped on Ludwig van Beethoven's Triple Concerto for Violin, Cello, and Piano, and takes its sensibilities from the likes of Dmitri Shostakovich, John Cage, Terry Riley, Steve Reich, and Philip Glass. The second movement features a half-step augmented scale of Ab B C Db E# F# G Ab (a2, m2, m2, aa2, m2, m2, m2), and the third a blues-swing of C D Eb E F G A C.
Dances to Mytilini is a quartet inspired by the folkloric traditions of the eastern Balkans and Turkey. The piece is organized in a cycle of five dances that metaphorically depicts a geographical and episodic journey. The geographical journey starts in Romania and descends to the final destination, Mytilini, through Bulgaria, Thrace, and Attica. The five episodes correspond to early life (a lullaby dance), early adulthood (the quick-paced Paidushko), war (Pyrrixios) followed by confusion and dismay (Syxnyse), and finally by a joyful, exuberant ending, Halay Halaylar.
L'Avventura, also commissioned by Thick House for 2013, is an operatic tribute to the musical culture of Naples.
Octandre (1923) -- for flute (piccolo), oboe, Bb (Eb) clarinet, bassoon, trumpet, horn, trombone, and bass -- references a flower with eight stamens, and is the only multi-movement work (attaccas notwithstanding) by the composer, with each section reflecting a roughly ternary form. It was first heard on January 13, 1924, at New York's Vanderbilt Theater, conducted by E. Robert Schmitz, the work's dedicatee, and published later that year by J. Curwen, London. The first movement begins with an oboe phrase evoking a bassoonian-Stravinskian Rite of Spring, where most of the intervals have been transformed into seconds, sevenths, and ninths. After bundles of repeated notes and brass pulsations, the section ends a tritone away as it began: "a little anxious." A second part begins as a scherzo-glorification the piccolo's repetitive impulses, with a call-and-response of asymmetrical brass-and-woodwind outbursts, and a fierce crescendo. The final section opens as a solemn bass solo, leading to "jubilant" fugato (seemingly singular in Varese's output), broken into component parts and subjected to rhythmic transformations, at times perhaps inspired by the Rite's Glorification of the Chosen One. The original contrapuntal subject returns at the very end, only to be overpowered by another signature Varesian sound mass.
Thurber Country is a high-speed road trip through an unexpected landscape-the brilliant and unique world to which James Thurber welcomed us. The music can touch on only a few of the land's varied sights. It is neither literal nor programmatic, offering instead impressions of things that are likely better seen peripherally than examined too closely. For those familiar with Thurber's country, teetering as it does on the edge of laughter and terror, the music's sectional descriptions may offer a few glimpses
About Two Walks, for chamber orchestra, the composer writes:
I. A Walk at Lake Merced: On my first-ever walk there, it was very quiet and beautiful, and found myself talking in a low voice so as not to disturb the peacefulness of the place. This piece is a translation into music of that deeply-felt serenity.
II. A Walk at Lake Merritt: This was a very different experience from Lake Merced - more about things appearing and happening. No sooner had I arrived at the Lake than a whole barrel of phenomena rolled out, in this order: crowds and lots of kids; the birds; then the eight-oar sculls skimming silently across the water; some smooth runners; a cat (this point in the score is marked felino); and finally Children's Fairyland, which I overheard, since you're not allowed to enter without a child... Then walking back in the opposite direction produced it all in reverse order - very conveniently offering me a symmetrical form for the piece!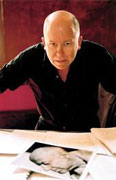 Dr. Mark Alburger is the Music Director, Conductor and founder of the San Francisco Composers Chamber Orchestra. Mark is an eclectic American composer of postminimal, postpopular, and postcomedic sensibilities. He is the Music Director of Goat Hall Productions / San Francisco Cabaret Opera, Editor-Publisher of 21st-Century Music Journal, an award-winning ASCAP composer of concert music published by New Music, Instructor in Music Theory and Literature at Diablo Valley College, Music Critic for Commuter Times, author, musicologist, oboist, pianist, and recording artist.
Dr. Alburger studied oboe with Dorothy Freeman, and played in student orchestras in association with George Crumb and Richard Wernick. He studied composition and musicology with Gerald Levinson, Joan Panetti, and James Freeman at Swarthmore College (B.A.), Karl Kohn at Pomona College, Jules Langert at Dominican College (M.A.), Tom Flaherty and Roland Jackson at Claremont Graduate School (Ph.D.), and Terry Riley.
Since 1987 he has lived in the San Francisco Bay Area, initially producing a great deal of vocal music with assembled texts, including the opera Mice and Men (1992), the crisis-madrigal collection L.A. Stories (1993), the rap sheet For My Brother For My Brother (1997), and the hieratic Passion According to Saint Matthew (1997).
Since 1997, Dr. Alburger has gridded and troped compositions upon pre-existent compositions ranging from world music and medieval sources to contemporaries such as George Crumb and Philip Glass. To date, he has written 16 concerti, 7 masses and oratorios, 12 preludes and fugues, 20 operas, 6 song cycles, 9 symphonies -- a total of 130 opus numbers and more than 800 individual pieces. He is presently at work on Waiting for Godot and Diabolic Variations.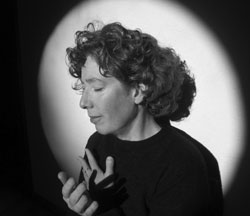 Lisa Scola Prosek is the General Manager of the San Francisco Composers Chamber Orchestra and was raised in Rome, Italy, and began studying piano at the age of 4. After moving to the United States at the age of 11, Lisa graduated from Princeton University, where she studied with Edward Cone and Milton Babbitt, and privately with Lukas Foss in New York. During this time, Lisa developed a great love for the voice, and studied singing with Margherita Kalil of the Met. After Princeton, Lisa returned to Italy, where she attended the Conservatorio Luigi Cherubini, and studied with composer Gaetano Giani-Luporini. To date, Scola Prosek has composed two oratorios, and 5 operas, in Italian and English, including Satyricon, reviewed by the San Francisco Observer as a "Tour de Force" and featured on KRON TV; and Leonardo's Notebooks, in Italian, both of which premiered to capacity audiences, and were featured on NPR's West Coast Live. The Contemporary Classical Music Weekly writes: "This composer's work is steeped in the Mediterranean world of gestures, writ both big and small. Her vocal writing references bel canto and the madrigal, and the instrumental writing, with its shadowy inner voices, has character and point. Intricate and highly expressive music." Sequenza 21. Lisa Scola Prosek is the recipient of numerous grants and awards, including from the Argosy Foundation, for Belfagor, and from the LEF Foundation, Meet The Composer, The Hewlett Foundation, the Argosy Contemporary Music Fund, and the American Composers Forum for her opera Trap Door.
Martha Stoddard, Associate Conductor earned her Bachelor of Arts degree at Humboldt State University and her Master of Music degree from San Francisco State University, where she studied flute, conducting and composition. She was named Program Director for the John Adams Young Composers Program at the Crowden Music Center in 2012 and has held the position of Artistic Director of the Oakland Civic Orchestra since 1997.She is Associate Conductor of the San Francisco Composers' Chamber Orchestra and Director of Instrumental Music at Lick-Wilmerding High School.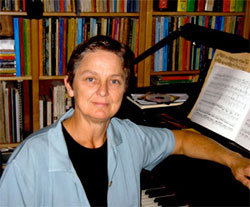 Her most recent commissions include today's premiere and her Trio for Clarinet,Cello and Piano for the 2009 San Francisco Chamber Wind Festival at the San Francisco Conservatory.  She has held the position of Artistic Director of the Oakland Civic Orchestra since 1997. Other recent conducting activities include engagements as Conductor for the John Adams Young Composers' Orchestration Workshops at the Crowden School, Musical Director for the operas Belfagor and Trap Door by Lisa Prosek, Guest Conductor for the San Francisco All City High School String Orchestra and the Santa Rosa Youth Symphony Summer Academy Orchestra. She has also served as an adjudicator for the San Francisco Conservatory of Music and Santa Cruz Youth Symphony Concerto Competitions.  Ms. Stoddard is founding member and director of ChamberMix, and is a featured performer on alto flute in John Bilotta's Shadow Tree (Capstone Records CPS-8787) and in John Thow's Cantico  (Palatino label #1001) Marika Kuzma, conductor, and as conductor for Janis Mercer's, Voices (Centuar Recordings, CPS 2951).
A native of St. Petersburg, Maria Mikheyenko has sung with the Russian Chamber Orchestra, San Francisco Russian Festival, and presents recitals of Russian Romances throughout the Bay Area. Opera credits include Berkeley Opera, Pocket Opera, Capitol Opera Sacramento, Bay Shore Lyric Opera, Opera Lafayette, Oakland Opera Theater, and the Austrian American Mozart Academy of Salzburg. In the world of contemporary music, she is a frequent collaborator with Bay Area composers. She has performed in three world premiere works by Lisa Scola Prosek: Leonardo's Notebooks, Belfagor, and Trap Door. With San Francisco Cabaret Opera, she has multiple San Francisco and world premiere roles in Mark Alburger's operas (including Lennie Small in Mice and Men, Delilah in Sex and Delilah, and Edward Gibbon in Diocletian: A Pagan Opera), as well as portraying The Prophetess in Henry Purcell's Dioclesian and a Quark Sister in John Bilotta's Quantum Mechanic. Ms. Mikheyenko has been a guest artist on the national radio show West Coast Live! and is a member of the award-winning Pacific Mozart Ensemble, collaborating with artists such as Meredith Monk and Dave Brubeck.