Sonata for Flute, Oboe, and Piano in 2003 for a concert by Irregular Resolutions. We built a program around a cellist and also multi-instrumentalist Nik Phelps, of the Sprocket Ensemble, who could play flute, oboe, clarinet, and trumpet. The trio is of humorous intent, even though it is hard to play a wind instrument with your tongue in your cheek (not at all chic)! There are short contrasting sections, with the winds sometimes playing 'against' the piano, and occasional quotations of other music, which come to a head with a virtual quotation duel.
The string quintet movement, Plan B, was the piece that came up after the original plan to write a quartet, a sextet and another "ette," as yet unnamed, failed to materialize within the San Francisco Composers Chamber Orchestra time restraints-probably due to a lack of "etiquette" on my part. Plan B arose because of my enjoyment of playing string quintets and sextets in recent years. There are three short sections, each one a little faster than the last. The first section is slow, with a touch of Cole Porter world-weariness; the second has elements of tango and the third takes on something of the mood of swing.
Sprites are immense, but brief, flashes of red light that appear above thunderstorms. This unusual weather phenomenon was only first documented in 1989. Blue jets, similar optical phenomenon, are cones of blue light shooting above the clouds. The cause of these flashes, though not yet determined, may be connected with electrical discharges from storms. Sprites (2013) was inspired by these unusual weather events.
Incomplete Thoughts: A Passacaglia was born out of the news that the San Francisco Composers Chamber Orchestra would not have our customary three bassoons. I stopped the piece on which I was working, and came up with another: a contemporary passacaglia where the bass line was in one time and the other instruments in others. I was thinking to use either multiple conductors or metronomes with earpieces. Desiring inspiration, I looked though some of my incomplete compositions for a bass line, and found something useable in a draft of an opera from many years ago. The figure went through some modifications and was given a lazy lilt in 7/8. I wanted to layer fragments of music on top, which were inspired by scraps of music not yet finished and other incomplete utterances. As I felt the work should be written in a stream-of-conscious-manner, an interruption motif came into being as a way to switch thoughts. While I eventually decided that the original idea of multiple times might be hard to pull off, I came up with other ways to have multiple times. In the end, I hope to have created a thought-provoking work that is more than the collection of Incomplete Thoughts that began it.
Time Does Not Move features the poem Die Zeit geht nicht by Gottfried Keller (1819-1890), the greatest German-Swiss writer of the 19th Century. The complete poem (English version by Edith and Michael Kimbell) is spoken in melodrama fashion. The music incorporates an 1821 Swiss folksong melody by Wilhelm Müller, variously titled "Ich stand auf hohem Berge" ("I stood on a high mountain") and "Im Krug zum grünen Kranze" ("In the Jug and Green Garland"). The melody appears very gradually, first as melodic fragments, then as a fugue based on the second phrase of the melody, and finally in full quotation by the flute.
Dances for Orchestra (2013) is the orchestral version of Dances to Mytilini, a quartet inspired by the folkloric traditions of the eastern Balkans and Turkey. The piece, about twice the length of the quartet, is organized in a cycle of five dances that metaphorically depicts a geographical and episodic journey. The geographical journey starts in Rumania and descends to the final destination, Mytilini, through Bulgaria, Thrace, and Attica. The five episodes correspond to early life (a lullaby dance), early adulthood (the quick-paced Paidushko), war (Pyrrixios) followed by confusion and dismay (Syxnyse), and finally by a joyful, exuberant ending, Halay Halaylar.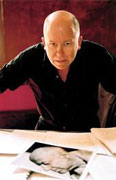 Dr. Mark Alburger is the Music Director, Conductor and founder of the San Francisco Composers Chamber Orchestra. Mark is an eclectic American composer of postminimal, postpopular, and postcomedic sensibilities. He is the Music Director of Goat Hall Productions / San Francisco Cabaret Opera, Editor-Publisher of 21st-Century Music Journal, an award-winning ASCAP composer of concert music published by New Music, Instructor in Music Theory and Literature at Diablo Valley College, Music Critic for Commuter Times, author, musicologist, oboist, pianist, and recording artist.
Dr. Alburger studied oboe with Dorothy Freeman, and played in student orchestras in association with George Crumb and Richard Wernick. He studied composition and musicology with Gerald Levinson, Joan Panetti, and James Freeman at Swarthmore College (B.A.), Karl Kohn at Pomona College, Jules Langert at Dominican College (M.A.), Tom Flaherty and Roland Jackson at Claremont Graduate School (Ph.D.), and Terry Riley.
Since 1987 he has lived in the San Francisco Bay Area, initially producing a great deal of vocal music with assembled texts, including the opera Mice and Men (1992), the crisis-madrigal collection L.A. Stories (1993), the rap sheet For My Brother For My Brother (1997), and the hieratic Passion According to Saint Matthew (1997).
Since 1997, Dr. Alburger has gridded and troped compositions upon pre-existent compositions ranging from world music and medieval sources to contemporaries such as George Crumb and Philip Glass. To date, he has written 16 concerti, 7 masses and oratorios, 12 preludes and fugues, 20 operas, 6 song cycles, 9 symphonies -- a total of 130 opus numbers and more than 800 individual pieces. He is presently at work on Waiting for Godot and Diabolic Variations.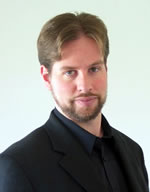 John Kendall Bailey is an Associate Conductor with the San Francisco Composers Chamber Orchestra and is Principal Conductor and Chorus Master of the Trinity Lyric Opera, Music Director and Conductor of Voices of Musica Sacra, and Artistic Director of the San Francisco Song Festival. In 1994, Mr. Bailey founded the Berkeley Lyric Opera and served as its Music Director and Conductor until 2001. Since then he has been a guest conductor with the Oakland East Bay Symphony, Oakland Youth Orchestra, and Oakland Ballet, and music director and conductor for productions with North Bay Opera, Mission City Opera, Goat Hall Productions, Solo Opera, the Crowden School and Dominican University. From 2002-2006 he was the Chorus Master of the Festival Opera of Walnut Creek. Mr. Bailey is also a composer, and his works have been performed and commissioned in the Bay Area and abroad.
Mr. Bailey also maintains a busy performance schedule as a bass-baritone, oboist, and pianist, and has performed with the San Francisco, Santa Rosa, Oakland East Bay, Berkeley, Redding, Napa, Sacramento, and Prometheus symphonies, American Bach Soloists, Philharmonia Baroque Orchestra, the Midsummer Mozart and West Marin music festivals, San Francisco Bach Choir, Coro Hispano de San Francisco, Pacific Mozart Ensemble, California Vocal Academy, San Francisco Concerto Orchestra, Masterworks Chorale of San Mateo, Baroque Arts Ensemble, San Francisco Korean Master Chorale, the Master Sinfonia, the Mark Morris and Merce Cunningham dance companies, Goat Hall Productions, Opera Piccola, the Berkeley, Golden Gate, and Oakland Lyric Opera companies, and many other groups. He has recorded for the Harmonia Mundi, Koch International, Pro Musica, Wildboar, Centaur, and Angelus Music labels.
Mr. Bailey has been a pre-performance lecturer for the Oakland East Bay Symphony and the San Francisco Opera, a critic for the San Francisco Classical Voice, a writer of real-time commentary for the Concert Companion, and has taught conducting at the University of California at Davis.
Martha Stoddard, Associate Conductor earned her Bachelor of Arts degree at Humboldt State University and her Master of Music degree from San Francisco State University, where she studied flute, conducting and composition. She was named Program Director for the John Adams Young Composers Program at the Crowden Music Center in 2012 and has held the position of Artistic Director of the Oakland Civic Orchestra since 1997.She is Associate Conductor of the San Francisco Composers' Chamber Orchestra and Director of Instrumental Music at Lick-Wilmerding High School.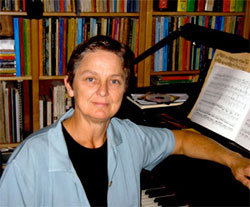 Her most recent commissions include today's premiere and her Trio for Clarinet,Cello and Piano for the 2009 San Francisco Chamber Wind Festival at the San Francisco Conservatory.  She has held the position of Artistic Director of the Oakland Civic Orchestra since 1997. Other recent conducting activities include engagements as Conductor for the John Adams Young Composers' Orchestration Workshops at the Crowden School, Musical Director for the operas Belfagor and Trap Door by Lisa Prosek, Guest Conductor for the San Francisco All City High School String Orchestra and the Santa Rosa Youth Symphony Summer Academy Orchestra. She has also served as an adjudicator for the San Francisco Conservatory of Music and Santa Cruz Youth Symphony Concerto Competitions.  Ms. Stoddard is founding member and director of ChamberMix, and is a featured performer on alto flute in John Bilotta's Shadow Tree (Capstone Records CPS-8787) and in John Thow's Cantico  (Palatino label #1001) Marika Kuzma, conductor, and as conductor for Janis Mercer's, Voices (Centuar Recordings, CPS 2951).