Double Piano Concerto ("Fellow Travellers"), Op. 204, was written for and is dedicated to Eytan and Gabriel Schillinger-Hyman in thanks for their wonderful work with the San Francisco Composers Chamber Orchestra over several years. The piece is mapped over Francis Poulenc's Double Piano Concerto, taking in interlopers from Japanese, Hispanic, minimalist, and rock-n-roll traditions. The first movement features a Dorian pentatonic scale (D E F A B).
Filled with Moonlight was written in fulfillment of a commission for a new duet for oboe and piano by the ensemble Dolci. Oboist Ted Rust and pianist Viva Knight premiered the work in Berkeley, December, 2012, and have performed it several times since, including at the 2013 International Double Reed Festival. The music takes inspiration from the novel Blackberries in the Dream House, a romance set in 1850's Japan, by San Francisco poet Diane Frank. In designing the musical world of this piece, my sources included elements of Japanese music and esthetic theory (in particular, I was intrigued by the valuing of a quality of "astringency" as can be heard in sharply clashing note-clusters), of Poulenc's fabulous chamber works for winds and piano, and of the Koto work of Jazz pianist McCoy Tyner (check out his Valley of the Sun if you have a chance!).
Invitation is a short piece for piano, that is the introduction of a large work for piano, percussion, strings,and voice, Il Ponte -- which will be presented in the Bay Area in the Spring of 2014. As the title indicates the piece represents an invitation to the player and the audience, a luring to enter a different place, leaving behind for a while normal everyday realities.
The Curse is the second track on Prosek's newest EP, Willow Tree, released September, 2013.
We're all born innocent, it's how you lose it,
that keeps me interested in you
and you speak so softly I don't catch a thing but,
when you take a breath, the angels sing.

So I'll take it as it comes, win or lose I'd
rather nothing at all, then to choose
between the one I love, or my instincts
so I'll keep my mouth shut, and keep listening.

She's a blessing but, just like any curse she's
so beautiful it, makes it so much worse.
She's a blessing but, just like anything you
never have enough, and when you do it's all too much
Excerpts from The Lariat, a new opera by Scola Prosek, based on Jaime De Angulo's 1927 novella, with a poetic libretto in Esselen by Louise Miranda Ramirez, Tribal Chair of the Ohlone Costanoan Esselen Nation, sung by Desirae Harp. The work will premiere in 2014, at the Center for Contemporary Opera in New York, and in 2015 with the San Francisco International Arts Festival. The piece is made possible by a grant from Theatre Bay Area.
Bear, you have taken my love Koltala name yukla nish kolo!
I cannot live without him, Eni anpapiake cha'a anhuyake huniki!
Creator, take me too. Las Otno Ayam yukla nicha.
Composed in 2013 and being performed for the first time, the texts for Haiku come from the collection Japanese Haiku (1956, Peter Pauper Press). In a prefatory note, translator Peter Beilenson notes: "There are only seventeen syllables in the haiku; the first and third lines contain five, the second seven. There is almost always in it the name of the season, or a key word giving the season by inference ….. But there is also, in a good haiku, more than a statement of feeling or a picture of nature: there is an implied identity between two seemingly different things." The mood of the music is intended to reflect these ideas, although with elaborations using text repetitions and complementary thematic material. For the entire set, there is a high degree of musical integration; motives and other musical gestures recur throughout, as a means of providing stylistic unity.
I
In these dark waters
drawn up from
my frozen well….
Glittering of spring
Ringai

II
Standing still at dusk
listen… in far
distances
The song of froglings!
Buson

III
I dreamed of battles
and was slain…
oh savage samurai!
Insatiable fleas!
Kikaku

IV
Arise from sleep, old cat,
and with great yawns
and stretchings…
Amble out for love
Issa

V
Darting dragon-fly…
pull off its shiny
wings and look…
Bright red pepper-pod
Kikaku

VI
[Reply: follows V without pause]
Bright red pepper-pod…
it needs but shiny
wings and look…
Darting dragon-fly!
Basho

VII
A white swan swimming…
parting with her
unmoved breast
Cherry-petaled pond
Roka

VIII
Roaring winter storm
rushing to its
utter end…
Ever-sounding sea
Gonsui

IX
Ah! I intended
never never
to grow old…
Listen: new year's bell!
Jokun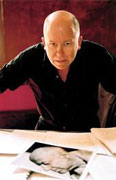 Dr. Mark Alburger is the Music Director, Conductor and founder of the San Francisco Composers Chamber Orchestra. Mark is an eclectic American composer of postminimal, postpopular, and postcomedic sensibilities. He is the Music Director of Goat Hall Productions / San Francisco Cabaret Opera, Editor-Publisher of 21st-Century Music Journal, an award-winning ASCAP composer of concert music published by New Music, Instructor in Music Theory and Literature at Diablo Valley College, Music Critic for Commuter Times, author, musicologist, oboist, pianist, and recording artist.
Dr. Alburger studied oboe with Dorothy Freeman, and played in student orchestras in association with George Crumb and Richard Wernick. He studied composition and musicology with Gerald Levinson, Joan Panetti, and James Freeman at Swarthmore College (B.A.), Karl Kohn at Pomona College, Jules Langert at Dominican College (M.A.), Tom Flaherty and Roland Jackson at Claremont Graduate School (Ph.D.), and Terry Riley.
Since 1987 he has lived in the San Francisco Bay Area, initially producing a great deal of vocal music with assembled texts, including the opera Mice and Men (1992), the crisis-madrigal collection L.A. Stories (1993), the rap sheet For My Brother For My Brother (1997), and the hieratic Passion According to Saint Matthew (1997).
Since 1997, Dr. Alburger has gridded and troped compositions upon pre-existent compositions ranging from world music and medieval sources to contemporaries such as George Crumb and Philip Glass. To date, he has written 16 concerti, 7 masses and oratorios, 12 preludes and fugues, 20 operas, 6 song cycles, 9 symphonies -- a total of 130 opus numbers and more than 800 individual pieces. He is presently at work on Waiting for Godot and Diabolic Variations.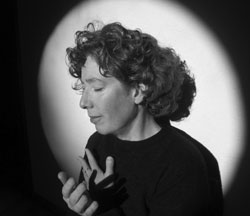 Lisa Scola Prosek is the General Manager of the San Francisco Composers Chamber Orchestra and was raised in Rome, Italy, and began studying piano at the age of 4. After moving to the United States at the age of 11, Lisa graduated from Princeton University, where she studied with Edward Cone and Milton Babbitt, and privately with Lukas Foss in New York. During this time, Lisa developed a great love for the voice, and studied singing with Margherita Kalil of the Met. After Princeton, Lisa returned to Italy, where she attended the Conservatorio Luigi Cherubini, and studied with composer Gaetano Giani-Luporini. To date, Scola Prosek has composed two oratorios, and 5 operas, in Italian and English, including Satyricon, reviewed by the San Francisco Observer as a "Tour de Force" and featured on KRON TV; and Leonardo's Notebooks, in Italian, both of which premiered to capacity audiences, and were featured on NPR's West Coast Live. The Contemporary Classical Music Weekly writes: "This composer's work is steeped in the Mediterranean world of gestures, writ both big and small. Her vocal writing references bel canto and the madrigal, and the instrumental writing, with its shadowy inner voices, has character and point. Intricate and highly expressive music." Sequenza 21. Lisa Scola Prosek is the recipient of numerous grants and awards, including from the Argosy Foundation, for Belfagor, and from the LEF Foundation, Meet The Composer, The Hewlett Foundation, the Argosy Contemporary Music Fund, and the American Composers Forum for her opera Trap Door.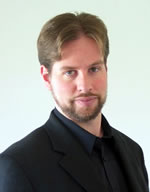 John Kendall Bailey is an Associate Conductor with the San Francisco Composers Chamber Orchestra and is Principal Conductor and Chorus Master of the Trinity Lyric Opera, Music Director and Conductor of Voices of Musica Sacra, and Artistic Director of the San Francisco Song Festival. In 1994, Mr. Bailey founded the Berkeley Lyric Opera and served as its Music Director and Conductor until 2001. Since then he has been a guest conductor with the Oakland East Bay Symphony, Oakland Youth Orchestra, and Oakland Ballet, and music director and conductor for productions with North Bay Opera, Mission City Opera, Goat Hall Productions, Solo Opera, the Crowden School and Dominican University. From 2002-2006 he was the Chorus Master of the Festival Opera of Walnut Creek. Mr. Bailey is also a composer, and his works have been performed and commissioned in the Bay Area and abroad.
Mr. Bailey also maintains a busy performance schedule as a bass-baritone, oboist, and pianist, and has performed with the San Francisco, Santa Rosa, Oakland East Bay, Berkeley, Redding, Napa, Sacramento, and Prometheus symphonies, American Bach Soloists, Philharmonia Baroque Orchestra, the Midsummer Mozart and West Marin music festivals, San Francisco Bach Choir, Coro Hispano de San Francisco, Pacific Mozart Ensemble, California Vocal Academy, San Francisco Concerto Orchestra, Masterworks Chorale of San Mateo, Baroque Arts Ensemble, San Francisco Korean Master Chorale, the Master Sinfonia, the Mark Morris and Merce Cunningham dance companies, Goat Hall Productions, Opera Piccola, the Berkeley, Golden Gate, and Oakland Lyric Opera companies, and many other groups. He has recorded for the Harmonia Mundi, Koch International, Pro Musica, Wildboar, Centaur, and Angelus Music labels.
Mr. Bailey has been a pre-performance lecturer for the Oakland East Bay Symphony and the San Francisco Opera, a critic for the San Francisco Classical Voice, a writer of real-time commentary for the Concert Companion, and has taught conducting at the University of California at Davis.
Edward Prosek is a 22-year-old Californian native now residing in Brighton, UK. His debut EP California (2012) gained him a strong online following, with its title track receiving over 40,000 YouTube views. Following this initial interest, Prosek's cover of Paul Simon's Homeward Bound was chosen as the soundtrack to a major TV advertisement for Cathedral City last year in the UK taking Prosek to a national audience. His latest release, Willow Tree, showcases his impressive abilities as composer and arranger. A full UK tour and album are set for release in 2014.