Abducted By Aliens, Op. 222, is star-charted over Olivier Messiaen's Turangalila Symphony, with additional ISO's (Identified Sounding Objects) including Richard Wagner's The Flying Dutchman, Claude Debussy's Nocturnes, Zoltan Kodaly's Hary Janos, Jacapo da Bologna's Non al suo Amante, Dave Grohl's Times Like These (Foo Fighters), Alexander Courage's Star Trek, Gustav Mahler's Symphony No. 1, Bela Bartok's Concerto for Orchestra, Camille Saint-Saens's Danse Macabre and Carnival of the Animals, George Crumb's Black Angels, George Gershwin's Porgy and Bess, Igor Stravinsky's Requiem Canticles, W.A. Mozart's Abduction from the Seraglio, Dmitri Shostakovich's The Nose, and Gustav Holst's The Planets -- all subject to various comedic / eclectic / minimalist observations.
The Lariat was written in collaboration with Tribal Chairwoman and linguist, Louise Miranda Ramirez and other members of the tribe. The performance will be based on the novella of the same name by Jaime De Angulo, writer and anthropologist for UC Berkeley who lived and worked extensively with American Indian tribes along California's Central Coast during the 1920's and 30's. The orchestral excerpts are based on California birdsongs, recorded and notated by the composer in the coastal highlands, and included in opera as interludes. The Lariat will premiere at the World Theatre at California State University Monterey Bay (CSUMB) on February 8, 2015. The university is located at Ford Ord on traditional Esselen territory.
Front Line was premiere this past June 8 at St. Mark's Lutheran Church in San Francisco. A three-movement work for narrator, mezzo soprano and chamber orchestra, it features narrator Emmanuel Williams and soprano Lisa Scola Prosek "This is a very dark work, incorporating three war poems by Pacifica poet Emmanuel Williams," Kimbell said. "Emmanuel will recite his own poetry with orchestral accompaniment. The orchestra illustrates and amplifies the poetry. The use of a speaker instead of a singer was pioneered by the Czech composer Georg Benda, a contemporary of Mozart, whose 'melodramas' inspired my own work. My own music uses traditional formal, dramatic and contrapuntal gestures, combining them with more expanded modern harmonic idioms." This work came about after Kimbell and Williams met each other at Florey's Book Co. in March of 2013. The beloved bookstore on Palmetto hosts many events, including book signings and poetry nights. This particular poetry event featured Williams - a published poet, author, actor, riddle-maker, multi-media director, dramatist, photographer, and longtime Pacifican (by way of South East England). "I was immediately struck by the power and polish of Emmanuel's work and also the excellence of his delivery," Kimbell said, "so much so that I asked him to be the narrator for my work, Time Does Not Move. This piece was also written for speaker and orchestra and it uses poetry written by Swiss poet Gottfried Keller." Using Kimbell's compositional skills and Williams' poetic skills, the two men decided to collaborate on a miniature Benjamin Britten War Requiem, and Front Line was born.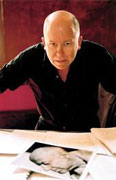 Dr. Mark Alburger is the Music Director, Conductor and founder of the San Francisco Composers Chamber Orchestra. Mark is an eclectic American composer of postminimal, postpopular, and postcomedic sensibilities. He is the Music Director of Goat Hall Productions / San Francisco Cabaret Opera, Editor-Publisher of 21st-Century Music Journal, an award-winning ASCAP composer of concert music published by New Music, Instructor in Music Theory and Literature at Diablo Valley College, Music Critic for Commuter Times, author, musicologist, oboist, pianist, and recording artist.
Dr. Alburger studied oboe with Dorothy Freeman, and played in student orchestras in association with George Crumb and Richard Wernick. He studied composition and musicology with Gerald Levinson, Joan Panetti, and James Freeman at Swarthmore College (B.A.), Karl Kohn at Pomona College, Jules Langert at Dominican College (M.A.), Tom Flaherty and Roland Jackson at Claremont Graduate School (Ph.D.), and Terry Riley.
Since 1987 he has lived in the San Francisco Bay Area, initially producing a great deal of vocal music with assembled texts, including the opera Mice and Men (1992), the crisis-madrigal collection L.A. Stories (1993), the rap sheet For My Brother For My Brother (1997), and the hieratic Passion According to Saint Matthew (1997).
Since 1997, Dr. Alburger has gridded and troped compositions upon pre-existent compositions ranging from world music and medieval sources to contemporaries such as George Crumb and Philip Glass. To date, he has written 16 concerti, 7 masses and oratorios, 12 preludes and fugues, 20 operas, 6 song cycles, 9 symphonies -- a total of 130 opus numbers and more than 800 individual pieces. He is presently at work on Waiting for Godot and Diabolic Variations.
Martha Stoddard, Associate Conductor earned her Bachelor of Arts degree at Humboldt State University and her Master of Music degree from San Francisco State University, where she studied flute, conducting and composition. She was named Program Director for the John Adams Young Composers Program at the Crowden Music Center in 2012 and has held the position of Artistic Director of the Oakland Civic Orchestra since 1997.She is Associate Conductor of the San Francisco Composers' Chamber Orchestra and Director of Instrumental Music at Lick-Wilmerding High School.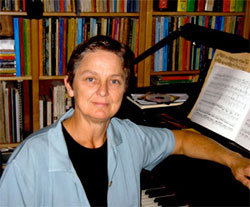 Her most recent commissions include today's premiere and her Trio for Clarinet,Cello and Piano for the 2009 San Francisco Chamber Wind Festival at the San Francisco Conservatory.  She has held the position of Artistic Director of the Oakland Civic Orchestra since 1997. Other recent conducting activities include engagements as Conductor for the John Adams Young Composers' Orchestration Workshops at the Crowden School, Musical Director for the operas Belfagor and Trap Door by Lisa Prosek, Guest Conductor for the San Francisco All City High School String Orchestra and the Santa Rosa Youth Symphony Summer Academy Orchestra. She has also served as an adjudicator for the San Francisco Conservatory of Music and Santa Cruz Youth Symphony Concerto Competitions.  Ms. Stoddard is founding member and director of ChamberMix, and is a featured performer on alto flute in John Bilotta's Shadow Tree (Capstone Records CPS-8787) and in John Thow's Cantico  (Palatino label #1001) Marika Kuzma, conductor, and as conductor for Janis Mercer's, Voices (Centuar Recordings, CPS 2951).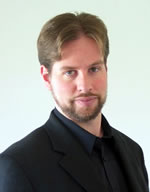 John Kendall Bailey is an Associate Conductor with the San Francisco Composers Chamber Orchestra and is Principal Conductor and Chorus Master of the Trinity Lyric Opera, Music Director and Conductor of Voices of Musica Sacra, and Artistic Director of the San Francisco Song Festival. In 1994, Mr. Bailey founded the Berkeley Lyric Opera and served as its Music Director and Conductor until 2001. Since then he has been a guest conductor with the Oakland East Bay Symphony, Oakland Youth Orchestra, and Oakland Ballet, and music director and conductor for productions with North Bay Opera, Mission City Opera, Goat Hall Productions, Solo Opera, the Crowden School and Dominican University. From 2002-2006 he was the Chorus Master of the Festival Opera of Walnut Creek. Mr. Bailey is also a composer, and his works have been performed and commissioned in the Bay Area and abroad.
Mr. Bailey also maintains a busy performance schedule as a bass-baritone, oboist, and pianist, and has performed with the San Francisco, Santa Rosa, Oakland East Bay, Berkeley, Redding, Napa, Sacramento, and Prometheus symphonies, American Bach Soloists, Philharmonia Baroque Orchestra, the Midsummer Mozart and West Marin music festivals, San Francisco Bach Choir, Coro Hispano de San Francisco, Pacific Mozart Ensemble, California Vocal Academy, San Francisco Concerto Orchestra, Masterworks Chorale of San Mateo, Baroque Arts Ensemble, San Francisco Korean Master Chorale, the Master Sinfonia, the Mark Morris and Merce Cunningham dance companies, Goat Hall Productions, Opera Piccola, the Berkeley, Golden Gate, and Oakland Lyric Opera companies, and many other groups. He has recorded for the Harmonia Mundi, Koch International, Pro Musica, Wildboar, Centaur, and Angelus Music labels.
Mr. Bailey has been a pre-performance lecturer for the Oakland East Bay Symphony and the San Francisco Opera, a critic for the San Francisco Classical Voice, a writer of real-time commentary for the Concert Companion, and has taught conducting at the University of California at Davis.