SAN FRANCISCO COMPOSERS CHAMBER ORCHESTRA
Presents "Alternate Facts and Lying Together"
Saturday, May 6, 2017 at 8 pm
St. Mark's Lutheran Church
1111 O'Farrell Street, San Francisco, CA

PROGRAM
Leon Hyman has served on the faculties of the Juilliard school, Teachers College Columbia University, and Montclair State University. Hyman's career as conductor has encompassed the areas of ballet, orchestra, chorus, opera and theater. He co-founded the New Philharmonic of New Jersey, for which he serves as Music Director and Conductor. This orchestra has received widespread acclaim and recognition as one of the state's finest ensembles. Hyman has conducted the Robert Joffrey Ballet on tours of the former Soviet Union and the United States, the New York Philharmonic, and the Columbia Symphony orchestras for Columbia Records, the American Symphony, the Philharmonia Virtuosi, the Orchestra da Camera of Long Island, the Jerusalem Orchestra, and the New Jersey Symphony with the New Jersey Ballet. He has conducted operas in New York and Dallas, the Tokyo production of West Side Story (directed by Jerome Robbins), Dancin', 1776, Appletree, and Half-a-Sixpence on Broadway. Hyman has also had extensive experience conducting choral ensembles, including 25 years as director of the Montclair State University Chorus. Since 1955, he has served as choirmaster of Congregation Shearith Israel (the Spanish and Portuguese synagogue in New York City), the oldest congregation of Jews in North America.

Leon Hyman

Yehi Hasdecha

Ubnucho Yomar

Psalm 23

Harry Bernstein has been involved in San Francisco Bay Area music for many years as a composer, performer and teacher. He began his musical training on the trumpet, later learning the recorder as well as the Baroque the modern flutes. More recently, his life has been altered by the invasion of a viola. This occurred a few years after Bernstein began his association with City College. Why take up a stringed instrument in one's fifties? In his case, he took on the challenge of learning the viola in order to explore both orchestral and chamber music, and to learn how to write more effectively for strings. Not long after earning a D.M.A. in early music performance from Stanford University, he moved 30 miles north to San Francisco where he has lived ever since. He has studied composition with Jerry Mueller and has written vocal and instrumental music. Bernstein is co-founder of the Golden Age Ensemble, a duo presenting varied programs of instrumental and vocal music around the Bay Area and is a partner in Micro Pro Musica Press, SF, which offers music engraving, arranging and transcription services. He is currently active with the San Francisco Composers Chamber Orchestra (flute), the Bay Area Rainbow Symphony (viola), and that unpredictable composers' circle known as Irregular Resolutions. Bernstein is an instructor in both the Music and Older Adults Departments at City College of San Francisco, and also teaches privately.

Harry Bernstein

Quintetessence

I. Easy, with moderate swing
II. Con passione


Scott Sterling is a freelance trombonist in the Bay Area and makes his home in Berkeley. He earned his Bachelor's in Music Education at California State University East Bay in 2010. Sterling is the bass trombonist in the Kensington Symphony Orchestra. As a composer, he is a frequent contributor to The Opus Project. In February, 2013, for The Opus Project presents Opus 13, he wrote Musical Portraits in Phrasing; a compilation of 13 eight-bar harmonized Introductory Melodious Etudes set as a walk through an Art Gallery. The Promenade is the same for both works. Sterling is currently writing a book and developing an online course about teaching Sight Reading, entitled Page to Performance.

Scott Sterling

Musical Portraits No. 2

Promenade No. 1 / Child's Playroom / Child's Game of Ball
The Courtiers / Promenade No. 2 / The Centipede
The Millipede / Short Promenade No. 2 / Rapids
Waterfall and River / The Spelunker / Short Promenade No. 1 Ascending Steps / Old House with Creaking Door / Dark Clouds
Last Promenade No. 1 / Statue of the Founder
intermission
Davide Verotta was born in a boring Italian town close to Milano and moved to the very much more exciting San Francisco in his late twenties. He studied piano at the Milano Conservatory and piano and composition at the San Francisco Conservatory and State University (MA in composition), and at the University of California at Davis (PhD). He is an active solo and ensemble piano recitalist, and he is actively involved in the new music performance and composition scene in the San Francisco Bay Area. Recent compositions include works for orchestra, chamber opera, dance, piano solo, and different chamber ensembles. For more information please visit his web site at http://www.davideverotta.com.

Davide Verotta

Felicitá? (Happiness?)

Dr. Mark Alburger (b. 1957, Upper Darby, PA) is a multiple-award-winning ASCAP composer of postminimal, postpopular, and postcomedic sensibilities. His compositions are generally assembled or gridded over pieces ranging from ancient and world music, to postmodern art and vernacular sources -- 174 opus numbers (markalburgerworks.blogspot.com), including 16 concertos, 20 operas, 9 symphonies, and the four-hours-and-counting opera-oratorio work-in-progress, The Bible. He is Music Director of San Francisco Composers Chamber Orchestra (sfcco.org) and San Francisco Cabaret Opera / Goat Hall Productions (goathall.org), Editor-Publisher of 21st-Century Music Journal (21st-centurymusic.blogspot.com and 21st-centurymusic.com), Instructor in Music Literature and Theory at Diablo Valley and St. Mary's Colleges, and Music Critic for Commuter Times. He studied at Swarthmore College (B.A.) with Gerald Levinson and Joan Panetti, Dominican University (M.A., Composition) with Jules Langert, Claremont Graduate University (Ph.D., Musicology) with Roland Jackson, and privately with Terry Riley. Alburger writes daily at markalburger2009.blogspot.com and is in the fifth year of an 11-year project recording his complete works for New Music Publications and Recordings.

Mark Alburger

The Decameron: Seventh Day ("Cheating Wives and Other Indiscretions"), Op. 262 (2017)

Novel I. Gianni Lotteringhi hears the knocking of his wife's lover
Novel II. Peronella bestows her lover in a barrel
Novel III. Fra Rinaldo lies with his gossip
Novel IV. Tofano locks his wife out of the house
Novel IX. Lydia and Pyrrhus make Nicostratus believe that what he saw was not real
Novel X. Tingoccio returns from the other world


Stardust is "an animist radical faerie composer living in the somewhat embattled and mythical sanctuary of San Francisco. Stardust is currently obsessed with True of Voice activities, including this season's True of Voice Finale, which follows the SFCCO performances of the True of Voice Overture and the True of Voice Entr'acte. Stardust's previous SFCCO offerings included A la recherche des danses perdues and Railway Sonata. Other works include chamber music and symphonic music prepared for encouraging musician friends at events such as the Humboldt Chamber Music Workshops and welcoming ensembles such as the Opus Project Orchestra, the Golden Gate Symphony, the San Francisco Lesbian and Gay Freedom Band, and of course the San Francisco Composers Chamber Orchestra." Stardust plays the oboe and the English horn.

Stardust

True of Voice Entr'acte

I. Letting Down the Ladder
II. Queens' Romance
III. Gender Communion
IV. Visit to the Tomb
V. Queens and Nomarchs
VI. Debutante Ball
VII. Drama at Court (Opet Festival Refrain)
VIII. Maat


Click on the links to listen to the music.

Click on the links for video.


Microsoft Media Player or for Mac:
VLC Media Player.
PERFORMERS



Flute
Bruce Salvisberg
Harry Bernstein
Martha Stoddard

Oboe
Stardust
Philip Freihofner

Clarinet
Michael Kimbell

Bassoon
Kat Walsh




Trumpet
Michael Cox

Horn
Bob Satterford

Trombone
Scott Sterling

Piano
Davide Verotta

Percussion
Victor Flaviano
Anne Szabla




Violin I
Kristen Kline

Violin II
Corey Johnson
Gina Niblack

Viola
Harry Bernstein
Nansamba Ssensalo

Cello
Ariella Hyman

Bass
John Beeman
The Decameron: Seventh Day ("Cheating Wives And Other Indiscretions"), Op. 252 (2017), features illicit infidelities and intertwinings of John Cage's The Root of an Unfocus, the Gregorian chant Te Lucisem>, a Robertsbridge Fragment medieval organ Estampie, Anton Webern's Six Pieces for Orchestraem>, Robert Willson's The Music Manem>, Dmitri Shostakovich's Symphony No. 11em>, Gian-Carlo Menotti's Amahl and the Night Visitors, Benjamin Britten's A Ceremony of Carolsem>, Steve Reich's The Desert Music, Alban Berg's Wozzeckem>, Ralph Vaughan Williams's Symphony No. 6, Igor Stravinsky's Mavra, Karol Szymanowski's 20 Mazurkasem>, Olivier Messiaen's whole-step / half-step octatonic works, Claude Debussy's Prelude to "The Afternoon of a Faun", and Hector Berlioz's Symphonie Fantastique.
"The conception of Quintetessence originally was based on the string quintet, an ensemble consisting of two violins, two violas, and a cello -- in contrast to the other common quintet instrumentation with one viola and two cellos. The exact number of movements for the piece was not predetermined and there was the possibility that one movement or another could be enlarged by the addition of an English horn or a bass clarinet. What you will hear tonight is a work in progress. Quintetessence most likely owes its existence to my taking up the viola later in life and the joy derived from playing Mozart string quintets. I wondered where this newly-found dedication to playing stringed instruments--both violin and viola--could take me. In an effort to find out, I wrote a short string quintet movement titled Plan B a few years ago, with two viola parts; it was premiered by SFCCO in 2013 and that performance can still be heard on Youtube. That concert marked my debut as a string player with SFCCO. For a while now I've been gathering sketches with musical ideas to be fashioned into a new chamber work, though without knowing which of them would ultimately work out. Quartetto Amabile, my latest piece for string quartet, was performed by members of SFCCO last year, but of course without having that distinctive fifth voice. The names for tonight's two movements come from markings in the music. The first movement, one of the newer ones, is an easygoing tune to be performed with a moderate swing. A motif from the opening, which follows the short introduction, recurs in various places. The violins and the violas are sometimes paired but otherwise the homogeneous voices of the strings mix easily together. The second movement is a return of the short piece previously titled Plan B. It is built on a short, three-note motif. The opening section is followed by a tango-influenced middle section and concludes with a livelier section with a swing feel. Just before the end, however, the opening motif returns, as if checking out the new expressive ambience."
In his role as choirmaster of Congregation Shearith Israel, Leon Hyman leads a professional choir in performing a rich collection of music dating from ancient Babylonian times to the current day. Desiring to contribute to the repertoire of the congregation, he composed several pieces to express his personal interpretation of Biblical texts sung in the Sabbath services. Three of these compositions -- Yehi Chasdecha (2013), Ubnucho Yomar (2012), and Psalm 23 (2015) -- have been transcribed for string quintet
"True Of Voice is a musical dance theatre production in development. Set in ancient Egypt and modern times, the spectacle will include incidental music performed by a hip-hop orchestra and an ancient Egyptian orchestra playing period instruments – including ancient flutes, two-barreled oboe-like instruments, Hathor- decorated sistrums, and two ancient Egyptian curved harps a Portland artisan is currently crafting for the production. Plotwise, a powerful polyamorous Egyptian priestess queen magically transports three pivotal people through time to assist her king and his male lover with the pressing political and social needs of the Old Kingdom, despite the efforts of a mysterious spy who tries to thwart their plans. Transformed by their experiences in the past, the trio return energized to create change in our present-day world, each in their own unique way. These key characters are an innocent young black man shot by police, a lesbian couple turned out from a San Francisco restaurant on their tenth anniversary, and incarcerated transgender private Chelsea Manning awaiting trial for leaking military secrets. The Entr'acte is part of the composer's continuing attempt to spark composition of the incidental music for True of Voice, following on the True of Voice Overture performed by SFCCO last season. The overture, to be presented before the curtain rises, covers the beginning scenes of the production, while the True of Voice Entr'acte, to be presented during intermission of the production, covers scenes from the middle of the production before the time-traveling characters return to modern times. An soon-to-be-composed True of Voice Finale, covering the final scenes in modern times, will be presented at the end of the production. Selections from this season's True of Voice Entr'acte evoke theatrical scenes from the production in miniature, including Letting Down the Ladder (king walks to lover general's home followed by spy, listen for the pebbles the king throws as a signal to lower a ladder from the window and for the footsteps of king climbing the ladder to enter), Queens' Romance (song based on ancient Egyptian love poem featuring saam plants), Gender Communion (Chelsea meets Egyptian non-binary gender god/desse/s with an enticing knot dance), Visit to the Tomb (king and lover general visit tomb of Niankhkhnum and Khnumhotep, oldest known same-sex couple in human history), Queens and Nomarchs (queens meet with administrative leaders to discuss democratizing trends), Debutante Ball (Chelsea comes out at a celebratory gala), Drama at Court (Opet Festival refrain with spy leaking news of the king's secret love, frustrated when roundly ignored by the court), and Maat (the Egyptian equivalent of truth and righteousness). The True of Voice Entr'acte will no doubt whet your artistic appetite for the production of True of Voice the musical appearing in workshop during 2017 and, assuming funding, in mature theatrical glory by 2018 (more info at http://trueofvoice.com)."
Musical Portraits No. 2 is sequel to Musical Portraits in Phrasing, written for The Opus Project presents Opus 13, in February of 2014. Both pieces were inspired by the Modeste Mussorgsky's Pictures at an Exhibition, in the orchestration of Maurice Ravel. Portraits No. 2 is comprised of 15 Introductory Melodious Etudes (that are eight bars long) for trombone compiled by Alan Raph and harmonized by the composer. "I have labeled two of the etudes as Promenades and 13 as Portraits. I set them as a six-minute walk through and Art gallery. First is the Promenade No. 1 played by the strings. The Child's Playroom is the first portrait we see; the melody is in the flute and oboe. We next view the Child's Game of Ball, played by the three brass. We imagine the child is looking through her keyhole to see her parents dancing to The Courtiers. Promenade No. 2 is heard in the strings. The child walks outside and notices a Centipede on a leaf. This is a duet between the oboe and bassoon. She lets her gaze wander to another leaf and she sees a Millipede (played by the brass). There is a shortened Promenade No. 2 played by the strings, followed bys a four-bar transition of turbulence leading to Rapids. The music then transitions into calmer waters for Waterfall and River. Spelunker begins with the pizzicato cello symbolizing the dropping of a rock into a cave, with clarinet and horn carrying the melody. Brass play a shortened Promenade No. 1, leading to Ascending Steps, realized with half-note step-wise motion. The music turns darker in Old House with Creaking Door" in the cello and viola. Just as in the phrase, 'It's always darkest before the Dawn,' Dark Clouds continue in the brass. A Final Promenade No. 1 in the winds sets the stage for fee finale, Statue of the Founder.
"Felicitá? was born out of a pretty melody, if I may say so, that occupied my head for a little while. The feeling that the composition tries to convey is one of a serene happiness, like being content with small things in life, or looking at a green rolling landscape, or a quiet sea, closing your eyes, taking a deep breath, and feeling happy. That's the idea ... the realization struggles a bit more, as we all do with happiness in life. We are not sure what it is, if we have it we think we know that we do, but it is fleeting and most of the time it does not last long. That's why there is a question mark in the title."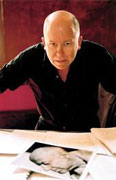 Dr. Mark Alburger is the Music Director, Conductor and founder of the San Francisco Composers Chamber Orchestra. Mark is an eclectic American composer of postminimal, postpopular, and postcomedic sensibilities. He is the Music Director of Goat Hall Productions / San Francisco Cabaret Opera, Editor-Publisher of 21st-Century Music Journal, an award-winning ASCAP composer of concert music published by New Music, Instructor in Music Theory and Literature at Diablo Valley College, Music Critic for Commuter Times, author, musicologist, oboist, pianist, and recording artist.
Dr. Alburger studied oboe with Dorothy Freeman, and played in student orchestras in association with George Crumb and Richard Wernick. He studied composition and musicology with Gerald Levinson, Joan Panetti, and James Freeman at Swarthmore College (B.A.), Karl Kohn at Pomona College, Jules Langert at Dominican College (M.A.), Tom Flaherty and Roland Jackson at Claremont Graduate School (Ph.D.), and Terry Riley.
Since 1987 he has lived in the San Francisco Bay Area, initially producing a great deal of vocal music with assembled texts, including the opera Mice and Men (1992), the crisis-madrigal collection L.A. Stories (1993), the rap sheet For My Brother For My Brother (1997), and the hieratic Passion According to Saint Matthew (1997).
Since 1997, Dr. Alburger has gridded and troped compositions upon pre-existent compositions ranging from world music and medieval sources to contemporaries such as George Crumb and Philip Glass. To date, he has written 16 concerti, 7 masses and oratorios, 12 preludes and fugues, 20 operas, 6 song cycles, 9 symphonies -- a total of 130 opus numbers and more than 800 individual pieces. He is presently at work on Waiting for Godot and Diabolic Variations.