SAN FRANCISCO COMPOSERS CHAMBER ORCHESTRA
Presents its Season Opening Gala Concert at Old First Church
Friday, September 16th, 2005 at 8 pm
Old First Presbyterian Church
1751 Sacramento Street/Van Ness, San Francisco, CA 94109
PROGRAM
Alexis Alrich is presently living in Hong Kong but visits the Bay Area frequently. Her Marimba Concerto, which was presented by the SFCCO, will be played by the Plymouth Symphony in Plymouth, Michigan in 2009 with conductor Nan Washburn. Her piece Island of the Blue Dolphins was performed by the Santa Barbara Symphony on January 19, 2007. She attended an artists' colony in 2007, I-Park in Connecticut, where she wrote Fragile Forests II: Cambodia, next in the series after Fragile Forests I: California Oaks, which was premiered in December 2006 by the San Francisco Composers Orchestra. As one of the winners of a Continental Harmony grant from the American Composers Forum she has written a piece for chorus, orchestra and soloists for the state of Maine. Avenues, her first orchestra piece, was premiered by the Women's Philharmonic and has been played around the country. Her chamber compositions have been performed by members of the San Francisco ballet, opera and symphony orchestras and ensembles including Bay Brass, City Winds, the Ahlert and Schwab guitar and mandolin duo in Germany, the Ariel Ensemble, New Release Alliance and Earplay in San Francisco. Ms. Alrich is the director of the John Adams Young Composers program in Berkeley, California. This is an intensive training program for composers ages 9-18 in honor of and under the aegis of John Adams.

Alexis Alrich

Loren Jones began experimenting with composition as a child. He spent his early years dividing his time between film-making and music, and some of his film work was periodically broadcast on local San Francisco television. Eventually choosing to pursue music instead of film, Loren formed and was part of several bands performing and creating different genres of original music. To this point largely self-taught, in the 1980's Loren returned to serious study to acquire greater depth musical education in order be able to create the kind of music that he had always been the most passionate about. Loren has studied with Tom Constantine, Alexis Alrich and is currently working with David Conte at the San Francisco Conservatory of Music, where he is also a member of the chorus. 

His music has been performed by his own chamber group, by the San Francisco Composers Chamber Orchestra, and by students and teachers from around the Bay Area. He has produced several recordings, worked in radio and film, including creating the sound track for an animated short which won a special Academy Award. His 2006 release, Woodward's Gardens, features two guitars, piano, flute, oboe, harp, and cello.  He was the recipient of a 2007 Meet the Composer Grant. His project, Dancing on the Brink of the World, a fourteen movement piece for chamber orchestra and period instruments, on the history of San Francisco, has been an ongoing part of the repertoire of the past three seasons of SFCCO concerts. 

Loren Jones

Ross Thompson & Matthew Cmiel, guitars

Jan Pusina's compositional career started in the 1960's while he was studying at U.C. Berkeley, with Four Songs on Zen Texts and Tape Composition #1. It continues today in the instrumental and electro-acoustic genres. His recent performances include Pink Wind, by the San Francisco Community Music Center Orchestra, and Furtive Assymptotes by the SFCCO. He has also recently produced a set of computer music pieces, available on request.

Jan Pusina

Dr. Michael A. Kimbell is composer-in-residence and principal clarinettist of the San Francisco Community Music Center Orchestra directed by Urs Leonhardt Steiner. He studied composition with Robert Palmer and Karel Husa at Cornell University where he received his D.M.A. in 1973. He has written works for orchestra, piano, chamber ensembles, chorus and theatre. His orchestral works, which were premiered by the CMC Orchestra, include Rondino Capriccioso, Kritik des Herzens (also performed by SFCCO), Taklamakán, Night Songs, and Arcadian Symphony (which was also performed by the Mission Chamber Orchestra and won the Southern Arizona Symphony Orchestra Competition in 1998).Kimbell's Poème for Violin and Harp has been performed in Austria and Germany and at the 2011 World Harp Congress in Vancouver.

Michael Kimbell

Kritik des Herzens (The Heart's Critique)
I. Es sitzt ein Vogel auf dem Leim
II. Seid mir nur nicht gar so traurig
III. Es flog einmal ein muntres Fliegel
IV. Ferne Berge seh_ ich gl¹hen
V. Sie war ein Bl¹mlein h¹bsch und fein
VI. O du, die mir die Liebste war

Alec Jeong, tenor

Zachary Ostroff
arranged by Eduard Prosek

Music for Movies


Lisa Scola Prosek is a graduate of Princeton University in Music Composition. Her teachers include Edward Cone, Milton Babbitt, Lukas Foss, and Gaetano Giani Luporini. Scola Prosek is the recipient of numerous grants, commissions and awards, including The NY Center for Contemporary Opera "Atelier" Award for The Lariat. Scola Prosek has composed and produced eight operas with librettos in Italian and English. In 2012, Daughter of the Red Tzar, written for acclaimed tenor John Duykers, premiered in San Francisco to capacity audiences, and is currently on the outreach season with Long Beach Opera. Lisa serves as General Manager and Director of the San Francisco Composers Chamber Orchestra, since 2001. Other awards have been from Theatre Bay Area, the LEF Foundation, The Argosy Contemporary Music Fund, Meet the Composer, the Hewlett Foundation, the American Composers Forum, The San Francisco Arts Commission, The Center for Cultural Innovation, The California Arts Council, the NEA and the Zellerbach Foundation.

Lisa Scola Prosek

Lisa Prosek, soprano
intermission
David Graves has been writing a variety of musical works since the 1970s, including jazz, pop, electronic and neoclassical pieces for film, theater, studio recordings and orchestra. He has studied at the San Francisco Conservatory of Music and City College of San Francisco. In 2003 and 2005 David was a resident composer with the Djerassi Resident Artist Program where he was awarded the William and Flora Hewlett Foundation Fellowship. He was also a resident composer with the Berkeley Symphony for two consecutive seasons and wrote six pieces that were performed as a part of their Under Construction series. His large-scale ambient works have been installed in a redwood canyon (tree/sigh), The LAB (Deciduous), and the renowned San Francisco AudioBus (Human Street Textures). For many years, he has been the Coordinator for the San Francisco Composers Chamber Orchestra and has had pieces performed annually by that ensemble as well as the Irregular Resolutions composer collective. In the late 2000s he released albums with the prog-rock group ScienceNV, recorded a collection of pop vocal tunes, received grants from the American Composers Forum and Meet the Composer, was sound designer for Miss Julie at the Aurora Theater, and developed a collection of short video dreams (Living in the Village of My Dreams). More recently, he was sound designer for Mary Stuart at Shotgun Theater, performed as AmbientBlack at various venues, created soundscapes for the featurette Alien Worlds at the California Academy of Sciences, and installed Fog and Expectations in the backyard garden of Urban Bazaar.

David Graves

Insecurity, (and other Agencies of Government)
I. Insecurity
II. The Ministry of Peace
III. Counterintelligence


Dr. Mark Alburger (b. 1957, Upper Darby, PA) is a multiple-award-winning ASCAP composer of postminimal, postpopular, and postcomedic sensibilities. His compositions are generally assembled or gridded over pieces ranging from ancient and world music, to postmodern art and vernacular sources -- 174 opus numbers (markalburgerworks.blogspot.com), including 16 concertos, 20 operas, 9 symphonies, and the four-hours-and-counting opera-oratorio work-in-progress, The Bible. He is Music Director of San Francisco Composers Chamber Orchestra (sfcco.org) and San Francisco Cabaret Opera / Goat Hall Productions (goathall.org), Editor-Publisher of 21st-Century Music Journal (21st-centurymusic.blogspot.com and 21st-centurymusic.com), Instructor in Music Literature and Theory at Diablo Valley and St. Mary's Colleges, and Music Critic for Commuter Times. He studied at Swarthmore College (B.A.) with Gerald Levinson and Joan Panetti, Dominican University (M.A., Composition) with Jules Langert, Claremont Graduate University (Ph.D., Musicology) with Roland Jackson, and privately with Terry Riley. Alburger writes daily at markalburger2009.blogspot.com and is in the fifth year of an 11-year project recording his complete works for New Music Publications and Recordings.

Mark Alburger

Ecclesiastes a setting of the Old Testament Book of Wisdom
II. Come Now
III. For Everything
IV. Again I Saw
V-VI. There Is Evil
VII. Day of Death
VIII. Who's Like


Mark Alburger, voice

Composer, conductor and bass trombonist, Frank Bunger has recently returned to California after performing as acting bass trombonist with the Auckland Philharmonia, in Auckland, New Zealand. Among his top honors: he was 1st place in the 2001 Zellmer Competition, the world's largest cash-prize awarding trombone competition; 1st place in the 1997 Eastern Trombone Workshop HS division competition; and 3rd place in the 2002 Lewis Van Haney competition.

Frank Bunger

Click on the links to listen to the music. Click on the links for video.
Microsoft Media Player or for Mac: VLC Media Player.
PERFORMERS
Flute (Piccolo*, Alto Flute**)
Bruce Salvisberg*
Harry Bernstein**

Oboe
Phil Freihofner

Clarinet (Bass Clarinet**)
Rachel Condry**
Michael Kimbell

Bassoon
Michael Cooke
Michael Garvey

Contrabassoon
Lori Garvey

Trumpet
Masa Moriyasu

French Horn
Jan Bures
Brian Holmes
Jan L. Pusina


Trombone
Frank Bunger

Harp
Samantha Garvey

Piano
Alexis Alrich
Lisa Scola Prosek

Percussion
Gabriel Sakakeeny
Anne Szabla

Violin I
Andrew Davies *

Violin II
Mark Fish

Viola
Beeri Moalem

Cello
Ariella Hyman

Bass
John Beeman

*concertmaster
Tenor,described by critics as "refined, elegant, and artistic", has performed principal operatic roles including Nemorino (L†elisir d†amore), Ferrando (Cosi fan tutte), Ernesto (Don Pasquale), Beppe (I Pagliacci), Edmondo (Manon Lescaut), Don Ottavio (Don Giovanni) and the marriage broker (Madama Butterfly). Alec has sung with the San Francisco Lyric Opera, Berkeley Opera, Pocket Opera, Golden Gate Opera, East Bay Opera League, Marin Opera, San Francisco Sinfonietta, Community Music Center Orchestra, Festival Opera chorus and other organizations. Trained in choral conducting and voice, Alec studied musicology at Duke University and The University of Michigan.
Guitarist, is a student in the Preparatory Division at the San Francisco Conservatory of Music . His teachers include Alexis Alrich, Dan Becker, Belinda Reynolds, Ross Thompson, Scott Cmiel and David Tannenbaum. He's won the Menuhin-Dowling Young Artist Award and the ASEA Award for Excellence. His music has been performed by the Berkeley Symphony, San Francisco Saxophone Quartet, Golden Gate Philharmonic and by the students at the Conservatory.
Guitarist, was born in England. He holds a degree from the San Francisco Conservatory of Music and the Royal College of Music in London.He has studied with Scott Kritzer, Carlos Bonelland David Tannenbaum. He won first prize at the National Teachers Association Competition, and has performed concerts in England, Canada, Argentina, and the US. He has recorded two albums of original music, Winters Book, and Dreaming.
An antiphonal flourish for brass quartet and percussion that places the brass choir in the balcony, using the resonant acoustics of Old First Church to create a true surround sound experience for our modern ears.
Features two fantastic guitar soloists (acoustic), Ross Thompson and Matthew Cmiel, with orchestra.
"I had been thumbing through a copy of Art in America, and fell asleep watching television, as the idea came to me. It attempts a 'golden mean' of voicing combinations, creating large dissonant chords with emphases on specific ones. It opens with a short festive introduction, which is abandoned, but never forgotten by the percussion instruments. Conducted by the composer.
The song cycle Kritik des Herzens pays homage to the great Lieder tradition exemplified by Schumann's Dichterliebe and Mahler's Lieder eines fahrenden Gesellen. The six poems are taken and rearranged from a much larger set with the same title by the German comic poet, satirist and artist Wilhelm Busch (1832Ð1908) which was first published in 1874. By turns lyrical and ironic, Busch's poems form distilled vignettes and satirical musings on life, love, loss, resignation and reconciliation. The music is designed to bring out the intertwining sardonic and bittersweet qualities of the text; while there is no particular 'story' as such, the cycle progresses through various psychologically charged episodes: facing life's brevity with wry humour, time and disillusionment, dangers of a grand passion, longing for an escape, loss of the beloved to a rival, and the fond remembrance of a long-departed loved one.
The Heart's Critique
original German poems by Wilhelm Busch (1832-1908)
English translations by Edith & Michael Kimbell

I.
Here sits a robin trapped in lime,
He flaps his wings and can't fly home.
There creeps a tomcat black as coal,
His claws are sharp, his eyes aglow.
The greedy cat climbs ever higher,
Slyly he eyes poor Robin nigher.
The robin thinks, "That's how life is:
Since I'll be cat food in a trice,
There is no time to waste complaining,
So let me keep on serenading
And piping gaily on my branch."
The robin surely has panache.




II.
Be not full of melancholy
That our happy times are fleet,
That the icy wave foreboding
Draws us in its cruel sweep;

That the sweet and tender passions,
That the joys of love's delight,
Every heav'nly aspiration
Fades away into the night.
Here's to loving, singing, drinking,

Cry a pox on passing time;
Just the slightest smile and twinkling
Sparkles on through everlasting time.

III.
A little fly so blithe and merry
Into the honey buzzed unwary,
Now dipping with contented greed
His trunklet in the sweet thick mead.
When he had sipped and licked his fill
He spread his little wings until
Into the air he would be winging.
Alas, his feet the honey sweet
Holds fast in sticky snare so deep.
Now starts the little fly his singing:
" Dear gods in heaven, make me free
From sweet seductive slavery!"

A friend of mine, who this did spy,
Did deeply sigh and cry: "My, my!"

IV.
Distant mountains beckon glowing!
Restless yearning wanderlust!
On the morrow I'll be going ‹
Where the devil ‹ away!

Yes, indeed I must get ready,
Must ‹ what is it holds me fast?
Just inconsequential trifles!
For example, your eyes!

V.
She was a flower bright and fair
Blossoming in the summer air.
He was a lusty butterfly
Who doted on the flow'r so shy.
Oft came a bee with busy hum
Who slyly nibbled in the sun.
Oft crept a beetle, scrabbling round
Along the petals up and down.
Oh God, this hurt the butterfly
And pierced his very heart thereby.
But what the most made him aghast,
The very worst thing came at last:
An agèd donkey did devour
His very dear belovèd flower.

VI.
Oh you, who were the one most dear,
You've been at rest for many a year.
So many a year, now here alone,
My dearest one, of you I dream.
Of you I dream, in night's embrace,
To me appears your faithful face.
Your faithful face, whate'er I do
It wards me off, it keeps me true.
And should my words seem far too bold,
My deeds too poor,
So oft have you forgiven me,
Forgive once more.
Composed by Zachary Ostroff, 12 years old, arranged by Eduard Prosek, 14. The action movie score for a film that for the time being, exists only in the mind.
Sung by the composer, soprano, with orchestra; features the setting of the contemporary Italian poet and lyricist, Maurizio Varca. Varca lives on the Ligurian coast, which bears, as he points out, certain affinities to the Northern California landscape. His latest poems are a series of songs, or "Canzoni" in the "stil novisti "style of extreme simplicity.
Sussurro 2005
Sussurro dolce del mio amore
Fresca la brezza nel fitto calore
sussurro dolce, profumo del fiore
nell'erb'alla riva del mar.
Ricordo com'era la prima mattina
svegliandosi lento la mia Cristina
e li al confine la nebbia schiariva
lasciando sublime il mar.
O quanto dolce avvolge la terra
la nebbia, e forse mentiva Cristina:
la nebbia scherzava ballava, rideva di me.
Sussurro dolce del mio amore.
Fresca la brezza, la frutta in fiore.
E forse mentiva Cristina, ma la nebbia schiariva lasciando sublime il mar.

Translation:
Sweet whisper of my love
fresh like a breeze in the dense heat.
Sweet whisper, like the perfume of a flower
in the meadow by the edge of the sea.
I remember how she was on that first morning
awakening slowly, my Christina
and on the horizon the fog was clearing
leaving the sea sublime.
How sweetly the fog embraces the earth,
and maybe Christina was lying
the fog seemed to joke, and dance, and laugh at me.
Sweet whisper of my love
fresh as a breeze and the fruit is in flower
and maybe Christina was lying, but the fog was clearing leaving the sea sublime.
This piece is inspired by the role terrorism plays in our society. The piece offers criticism of how our current systems respond to terrorism and some creative solutions to consider. The first and third movements are named after governmental agencies that the composer purports should not exist; in contrast, the second movement is named after a Ministry that the composer suggests should be created. Most of the textual instructions in the score require significant interpretation by the orchestra, e.g, "disturbed", "alarmed", "deep sighs", and "suspicious".
"Ecclesiastes, or The Preacher," began with gestural, indeterminate, and violent sketches indebted to Crumb's "Echoes of Time and the River." Each movement is troped on a different source -- from a white-noting (removal of accidentals) of the tenth movement ("Raub") in Arnold Schoenberg's "Pierrot Lunaire," to a pitch language from Ralph Vaughan Williams's "Wasps Overture" hybridized with the gestures of Richard Wagner's "Ride of the Valkyries."
Text is derived from the King James version of the Bible in fragments
from each of the book's 11 chapters beginning . .
Vanity of vanities . .
Come [on] now, I will make a test of pleasure. . .
For everything there is a season . .
Again I saw . . . oppressions . . .
There is . . . evil . . . under the sun . . .
Guard your steps when you . . draw near . . . the house of God . . . .
[D]ay of death . . . is better . . . than . . day of birth. . . .
Who['s] . . . like the wise man? . . . But all this I laid to heart . . .
Dead flies make the perfume[d] ointment .
Remember . .
This piece was written after a poignant trip to Death Valley in the Winter. The piece is organized into three broad sections. The first represents mystery: the silent desert plain. The second represents fear: the valley is a deadly place in hotter times. The second section segues into the third, which is awe: the magnificence of the surrounding mountains, the unusual and beautiful scenery. The ending recalls some of each of these three sections, recall that Death Valley is a little bit of each of these.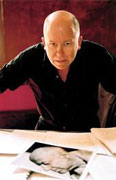 Dr. Mark Alburger is the Music Director, Conductor and founder of the San Francisco Composers Chamber Orchestra. Mark is an eclectic American composer of postminimal, postpopular, and postcomedic sensibilities. He is the Music Director of Goat Hall Productions / San Francisco Cabaret Opera, Editor-Publisher of 21st-Century Music Journal, an award-winning ASCAP composer of concert music published by New Music, Instructor in Music Theory and Literature at Diablo Valley College, Music Critic for Commuter Times, author, musicologist, oboist, pianist, and recording artist.
Dr. Alburger studied oboe with Dorothy Freeman, and played in student orchestras in association with George Crumb and Richard Wernick. He studied composition and musicology with Gerald Levinson, Joan Panetti, and James Freeman at Swarthmore College (B.A.), Karl Kohn at Pomona College, Jules Langert at Dominican College (M.A.), Tom Flaherty and Roland Jackson at Claremont Graduate School (Ph.D.), and Terry Riley.
Since 1987 he has lived in the San Francisco Bay Area, initially producing a great deal of vocal music with assembled texts, including the opera Mice and Men (1992), the crisis-madrigal collection L.A. Stories (1993), the rap sheet For My Brother For My Brother (1997), and the hieratic Passion According to Saint Matthew (1997).
Since 1997, Dr. Alburger has gridded and troped compositions upon pre-existent compositions ranging from world music and medieval sources to contemporaries such as George Crumb and Philip Glass. To date, he has written 16 concerti, 7 masses and oratorios, 12 preludes and fugues, 20 operas, 6 song cycles, 9 symphonies -- a total of 130 opus numbers and more than 800 individual pieces. He is presently at work on Waiting for Godot and Diabolic Variations.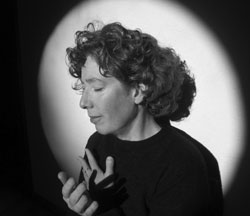 Lisa Scola Prosek is the General Manager of the San Francisco Composers Chamber Orchestra and was raised in Rome, Italy, and began studying piano at the age of 4. After moving to the United States at the age of 11, Lisa graduated from Princeton University, where she studied with Edward Cone and Milton Babbitt, and privately with Lukas Foss in New York. During this time, Lisa developed a great love for the voice, and studied singing with Margherita Kalil of the Met. After Princeton, Lisa returned to Italy, where she attended the Conservatorio Luigi Cherubini, and studied with composer Gaetano Giani-Luporini. To date, Scola Prosek has composed two oratorios, and 5 operas, in Italian and English, including Satyricon, reviewed by the San Francisco Observer as a "Tour de Force" and featured on KRON TV; and Leonardo's Notebooks, in Italian, both of which premiered to capacity audiences, and were featured on NPR's West Coast Live. The Contemporary Classical Music Weekly writes: "This composer's work is steeped in the Mediterranean world of gestures, writ both big and small. Her vocal writing references bel canto and the madrigal, and the instrumental writing, with its shadowy inner voices, has character and point. Intricate and highly expressive music." Sequenza 21. Lisa Scola Prosek is the recipient of numerous grants and awards, including from the Argosy Foundation, for Belfagor, and from the LEF Foundation, Meet The Composer, The Hewlett Foundation, the Argosy Contemporary Music Fund, and the American Composers Forum for her opera Trap Door.