SAN FRANCISCO COMPOSERS CHAMBER ORCHESTRA
Presents "SOUND FOR PICTURE" Concert at Old First Church
Friday, March 10th, 2006 at 8 pm
Old First Presbyterian Church
1751 Sacramento Street/Van Ness, San Francisco, CA 94109
Review
PROGRAM
Harry Bernstein has been involved in San Francisco Bay Area music for many years as a composer, performer and teacher. He began his musical training on the trumpet, later learning the recorder as well as the Baroque the modern flutes. More recently, his life has been altered by the invasion of a viola. This occurred a few years after Bernstein began his association with City College. Why take up a stringed instrument in one's fifties? In his case, he took on the challenge of learning the viola in order to explore both orchestral and chamber music, and to learn how to write more effectively for strings. Not long after earning a D.M.A. in early music performance from Stanford University, he moved 30 miles north to San Francisco where he has lived ever since. He has studied composition with Jerry Mueller and has written vocal and instrumental music. Bernstein is co-founder of the Golden Age Ensemble, a duo presenting varied programs of instrumental and vocal music around the Bay Area and is a partner in Micro Pro Musica Press, SF, which offers music engraving, arranging and transcription services. He is currently active with the San Francisco Composers Chamber Orchestra (flute), the Bay Area Rainbow Symphony (viola), and that unpredictable composers' circle known as Irregular Resolutions. Bernstein is an instructor in both the Music and Older Adults Departments at City College of San Francisco, and also teaches privately.

Harry Bernstein

Chamber Set
Duo for Alto Flute and Viola (2006)
Duet for Zack (2005)
If All the World Was Apple Pie (2003)
Color Study (2006)

Dr. Mark Alburger (b. 1957, Upper Darby, PA) is a multiple-award-winning ASCAP composer of postminimal, postpopular, and postcomedic sensibilities. His compositions are generally assembled or gridded over pieces ranging from ancient and world music, to postmodern art and vernacular sources -- 174 opus numbers (markalburgerworks.blogspot.com), including 16 concertos, 20 operas, 9 symphonies, and the four-hours-and-counting opera-oratorio work-in-progress, The Bible. He is Music Director of San Francisco Composers Chamber Orchestra (sfcco.org) and San Francisco Cabaret Opera / Goat Hall Productions (goathall.org), Editor-Publisher of 21st-Century Music Journal (21st-centurymusic.blogspot.com and 21st-centurymusic.com), Instructor in Music Literature and Theory at Diablo Valley and St. Mary's Colleges, and Music Critic for Commuter Times. He studied at Swarthmore College (B.A.) with Gerald Levinson and Joan Panetti, Dominican University (M.A., Composition) with Jules Langert, Claremont Graduate University (Ph.D., Musicology) with Roland Jackson, and privately with Terry Riley. Alburger writes daily at markalburger2009.blogspot.com and is in the fifth year of an 11-year project recording his complete works for New Music Publications and Recordings.

Mark Alburger

Suite ("SOL[AR]") (1975 / 2005), Op. 2
for Oboe, Piano, and Percussion
I. Sun (January) [MDP]
II. Mercury (February) [HMP]
III. Venus (March) [GCA]
IV Earth / Moon (April) [MGA]

Philip Freihofner -- oboist, synthesist & composer, has been a member of the San Francisco Composers Chamber Orchestra since the fall of 2004. He has an A.B. in Music from the University of California in Berkeley, and works variously as a contract programmer, oboe performer, coach & "reed doctor," composer & sound designer, and as a retail clerk on Saturdays at Forrests Music in Berkeley. His diverse musical background includes classwork at the SF Conservatory of Music (Prep Dept), Blue Bear School of Music and the Ali Akbar College of Music, and appearances on a recording each by The Residents & negativland, performance with the groups "Flak" and J Poet's rock band "Young Adults," and scoring (artistic, commercial and experimental) for video, A/V, drama and dance. Credits include title music for the UC Berkeley "The Distinguished Teaching Awards" and the theme music for Harry Kreisler's "Conversations with History" series (over 400 episodes produced). He wrote and served as Music Director for Cheryl Koehler/Zig Zag Theatre's full-length dance theater production: "The Fish and the Fire" (performed at Julia Morgan Center in 1993, and the Cowell Theater in 1994) as well as three UC Berkeley Drama Department productions (with directors George House & Lorne Buckmann). The New Music group EARPLAY workshopped a sketch that has been further developed into a work-in-progress setting of the short story "Carmilla" by Sheridan Le Fanu (performed at SFCCO's December 2008 concert). His "Quartet #1 for Oboe, Clarinet, Horn & Bassoon" has been performed by the UC Santa Cruz Music Department faculty, and excerpts of his silent film score for "Der Golem" were recently released on CD by the double reed consort: "WiZARDS!". Most recent work includes electro-acoustic compositions, including "It's only the Wind" premiered at SFCCO Fall 2009 concert at Chapel-of-the-Chimes, "The Obelisk" performed by Steve Adams (SFCCO June 2009) and "What Are You Going to Dream Tonight?" (SFCCO Feb 2009). He also self-publishes and sells sheet music arrangements and original compositions for chamber music ensembles, with an emphasis on double reed quartets, and invented a tool to assist with oboe reed making, the "Blend-Guide Mandrel," currently being marketed by Forrests Music. As an oboist, in addition to working with SFCCO, he has recently performed with Bay Area Chamber Harmonies, and for Bay Area composers Harry Bernstein, Mark Alburger, Jan Pusina, and in Lisa Schola Prosek's Chamber Opera "Trap Door."

Philip Freihofner

Quartet for Oboe, Clarinet, French Horn and Bassoon
intermission
Lisa Scola Prosek is a graduate of Princeton University in Music Composition. Her teachers include Edward Cone, Milton Babbitt, Lukas Foss, and Gaetano Giani Luporini. Scola Prosek is the recipient of numerous grants, commissions and awards, including The NY Center for Contemporary Opera "Atelier" Award for The Lariat. Scola Prosek has composed and produced eight operas with librettos in Italian and English. In 2012, Daughter of the Red Tzar, written for acclaimed tenor John Duykers, premiered in San Francisco to capacity audiences, and is currently on the outreach season with Long Beach Opera. Lisa serves as General Manager and Director of the San Francisco Composers Chamber Orchestra, since 2001. Other awards have been from Theatre Bay Area, the LEF Foundation, The Argosy Contemporary Music Fund, Meet the Composer, the Hewlett Foundation, the American Composers Forum, The San Francisco Arts Commission, The Center for Cultural Innovation, The California Arts Council, the NEA and the Zellerbach Foundation.

Lisa Scola Prosek

Causa-Effetto from Leonardo's Notebooks

Maria Mikheyenko, Soprano
Aurelio Viscarra, tenor
Micah Epps, bass baritone

Alexis Alrich is presently living in Hong Kong but visits the Bay Area frequently. Her Marimba Concerto, which was presented by the SFCCO, will be played by the Plymouth Symphony in Plymouth, Michigan in 2009 with conductor Nan Washburn. Her piece Island of the Blue Dolphins was performed by the Santa Barbara Symphony on January 19, 2007. She attended an artists' colony in 2007, I-Park in Connecticut, where she wrote Fragile Forests II: Cambodia, next in the series after Fragile Forests I: California Oaks, which was premiered in December 2006 by the San Francisco Composers Orchestra. As one of the winners of a Continental Harmony grant from the American Composers Forum she has written a piece for chorus, orchestra and soloists for the state of Maine. Avenues, her first orchestra piece, was premiered by the Women's Philharmonic and has been played around the country. Her chamber compositions have been performed by members of the San Francisco ballet, opera and symphony orchestras and ensembles including Bay Brass, City Winds, the Ahlert and Schwab guitar and mandolin duo in Germany, the Ariel Ensemble, New Release Alliance and Earplay in San Francisco. Ms. Alrich is the director of the John Adams Young Composers program in Berkeley, California. This is an intensive training program for composers ages 9-18 in honor of and under the aegis of John Adams.

Alexis Alrich

Flute Concerto

I. Flute and Drum

Ilse Maier, flute


Loren Jones began experimenting with composition as a child. He spent his early years dividing his time between film-making and music, and some of his film work was periodically broadcast on local San Francisco television. Eventually choosing to pursue music instead of film, Loren formed and was part of several bands performing and creating different genres of original music. To this point largely self-taught, in the 1980's Loren returned to serious study to acquire greater depth musical education in order be able to create the kind of music that he had always been the most passionate about. Loren has studied with Tom Constantine, Alexis Alrich and is currently working with David Conte at the San Francisco Conservatory of Music, where he is also a member of the chorus. 

His music has been performed by his own chamber group, by the San Francisco Composers Chamber Orchestra, and by students and teachers from around the Bay Area. He has produced several recordings, worked in radio and film, including creating the sound track for an animated short which won a special Academy Award. His 2006 release, Woodward's Gardens, features two guitars, piano, flute, oboe, harp, and cello.  He was the recipient of a 2007 Meet the Composer Grant. His project, Dancing on the Brink of the World, a fourteen movement piece for chamber orchestra and period instruments, on the history of San Francisco, has been an ongoing part of the repertoire of the past three seasons of SFCCO concerts. 

Loren Jones

Dancing On the Brink of the World San Francisco - 1600 to The Present

I. Ohlone Song
II. Ave Maria Yerba Buena
III. Gold Rush
VI. Dragon Gate

Click on the links to listen to the music. Click on the links for video.
Microsoft Media Player or for Mac: VLC Media Player.
PERFORMERS
Flute (Alto Flute**)
Bruce Salvisberg
Harry Bernstein**
Martha Stoddard **

Oboe
Phil Freihofner

Clarinet
Michael Kimbell

Bassoon
Michael Cooke

Soprano Saxophone
Michael Cooke

French Horn
Jan Bures

Trumpet
Masa Moriyasu

Guitar
Antonio Kakamakv

Banjo
Enzo Garcia

Pipa
Ma Jie

Erhu
Hong Wong

Harp
Esther Lee

Percussion
Gabriel Sakakeeny


Piano
Alexis Alrich
Lisa Scola Prosek

Violin I
Monika Gruber

Violin II
Hande Erdem

Viola
Beeri Moalem

Cello
Robin Reynolds

Bass
John Beeman
Maria Mikheyenko, a native of St. Petersburg, Russia, is actively involved in bringing Russian repertoire to audiences of all backgrounds. She has sung Mussorgskys Songs and Dances of Death with the Russian Chamber Orchestra of Marin, was a guest artist at the 2nd Annual Russian Confederation of San Francisco, and in January 2005 performed An Evening of Russian Romance with pianist Alexander Katsman at the Jewish Community Center of San Francisco. Ms. Mikheyenko received her BM in voice from the University of Michigan, where she studied with renowned tenor George Shirley, and completed her graduate studies at the San Francisco Conservatory of Music in 2002, where she studied with Sylvia Anderson. She now studies with Victoria Rapanan.
Aurelio Viscarra has performed in the San Francisco bay area for over 20 years. He has been a part of the Fresh Voices programs since their inception and has been seen in Goat Hall productions including Amahl and the Night Visitors and The Fantasticks. He has also appeared with Cinnabar Theater, Berkeley Opera, Eugene Opera (OR), Not Quite Opera, George Coates Performance Works, and LA Opera Theater.
Micah Epps earned his Bachelor of Music Degree at the University of Arizona. His experience ranges from opera to classical and sacred choral music. He has performed as soloist in such groups as the San Mateo Masterworks Chorale (European Tour soloist), San Francisco Symphony Chorus; and was Mozart Requiem soloist in Hermosillo, Mexico. His operatic roles include U.S. premieres with local composers such as David Conte in Firebird Motel and Erling Wold in Sub Pontio Pilato. In addition, he has created the roles of Eumolpus in Lisa Scola Prosek's opera Satyricon and Creon in Mark Alburger's Antigone.
Chamber Set is a collection of four compositions by Harry Bernstein.
Duo for Alto Flute and Viola
I feel that the violin has generally been exploited and explored by composers more fully than its larger cousin, the viola. The alto flute is treated more often as a color instrument than its smaller cousin, the orchestral C flute. While the reasons for this situation may be practical and understandable, I decided to unite these soulful voices in an equal-voiced duet, with an emphasis on their lower registers. The instruments interact here in an almost conversational manner. This performance is a premiere.
Duet for Zack
During this academic year I've been participating in UCSF's Art for Recovery project by writing to Zack B., a student from Marin County. Zack writes music and plays both sax and drums. He started our correspondence by sending me a brass quintet he had written to be performed for his 13th birthday last year. I wrote Duet for Zack for Two Equal Saxophones, which was intended as encouragement for him to continue the exchange of music that we had begun. The first performance was given on February 26, 2006, with SFCCO's oboist, Philip Freihofner and myself on flute. Multi-instrumentalist Michael Cooke plays soprano saxophone with Philip on tonight's concert.
If All the World Was Apple Pie
This trio in aba' form for two violins and viola was part of a projected set of pieces for strings inspired by Mother Goose poems. Two of the movements were performed in San Francisco by members of the Marigold String Quartet at City College of San Francisco in 2003.
The version of his short poem from the _Annotated Mother Goose_ reads as follows:
If all the world was apple pie
And all the sea was ink;
And all the trees were bread and cheese,
What could we do for drink?
Color Study
Several months ago, I learned that the SFCCO would have three flutes playing in this concert and that all the performers play alto flute. I took the opportunity to write a simple piece to explore the sonority (or color) of three alto flutes. The bass part (heard today on the cello) almost seems to be playing a fourth flute part at times, while at other times it moves deeper in the bass register. This performance is a premiere.
SUITE ("SOLAR") For Oboe, Piano, and Percussion, Op. 2, by Dr. Mark Alburger, dates from 1975, and was expanded in 2005 on a grid derived from a reverse usage of George Crumb's Makrokosmos, Volume I. The work is a journey from the sun to the outer solar system and back, identified over the course of a year, with character designations in the tradition of Edward Elgar, Gustav Holst, and Crumb. Other musical passengers include Webernian atonality, modal naitivity, Cowell clusters, minimalist substitutions, echoes of Mice and Men and Business As Usual, Ralph Vaughan Williams's Symphony No. 4, Franz Schubert's Symphony No. 9, Igor Stravinsky's Histoire du Soldat, Dmitri Shostakovich's Symphony No. 11, Nicolai Rimsky-Korsakov's Procession of Nobles, Edgar Varese's Ionization and Hyperprism, Harold Arlen's The Wizard of Oz, Antonin Dvorak's Symphony No. 9, Arnold Schoenberg's Five Pieces for Orchestra, American football cheers, the Wheaties song, children's taunts, the Gregorian hymn O Come O Come Emanuel, Sergei Prokofiev's Symphony No. 3, Guido d'Arezzo's Hymn to St. John (the original solfege song "ut-re-mi-fa-sol-la"), and 70's rock.
Quartet for Oboe, Clarinet, French Horn and Bassoon, by Philip Freihofner, began as a score for a Russian Silent Film, director Boris Barnet's 1926 romantic comedy: "Devushka S Korobkoi" (The Girl with the Hat Box). Composition started Nov. 2005, with the goal of performing in the 2006 SF Silent Film Festival, but the project had to be dropped early in 2006 due to funding difficulties. The material was then recast into its present form. The music is strongly influenced by Russian ballet and folk music, with its vigorous rhythms, frequent melodic fourths and modal shifts, and by the charm and humor in the film itself. Given the nature of film scoring, the themes did not fall squarely into standard forms, resulting in some unexpected twists and turns. There's a 4/4 section in the Waltz, a stretto morphs into a tango during the Fugue, and the Marchers get rather distracted, starting and stopping, then taking off in different directions. The Coda ends on a somber note. Ilya, who has just met and fallen for the fiery-tempered Natasha, loses her in a crowd while disembarking from a train and wonders if he will ever see her again. Similarly, the composer wonders if the he will see the resumption of this film-scoring project.
Causa Effetto
Fra la causa e l'effetto
c'e' il punto del perfetto
la scintilla del beato
il brivido dell'infinito.
Qui fra l'ombra e la luce
c'e' il punto che trasfigge
qui il suono diventa ritmo
e rumore e' armonia
l'albeggiare diventa un coro
e vola il tempo
ch'e' il Suo respiro.
Cause-Effect
between the cause and effect
lies the point of perfection
the scintilla of the blessed
the shudder of the infinite.
here between light and shadow
lies the point that transfixes
here sound becomes rhythm
noise becomes harmony
the dawn becomes a choir
and time flies
which is His breathing.
Flute Concerto: I—Flute and Drum, by Alexis Alrich, was commissioned by Ilse Maier, flutist, and Gabriel Sakakeeny, conductor of the Cotati Philharmonic. This is the first movement of five. The entire piece will be played in the 2006-2007 season by the Cotati Philharmonic. Drum with flute has been a classic combination probably since the dawn of music. I wanted to contrast this timeless idea with the sophistication of modern flute playing. To achieve this effect I have combined pentatonic scales (ancient) with chromatic harmony (arguably more modern). After a short introduction, the piece is based on two melodies, one quick and syncopated, one slow.
In this work Loren sought to blend the music of San Francisco's different historical periods and places with his own impressions. A combination of authenticity and imagination. When finished, this series will contain 18 movements.

1. Ohlone Song
The Ohlone were a highly evolved and virtuous people made up of over forty separate tribes speaking many different languages, who lived harmoniously in the San Francisco Bay Area for many thousands of years. The Yelamu were the original people of San Francisco. Ohlone songs were often accompanied by clapper sticks, shell shakers, bone whistles and flutes. This music was inspired by their traditional vocal songs, though I chose to use a more common Native American flute, which is quite different from the flutes played by the Ohlone.

2. Ave Maria Yerba Buena
In the late 1700's the settlement of Yerba Bunea was established by the Spanish. The inspiration for this piece came from the Mission San Francisco De Assisi, later known as the Mission Dolores. Built in 1776, the mission and the surrounding Spanish town marked the beginning of the decline of the Ohlone, and the end of an era. As the settlement grew, the original people, animals and the ecology of the Bay Area was changed forever. One of the
positive things that the missionaries and settlers brought to the new world was their music.
This melody is from an anonymous song sung at dawn in praise for the Virgin Mary.

3. Gold Rush
In the beginning of 1849 the town that had become San Francisco was the home to 700 people. Within a year the gold rush had brought the population up to 40,000. Dreamers, adventurers, the hopeful, the rich, the poor, the honest, and the crooked, poured into the city from all over the world in search of a new life. The common music of this period included banjo, fiddle, and guitar.

4. Dragon Gate
By the late 1850's the building boom throughout the west had brought thousands of Chinese laborers to San Francisco, and Chinatown became the largest Chinese settlement in the United States. A city within a city. China in the middle of San Francisco. The entrance to Chinatown was named Dragon Gate. The two instruments featured here are the erhu and the pipa. Comparable only slightly to the western violin, the erhu has a beautiful sound that is very eastern and completely unique.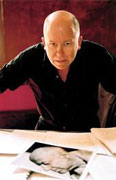 Dr. Mark Alburger is the Music Director, Conductor and founder of the San Francisco Composers Chamber Orchestra. Mark is an eclectic American composer of postminimal, postpopular, and postcomedic sensibilities. He is the Music Director of Goat Hall Productions / San Francisco Cabaret Opera, Editor-Publisher of 21st-Century Music Journal, an award-winning ASCAP composer of concert music published by New Music, Instructor in Music Theory and Literature at Diablo Valley College, Music Critic for Commuter Times, author, musicologist, oboist, pianist, and recording artist.
Dr. Alburger studied oboe with Dorothy Freeman, and played in student orchestras in association with George Crumb and Richard Wernick. He studied composition and musicology with Gerald Levinson, Joan Panetti, and James Freeman at Swarthmore College (B.A.), Karl Kohn at Pomona College, Jules Langert at Dominican College (M.A.), Tom Flaherty and Roland Jackson at Claremont Graduate School (Ph.D.), and Terry Riley.
Since 1987 he has lived in the San Francisco Bay Area, initially producing a great deal of vocal music with assembled texts, including the opera Mice and Men (1992), the crisis-madrigal collection L.A. Stories (1993), the rap sheet For My Brother For My Brother (1997), and the hieratic Passion According to Saint Matthew (1997).
Since 1997, Dr. Alburger has gridded and troped compositions upon pre-existent compositions ranging from world music and medieval sources to contemporaries such as George Crumb and Philip Glass. To date, he has written 16 concerti, 7 masses and oratorios, 12 preludes and fugues, 20 operas, 6 song cycles, 9 symphonies -- a total of 130 opus numbers and more than 800 individual pieces. He is presently at work on Waiting for Godot and Diabolic Variations.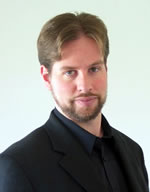 John Kendall Bailey is an Associate Conductor with the San Francisco Composers Chamber Orchestra and is Principal Conductor and Chorus Master of the Trinity Lyric Opera, Music Director and Conductor of Voices of Musica Sacra, and Artistic Director of the San Francisco Song Festival. In 1994, Mr. Bailey founded the Berkeley Lyric Opera and served as its Music Director and Conductor until 2001. Since then he has been a guest conductor with the Oakland East Bay Symphony, Oakland Youth Orchestra, and Oakland Ballet, and music director and conductor for productions with North Bay Opera, Mission City Opera, Goat Hall Productions, Solo Opera, the Crowden School and Dominican University. From 2002-2006 he was the Chorus Master of the Festival Opera of Walnut Creek. Mr. Bailey is also a composer, and his works have been performed and commissioned in the Bay Area and abroad.
Mr. Bailey also maintains a busy performance schedule as a bass-baritone, oboist, and pianist, and has performed with the San Francisco, Santa Rosa, Oakland East Bay, Berkeley, Redding, Napa, Sacramento, and Prometheus symphonies, American Bach Soloists, Philharmonia Baroque Orchestra, the Midsummer Mozart and West Marin music festivals, San Francisco Bach Choir, Coro Hispano de San Francisco, Pacific Mozart Ensemble, California Vocal Academy, San Francisco Concerto Orchestra, Masterworks Chorale of San Mateo, Baroque Arts Ensemble, San Francisco Korean Master Chorale, the Master Sinfonia, the Mark Morris and Merce Cunningham dance companies, Goat Hall Productions, Opera Piccola, the Berkeley, Golden Gate, and Oakland Lyric Opera companies, and many other groups. He has recorded for the Harmonia Mundi, Koch International, Pro Musica, Wildboar, Centaur, and Angelus Music labels.
Mr. Bailey has been a pre-performance lecturer for the Oakland East Bay Symphony and the San Francisco Opera, a critic for the San Francisco Classical Voice, a writer of real-time commentary for the Concert Companion, and has taught conducting at the University of California at Davis.